(COVER PHOTO: The Cast of the musical "Something Rotten" now playing at Theatre at the Mount in Gardner, MA. April 22 through May 1, 2022. Photo Courtesy of Theatre at the Mount)


By Kevin T. Baldwin
METRMAG Reviewer
Contact: 774-242-6724
"Omelette the good times roll"

Theatre at the Mount
Presents the Musical
"SOMETHING ROTTEN

"
Book by Karey Kirkpatrick, John O'Farrell
Music and Lyrics by Karey Kirkpatrick, Wayne Kirkpatrick
Presented through special arrangement with Music Theatre International, New York, NY
Director Kate Sheridan
Music Director Dave Twiss
Choreographer Alison Hall
Cast includes: Jason Denton, Timmy Chase, Danny Rodriguez, Will Gelinas, Laura Gulli, Eliora Despres, Morgan Gimore, Andy DeSisto, Michael Knight, Alyson Foisy, Grant Arbour, Michael Audet, Hayley Blackmer, Jonathan Dano, Elijah Despres, Nick Doig, Lynne Dumais, Alyson Foisy, Zach Horn, Amanda Lawton, Kristen Licht, Mike Percuoco, Dawn Ross, Mike Ross, Libbey Stearns, Rachel Twiss, Jillian Whitney, Jackie Wyatt.
Mount Wachusett Community College, 444 Green St, Gardner, MA 01440
Performances:
April 22, 23, 29, 30, 2022 at 7:30pm
May 1, 2022 at 2:00pm
For more Information, contact Gail Steele, Director of Theatre at g_steele@mwcc.mass.edu or by phone at 978-630-9162.
Theatre at the Mount is back and better than ever!
Yes - there is something simply spectacular about (alliteration and) "Something Rotten" now entertaining audiences at the Theatre at the Mount in Gardner, MA.
Audiences can look forward to multiple Massachusetts theatres to be presenting this musical over the next year or so, now that the rights have been released. Many of these will be fine productions.
However, it is the Theatre at the Mount's cast and creative team assembled which has produced a simply wonderful, faithful adaptation of the Broadway smash, a wildly entertaining show that brings an onslaught of laughter that spreads like a plague (or pandemic?)…but in a "good way."
In other words, this show never fails to bring the funny and thank God (and the Bard) for that!
Nominated for 10 Tony Awards the story, performed completely tongue-in-cheek, takes place during the Renaissance, specifically the 1590s.
Brothers and co-writing team Nick and Nigel Bottom (Jason Denton and Timmy Chase, respectively), find themselves continuously and hopelessly out-written and out-performed by egomaniacal wunderkind William Shakespeare (Danny Rodriguez) whose creative roll has propelled him to superstar status in the eyes of his fans.
Nick, especially, loathes the obnoxiously popular Bard and illustrates it brilliantly in the side-splitting number, "God, I Hate Shakespeare."
Denton and Chase have bountiful brotherly-like chemistry, vitally important to portraying the co-dependent siblings.
Each are given their moments to shine, musically, as well. With Chase it comes in the songs "Nigel's Theme" and "To Thine Own Self Be True" and with Denton it happens during the Act One Finale "Bottom's Gonna Be On Top."
Rodriguez exudes confidence as the handsome yet loutish and self-centered Shakespeare. The wonderful ensemble supports him in his numbers "Will Power" and "Hard to Be the Bard."
Financially desperate for a sure fire hit play big enough to compete with Shakespeare's popularity, Nick seeks out a soothsayer and stumbles upon Nostradamus himself. That is, "Thomas Nostradamus" (Will Gelinas), descended nephew of the famous original soothsayer.
Gelinas is absolutely absorbed in the role as Nostradamus presents his "premonitions" more like he's grasping at very frail straws than solid brass rings. He gets a lot of fragmented information from the future which leads to some hilarious results later in the show.
However, one big concept Nostradamus gets 100 percent correct: He advises Nick that of a future full of Broadway caliber musicals, which is where the show really takes off and never looks back, with a show-stopping number aptly titled, "A Musical."
Under the detailed direction of Kate Sheridan and with intricate choreography provided by Alison Hall, all the musical numbers have equal parts energy and humor.
Many shows are spoofed, referenced, revered, lampooned, and sampled from Stephen Sondheim and Andrew Lloyd Webber shows, to "Les Miserables," "Music Man," "Annie," "Chorus Line" and more.
Nick also asks about Shakespeare's next work, intending to write it before Shakespeare, but unknown to Nick, one major element Nostradamus does not get right is the title of Shakespeare's greatest work.
So, placing all his faith in Nostradamus, Nick decides to write his musical, "Omelette" - realizing that he is actually "lifting" (stealing) Shakespeare's destined story of "Hamlet." It is Nigel who provides the perfect moral compass which pits himself against Nick's immoral decision and direction in the story.
To quote the Bard, himself, "I love to hear her speak, yet well I know that music hath a far more pleasing sound."
Laura Gulli is simply exuberant as Nick's supportive wife, Bea, with many hysterical highlights throughout the show, including her best musical moment in the number, "Right Hand Man."
As written, it could also be argued that her character is seriously underutilized - because Bea actually provides a message of female empowerment (during the Renaissance) while striking a perfect balance comedically between Nick and Nigel's mutual and separate aspirations throughout the story.
Similarly, Nigel meets and falls for pretty Puritan, Portia (Eliora Despres), who becomes passionately enthralled with the budding poet, encouraging Nigel to evolve. Despres brings her own unique charm, identity and amazing voice to the pivotal Portia role.
During Act Two, the duo lead another engaging ensemble number, "We See the Light," which comes fairly close to doing for the second act what the aforementioned "A Musical" does for the first, but with more emphasis on humor.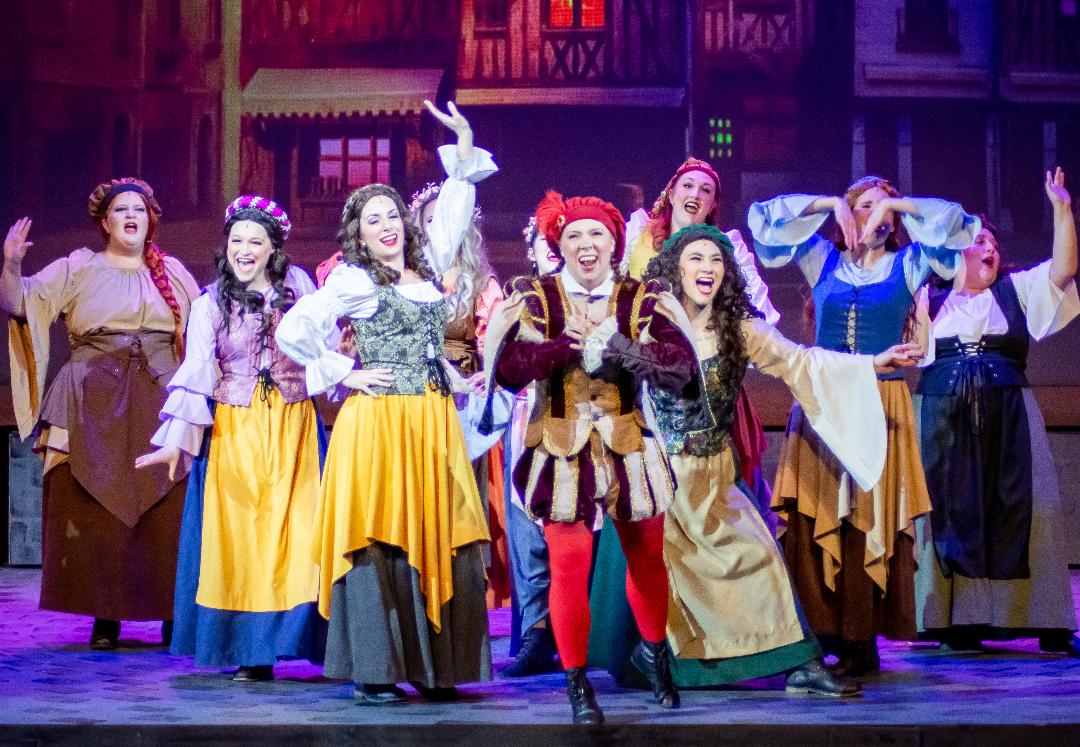 (PHOTO: The Cast of the musical "Something Rotten" now playing at Theatre at the Mount in Gardner, MA. April 22 through May 1, 2022. Photo Courtesy of Theatre at the Mount)
What is most impressive about the show is not just the performances, which are all finely-tuned, moving the show along magnificently from beginning to end like a perfectly wound clock.
It is, instead, the precise balancing act of a solid plot, wonderful music and consistent character development by the musical's writing team of John O'Farrell with music and lyrics by Karey Kikpatrick and Wayne Kirkpatrick.
Costumes, sets and other technical aspects of the show were impressive, although the costume for Shakespeare fell seriously short.
The costume Rodriguez wore was laced with a more traditional "Shakespeare" appearance, not in line with how the character was envisioned during the original Broadway Production. In the Broadway show the Bard was actually given a more slick, flamboyant "pop star" appearance.
A minor technical drawback was the use of recorded music in lieu of an actual orchestra. It tended to throw off some of the comedic beats as a result.
(*NOTE: Learned in post - Apparently there was a COVID incident which forced the usage of recorded music in lieu of pit musicians - the actors performed well under these circumstances and should be commended)
Specifically, the actors had moments struggling to stay in sync with the music, having to either rush lines to catch up to the score or pause while the score caught up with them. Also, the music volume over the singers tended to fluctuate at times, making it hard to hear either one or the other.
The characters are all extremely likeable, even some of the ones who aren't so nice. It is all these elements working in a cohesive manner that makes the ridiculous overall premise of the show palatable. It is also that blend which, thanks to the Mount cast and creative team involved, works to enhance the audience's enjoyment.
In the end, it is the incessant "inside" jokes, the bulk of iconic Broadway musical references, the Shakespearean allusions (and alliterations), even the ultimate presentation of "Omelette" which were all well received with great acceptance and much laughter.
"If music be the food of love, play on."
After nearly a two year absence of much live theatre in Massachusetts, do not "err" in missing out on this deliciously "eggsellent" musical - a show full of merriment, terrific singing, dancing and, above all else, laughter - something many of us have already spent far too much time missing.
Approximately 2 hours 30 minutes including intermission
Kevin T. Baldwin is a member of the American Theatre Critics Association (ATCA)
@MetrmagReviews
@Theatre_Critics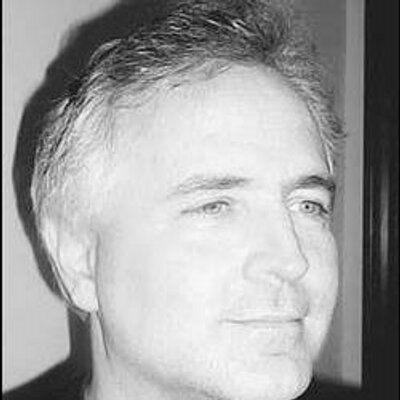 COVID-19 PROTOCOL
Face masks are mandatory while attending performances at the Theatre at the Mount.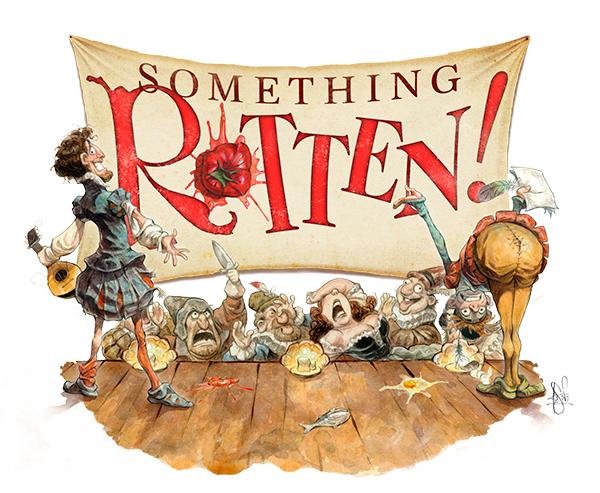 ABOUT THE SHOW
Welcome to the Renaissance!
This hilarious new musical comedy tells the story of brothers Nick and Nigel Bottom, two playwrights stuck in the shadow of Renaissance rock star Will Shakespeare.
When a soothsayer foretells that the future of theatre involves singing, dancing and acting at the same time, the Bottom brothers set out to write the worlds' very first MUSICAL.
With it's heart on it's ruffled sleeve and sequins in its soul, Something Rotten! Is an uproarious dose of pure Broadway fun!

Mount Wachusett Community College
444 Green Street
Gardner, MA 01440