(Cover Photo: The CAST of Huntington Theatre's "SING STREET," now playing in Boston, MA. through October 9, 2022. Photo by Evan Zimmerman for MurphyMade)

By Kevin T. Baldwin
METRMag Reviewer
# 774-242-6724

"Song sung true"

Huntington Theatre Company
Presents the NEW Musical
"SING STREET"
The joyous new musical that lifts you up!
Book by Enda Walsh
Music and Lyrics by Gary Clark and John Carney
Based on the motion picture Written and Directed by John Carney
Directed by Rebecca Taichman
Choreography by Sonya Tayeh
Cast Includes: Adam Bregman, Billy Carter, Courtnee Carter, Jack DiFalco, Donal Finn, Anthony Genovesi, Michael Lepore, Diego Lucano, Elijah Lyons, Alexa Xioufaridou Moster, Anne L. Nathan, Gian Perez, Dee Roscioli, Armand Schultz, Ben Wang, Leigh Barrett, Gable Kinsman, Nael Nacer, Matthew Pantanella, Ale Philippides, Virginia Vogel (Cast list subject to change)
The Huntington Calderwood/BCA, 527 Tremont St.
Performances:
August 26, 2022 through October 9, 2022
(Contact Box Office for Exact Times)
Tickets: $25 - $175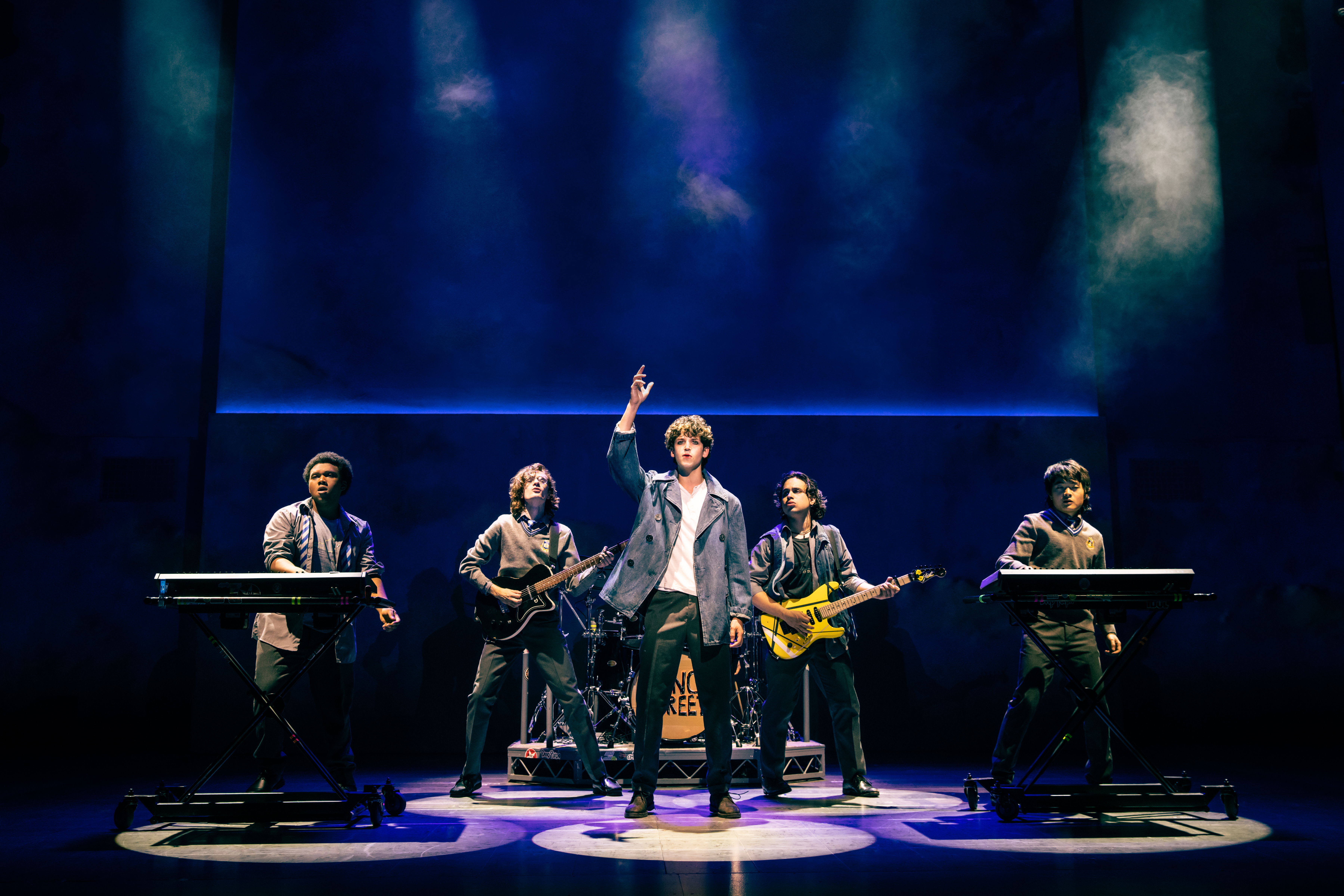 (Photo: Elijah Lyons, Michael Lepore, Adam Bregman, Gian Perez and Ben Wang as the band in Huntington Theatre's "SING STREET," now playing in Boston, MA. through October 9, 2022. Photo by Evan Zimmerman for MurphyMade)
The enthusiasm and anticipation behind Huntington Theatre's new musical "SING STREET," led by a creative team of Tony Award winners, has been fierce and, make no mistake, the wait has easily been worth it as this is a hit - a creative and powerful new pop musical with a heart of gold.
It also brings great humor from beginning to end. Most of the humor comes out of the truthful depiction of the musical's characters and their situations, which occasionally...more than occasionally...comes part and parcel with great sadness.
With a book by Tony Award-winner Enda Walsh and featuring music and lyrics by Gary Clark and John Carney, the new musical is based on the motion picture of the same name written and directed by Carney.
Under the ingenious direction of Tony Award-winner Rebecca Taichman working in tandem with choreography by brilliant Tony Award-winner Sonya Tayeh, the musical explodes onto the stage and, with great technical wizardry, envelopes the audience from the outset and throughout the story.
Concerning 16-year old Conor (Adam Bregman), a young man from a working class Irish family that is crumbling all around him, Conor is forced by his parents to attend a new faith-based school run by a tyrannical headmaster in Brother Baxter (Armand Schultz).
Conor is struggling but meets up with Darren (Diego Lucano) and the two hit it off immediately.
Conor meets the beautiful Raphina (Courtnee Carter) and, to impress her, he convinces her to star in his band's music video...a band that does NOT exist...yet.
So, Conor and Darren together assemble an unusual assortment of classmates to form "SING STREET" - and this is where the musical ultimately takes off with electrifying results.
The characters involve you in their story and you root for them throughout the entire show.
Bregman is a veritable powerhouse on stage, commanding our attention from the beginning, not only because of his incredible voice but also because of his sincere portrayal of troubled young Conor.
Carter is equally enjoyable as the pivotal Raphina who has a strong influence on Conor and the direction his ultimately life takes.
Raphina does tend, though, to spend far more time in a "call box" than Superman and Doctor Who combined. When singing "outside the box," however, Carter is a pure vocal delight.
The best performance of this night went to Donal Finn as Conor's troubled older brother, Brendan, who has not ventured outside their feuding parent's house for months, spending most of his time "self medicating."
Finn discerningly balances his character as he hovers between lost soul and, ironically, the only stable, loving parental figure that exists for both young Conor and their younger sister, Anne (Alexa Xioufaridou Moster).
The ensemble filling out members of the band "SING STREET" (Elijah Lyons, Michael Lepore, Gian Perez, Anthony Genovesi and Ben Wang) are all worthy of equal high praise. Many members of the cast (not just in the band) actually, and exceptionally, play musical instruments live on stage.
Wang as Conor's writing partner, Eamon, gives a sensitive portrayal which might have benefitted if the story expanded upon Eamon's relationship with mother, Sandra (Anne L. Nathan) who is relentlessly funny becoming biggest supporter of her son's band.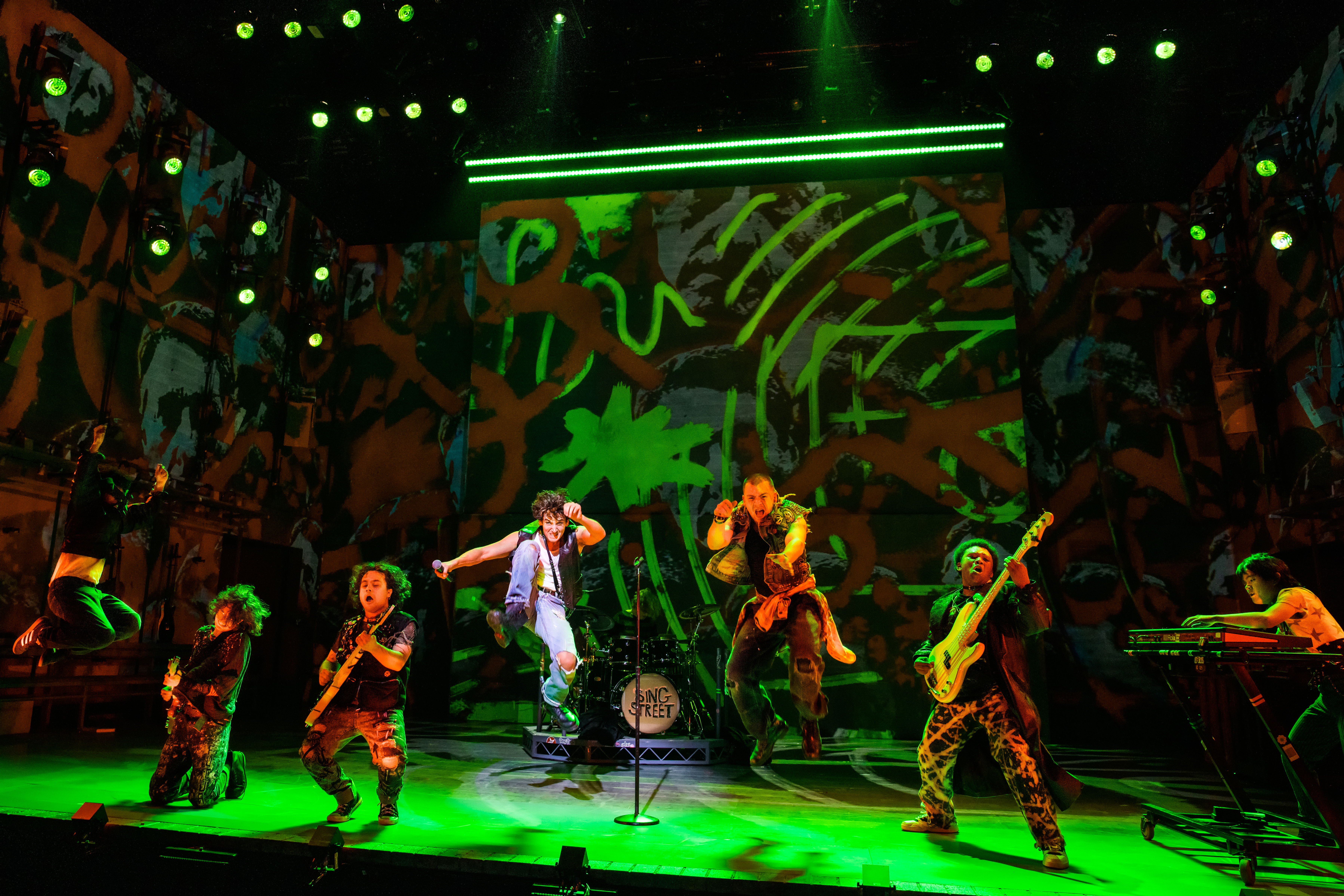 (Photo: The CAST of Huntington Theatre's "SING STREET," now playing in Boston, MA. through October 9, 2022. Photo by Evan Zimmerman for MurphyMade)
However, all the initial praise aside, for the first 20 minutes of "SING STREET" one might feel they have made a simply terrible, horrible mistake thinking, "this IS supposed to be a musical, right?".
Those opening minutes make "SING STREET" feel more like a play with musical highlights than an actual full fledged "traditional" (whatever that means these days) musical.
There is no opening number to make one know, from the beginning, that this is an original new musical.
Instead, we hear and see music video hits from the 80s infused to help propel the story along and to help make the scene changes flow a little more smoothly.
This works, but the absence of any of the original music supplied by Clark and Carney for that amount of time is a bit unnerving.
Supposedly being set in Dublin, 1982, integral to the plot is the emergence of the "concept music video" which was really just hitting its stride at that point.
Technically, as some audience members "of a certain age" may recall, the use of Ah Ha's "Take On Me" isn't accurate since that particular song wasn't released until 1985.
However, used here with some dazzling special effects, it is more used an example of 80s music video at its peak and is still a great way to "illustrate" (pun intended) the powerful impact the music video form had on a generation.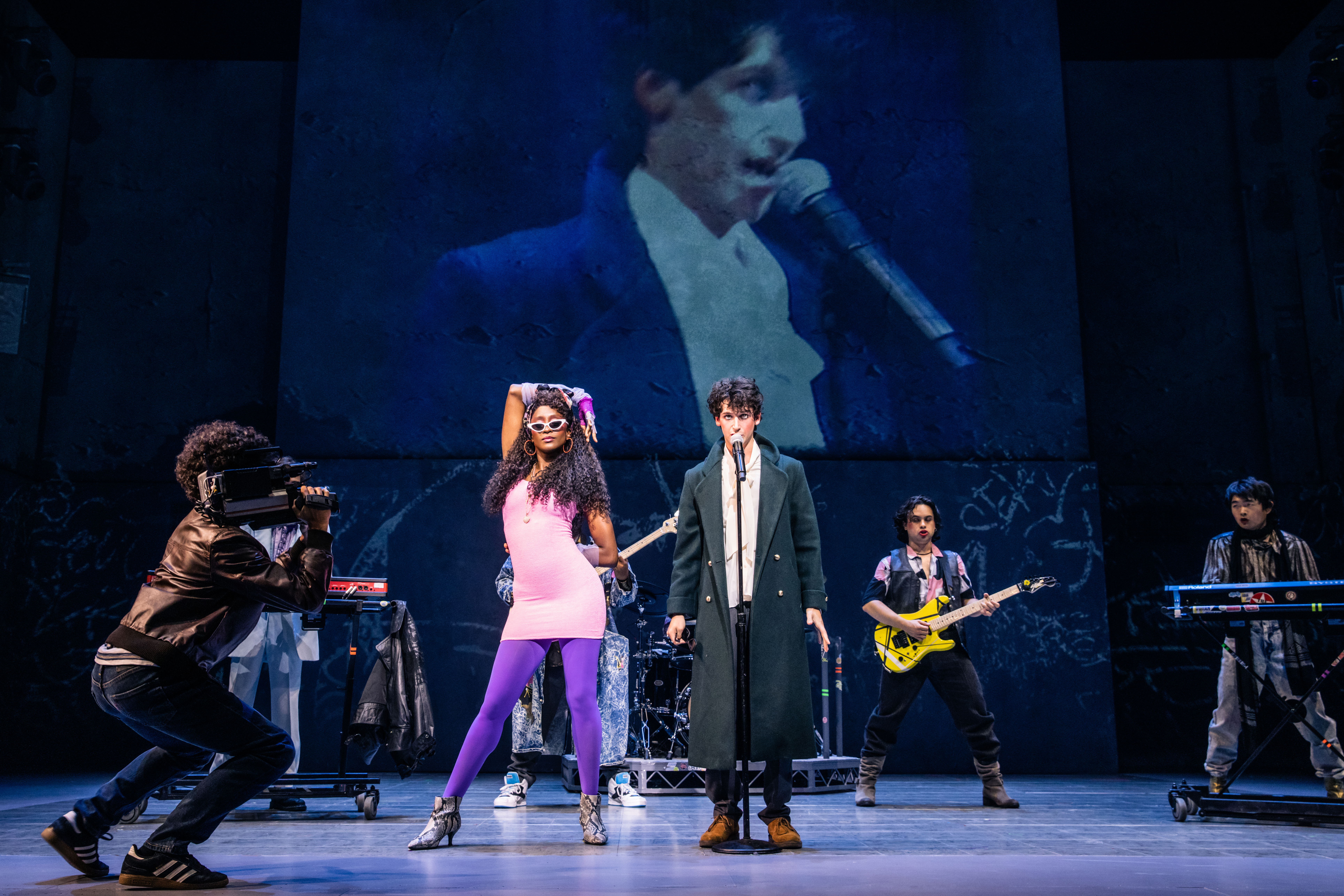 (Photo: Diego Lucano, Courtnee Carter, Adam Bregman, Gian Perez & Ben Wang in Huntington Theatre's "SING STREET," now playing in Boston, MA. through October 9, 2022. Photo by Evan Zimmerman for MurphyMade)
Also used in the show are other early 80s tunes which are used to accent certain moments yielding occasionally hysterical results.
Yet it is when the fist actual song is played that this musical really takes off and, by the second number, we are totally involved and are in absolute awe of just how good this show is.
Playing though October 9, "SING STREET" is a solid two plus hours of fun.
Filled with passionate, youthful, adrenaline-fused musical exuberance, "SING STREET" also provides an evening spent with heartwarming characters that we care about, making this a show everyone should see.
Approximately two hours, 20 minutes with one intermission.
Kevin T. Baldwin is a member of the American Theatre Critics Association (ATCA)
@MetrmagReviews
@Theatre_Critics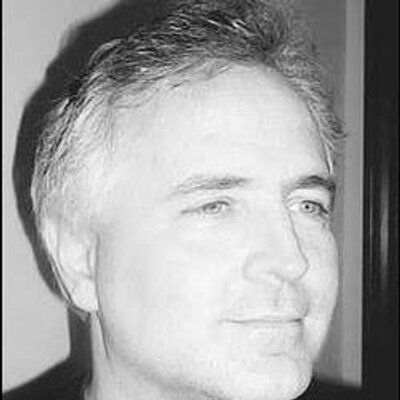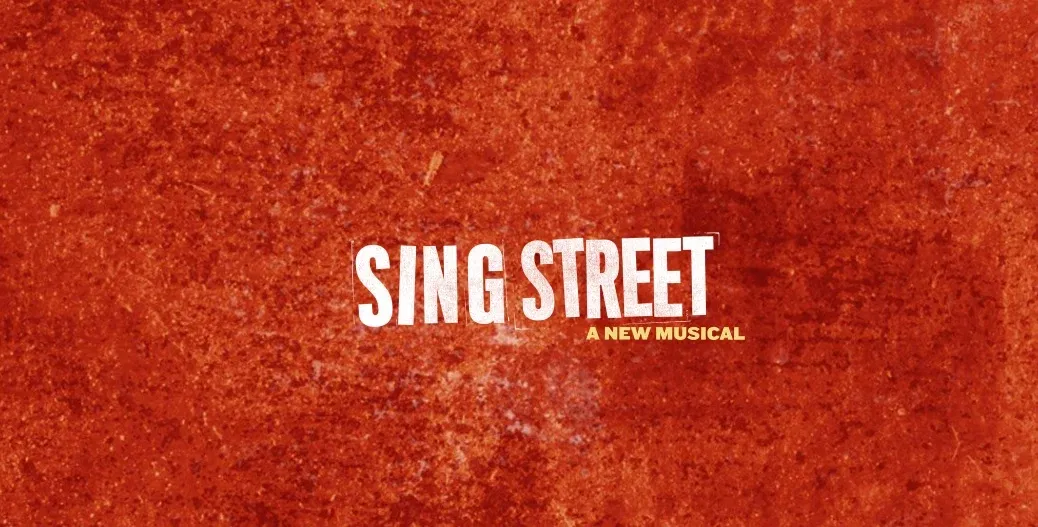 ABOUT THE SHOW
It's Dublin, 1982.
Sixteen-year old Conor tries to impress a mysterious girl, Raphina, by asking her to star in a music video for his band.
If only he had a band.
Teaming up with a group of schoolmates, Conor and Raphina use music to bring them together, escape their troubles at home, and carve out a place in their struggling community.
With a score that embraces the new wave sounds of the 80s, Sing Street is an ode to the thrill of young love and a celebration of the power of music to lift us up.
COVID 19 PROTOCOLS
COVID Safety Protocols: For the safety and comfort of all who attend our shows, masks must be worn at all times throughout the building unless actively eating or drinking concessions, available for purchase during intermissions.

ABOUT THE HUNTINGTON THEATRE COMPANY
The Huntington Theatre Company is Boston's leading professional theatre and one of the region's premier cultural assets since its founding in 1982. Recipient of the 2013 Regional Theatre Tony Award, the Huntington brings together superb local and national talent and produces a mix of groundbreaking new works and classics made current to create award-winning productions. The Huntington runs nationally renowned programs in education and new play development and serves the local theatre community through its operation of the Calderwood Pavilion at the BCA. The Huntington has long been an anchor cultural institution of Huntington Avenue, the Avenue of the Arts, and will remain so on a permanent basis with plans to convert the Huntington Avenue Theatre into a first-rate, modern venue with expanded services to audiences, artists, and the community. The Huntington cultivates, celebrates, and champions theatre as an art form.
For more information, visit huntingtontheatre.org.