(Cover Photo: Members of the CAST of "Romeo and Juliet" presented by the Shit-Faced Shakespeare Company, now playing in Somerville, MA. through July 9, 2022. Photo courtesy of Emma Egan.)

By Kevin T. Baldwin
METRMag Reviewer
Contact: 774-242-6724
"If I be drunk, I'll be drunk with those that have the fear of God, and not with drunken knaves." (William Shakespeare)

SHIT-FACED SHAKESPEARE
Closes its 2021-22 Season with a classic
"ROMEO AND JULIET"
Producing Director: Brett Milanowski
Note: There is a rotating cast of nine actors in this production. The CAST for the performance reviewed on 5-20-2022 was as follows:
Romeo - Tyler Rosati
Juliet - Zeiana Andrade
Mercutio/Friar - Bree Perry
Benvolia - Hannah Beebe (drunk)
Tybalt/Capulet - Jon Vellante
Compere - Brett Milanowski
Performances:
May 5 through July 9, 2022
Thursday, Friday, and Saturday nights at 7:00pm
(Contact Venue for Exact Dates and Times)
The Rockwell in Davis Square, 255 Elm Street, Somerville, MA. 02144
Tickets: $30
For tickets or more information, contact Evan Turissini at EvanTurissini@gmail.com or visit www.Shit-FacedShakespeare.us.
The concept? Ludicrous.
The execution? Well…same.
The results? Hilarious.
That is what awaits audiences who attend the Shit-Faced Shakespeare production of William Shakespeare's "Romeo and Juliet" now playing in at the Rockwell Theater in Somerville until July.
The basic premise is just that - basic: Six characters re-enact the Bard classic with one "unstable element" added to the mix…that "element" is an actual "unstable" cast member.
"Unstable" because, prior to the performance, that one cast member (at this performance it was the character of "Benvolia" played by actress Hannah Beebe) has imbibed themselves to the point of intoxication.
But are they done drinking yet? Oh, no. Not quite.
There is plenty of audience participation required during the buffoonish, lampoonish and totally cartoonish 60 minutes.
Part of that participation is to ensure the cast member does not (repeat: does NOT) get so sober as to potentially lose any of their instability.
There is also a scene requiring a lot of choreography and "spinning" around.
So, is there a distinct possibility the cast member (in this case Beebe) might embarrassingly "expunge" either on themselves, the floor and/or others during the production?
Well, that is where some of the audience participation comes into play...but I wouldn't want to spoil the rest for you.
Not that the inebriant behavior is a singular comedic element to the show. If it didn't exist, the cast of six still puts on a very funny show...but it DOES exist and thank goodness for that!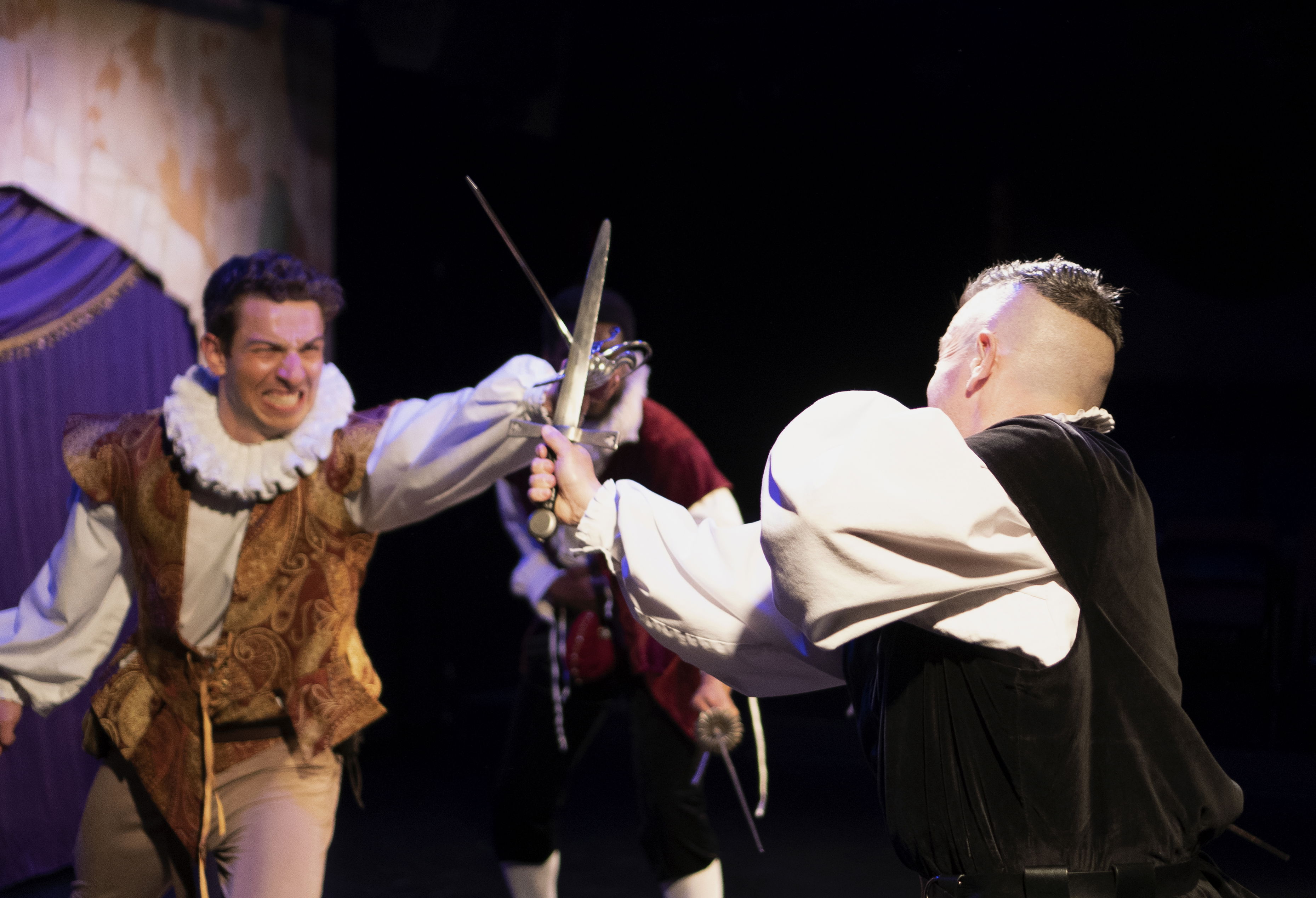 (Photo: Members of the CAST of "Romeo and Juliet" presented by the Shit-Faced Shakespeare Company, now playing in Somerville, MA. through July 9, 2022. Photo courtesy of Emma Egan.)
Yet, even given the preposterous premise, all the performers are quite good at the intense and absurd physical comedy required.
Tyler Rosati as "Romeo" has an acute sense of comedic timing, especially when it comes to some required spur of the moment reactions and adlibbing; and Zeiana Andrade is an equally adept actress who is simply delightful as "Juliet."
The rest of the cast (Bree Perry, Jon Vellante, Brett Milanowski and even the practically paralytic Hannah Beebe) show great proficiency at rendering multiple characters in quick succession.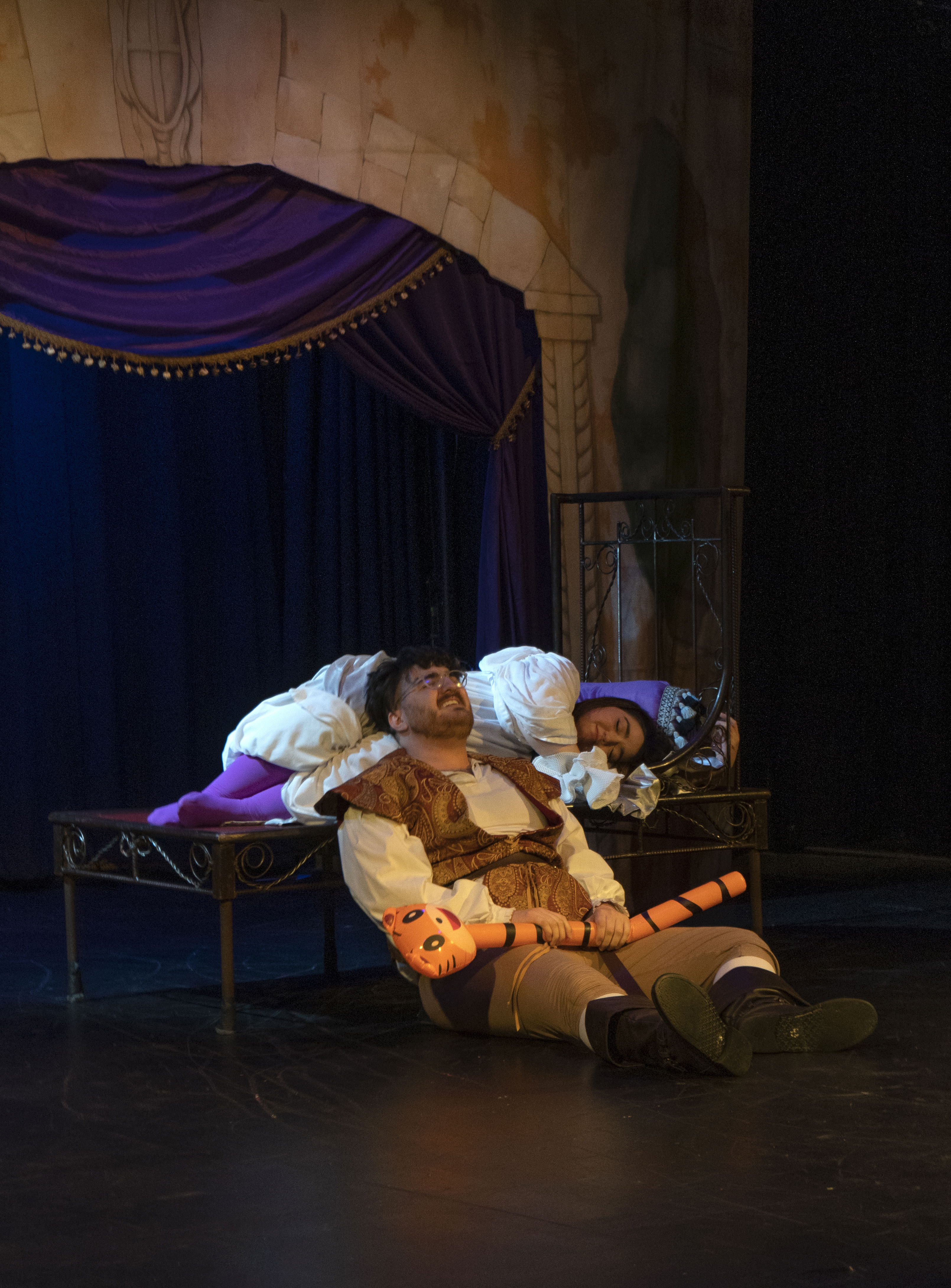 (Photo: Members of the CAST of "Romeo and Juliet" presented by the Shit-Faced Shakespeare Company, now playing in Somerville, MA. through July 9, 2022. Photo courtesy of Emma Egan.)
Those attending "Romeo and Juliet" to perhaps see actors who have the makings of the next Olivier, Branagh or even, God help us, Patrick Stewart, abandon all hope ye who enter the Rockwell in Davis Square.
For an evening of performances worthy of the Bard, worthy of accolades, chock full of refinement, tremendous depth and quality in approach, you should absolutely seek out other theatre companies staging Shakespeare in the Boston area.
For an evening of performances worthy of irreverence, chock full of booze, belly laughs, incomparable silliness and fun in approach, you should absolutely seek out some Shit-Faced Shakespeare in Somerville...and why not raise a glass to toast the cast of "Romeo and Juliet" while you are there.
Approximately one hour with no intermission.
Kevin T. Baldwin is a member of the American Theatre Critics Association (ATCA)
@MetrmagReviews
@Theatre_Critics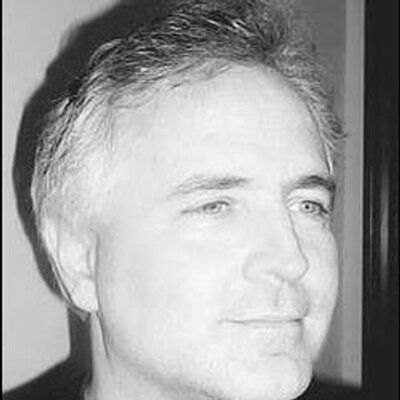 ABOUT THE SHOW
Following the success of A Midsummer Night's Dream and The Taming of the Shrew earlier this season, Shit-Faced Shakespeare® is proud to present the final show in their 2021-22 Season: Romeo & Juliet, which will run at the Rockwell Theater in Davis Square from May 5 through July 9.
This summer at The Rockwell, five classically trained, professional Shakespearean actors – with one of them classically, Shakespeareanly shit-faced – will be portraying two households, both alike in their lack of dignity.
There is no love lost between the Capulet and Montague families and everyone in Verona knows it.
Certainly the only way to mend centuries of bad blood is by having two forlorn teenagers from opposite households fall in love with each other, right?
Nothing that a swig of the finest spirits can't fix!
Join us for rollicking sword fights, star-crossed romance, Daytime TV-level faux death scenes… and, of course, a drink (or seven) along the way.
Shit-Faced Shakespeare® is an internationally renowned mega-hit that has performed on three continents, consumed tens of thousands of real alcoholic beverages, and entertained almost half a million audience members worldwide.
Since arriving in Boston in 2015, Shit-Faced Shakespeare® has performed sozzled renditions of six works in Shakespeare's canon, and shows no sign of stopping.
With a high-falutin' cocktail of traditional Elizabethan theatre and balls-to-the-wall drunken shenanigans, audiences from London's West End to stages across America have fallen in love with this unique theatrical experience.
COVID-19 PROTOCOLS
Effective January 20, 2022, everyone age 5 and up entering The Rockwell (at 255 Elm Street, Somerville) must show proof of full vaccination. This includes all staff, audience, cast and crew attending and/or performing at The Rockwell. You may show proof of vaccination in a number of ways:
● Bring in your vaccine card
● Bring in a photo of your vaccine card on your phone
● Enroll in the Commonwealth's COVID-19 SMART Health Card program and we'll scan and verify the QR code In addition, we will require all guests to wear masks while with us during performances. This includes hallways, lobby, bar area, restrooms, and once you are seated. You may remove your mask when actively sipping on that tasty beverage from the bar but mask back up once you're done.
To echo what our friend's at the Somerville Media Center say: we'll have zero tolerance of noses in public spaces. We will offer you a new mask if yours is ill-fitting, but if we see noses hanging out of masks or masks hanging off faces, we will ask that face's owner to leave.
The Rockwell follows current CDC guidelines and requirements from the Commonwealth of Massachusetts and the City of Somerville. Be aware that these guidelines are ever-changing and if anything changes we will be in touch. Despite the Commonwealth of Massachusetts and the City of Somerville lifting vaccine requirements and mask mandates, we are committed to protecting our staff and artists, as many of the latter will be performing unmasked.
Please check back at www.TheRockwell.org for any updates.
Let's all do our part to stop the spread and keep one another healthy.