(Cover Photo: Will McGarrahan, Dan Rodriguez, Dan Prior, Kayla Shimizu, Anthony Pires, Jr. and Aimee Doherty in "PRELUDES" by Dave Malloy, now playing at the Lyric Stage in Boston, MA. through February 5, 2023. Photo Credit Mark S. Howard)

By Kevin T. Baldwin
METRMAG Reviewer
# 774-242-6724
"I feel like a ghost wandering in a world grown alien." - Sergei Rachmaninoff

Lyric Stage Company
Presents
"PRELUDES"
Music, Lyrics, Book, and Orchestrations by Dave Malloy
Directed by Courtney O'Connor
Music Director Dan Rodriguez
Featuring: Aimee Doherty*, Will McGarrahan*, Anthony Pires, Jr.*, Dan Prior*, Kayla Shimizu, and Dan Rodriguez, piano. Understudies: Allison Beauregard, Matthew Zahnzinger, Josh Telepman.
Additional Creative Team:
Scenic Design - Shelley Barish; Costume Design - Rachel Padula-Shufelt; Lighting Design - Karen Perlow**; Sound Design - Andrew Duncan Will; Production Stage Manager - Adele Nadine Traub*; Assistant Music Director - Ben Russman; Assistant Stage Manager - Emma Hunt; Props Artisan - Lauren Corcuera; Wardrobe - Joey Pisano; Assistant To The Director - Jess Meyer, Josh Telepman; Head Electrician - Gabriel Goldman
* Member of Actors' Equity Association, the Union of Professional Actors and Stage Managers in the United States
** Represented by United Scenic Artists, Local USA 829 of the IATSE
° Stage Directors and Choreographers Society
Performances:
January 6, 2023 through February 5, 2023
(Contact Box Office for Exact Times)
140 Clarendon Street, Boston, MA 02116
BOX OFFICE # 617-585-5678
Lyric Stage presents the stunning, complex "PRELUDES" which may actually require more than one time seeing it to grasp and appreciate everything that it brings to the stage.
There is a valid argument to be made that "PRELUDES" is probably the finest musical to celebrate a classical composer.
However, to refer to this show as a "musical" is a little misleading.
This particular show, with music, lyrics, orchestrations and book by Dave Malloy is to musicals what route canal is to a teeth whitening session.
The show does not follow a standard "scene->song->scene->song" musical format.
There are moments, in Malloy's score, which feel as if there should be a beat at the end of a song to allow for audience applause.
Yet Malloy, intentionally, persistently, seems to refuse to allow for such a beat, possibly allowing for the majority of the musical numbers to unfold as a single piece.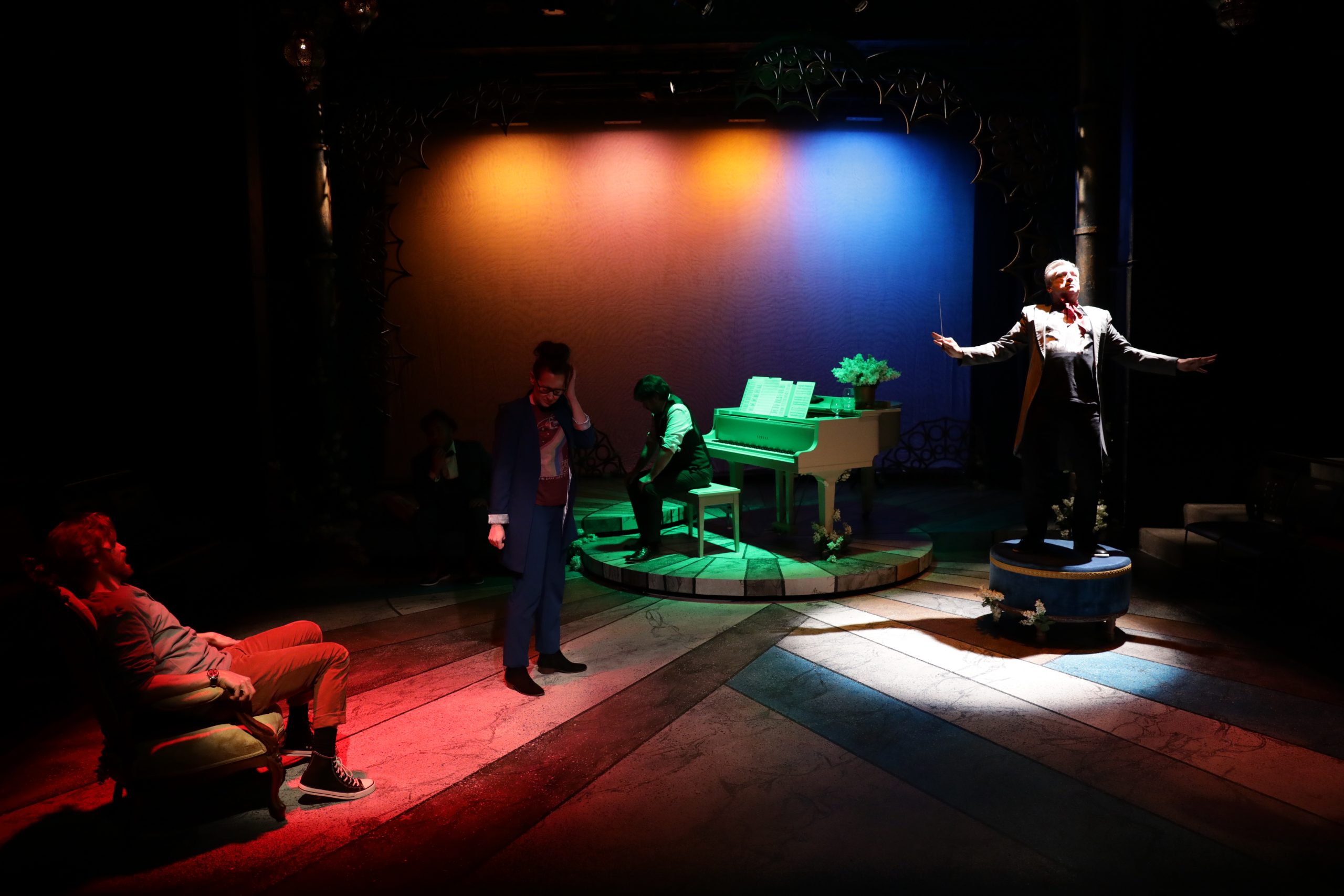 (Photo: Dan Prior, Aimee Doherty, Dan Rodriguez and Will McGarrahan of "PRELUDES" by Dave Malloy, now playing at the Lyric Stage in Boston, MA. through February 5, 2023. Photo Credit Mark S. Howard)
One might even refer to "PRELUDES" as a "play with music" but that also seems invalid here.
The score is constructed with such a gorgeous complexity and fluidity that there is barely a moment to breathe in between musical numbers let alone applaud.
"PRELUDES," under the shrewd direction of Courtney O'Connor, unfolds more as if the sheet music set on the piano center stage comes to life, jumps off the piano and tells us the story of how it came to be constructed and how it ultimately saved the life of famed composer Sergei Rachmaninoff (Dan Prior).
Prior is absolutely riveting from the outset and brings an unrelenting manic energy to the character of Sergei.
Sergei suffers from a prolonged case of writer's block after a disastrous premiere of his Symphony No. 1 in D minor.
Sergei exists mentally in an arduous three year depression, undergoing a supportive therapy which, in an historical presumption, ultimately allows him to complete his critically acclaimed Piano Concerto No. 2.
At this juncture, though, Sergei cannot even effectively communicate to the therapist about his simple, daily routine, as expressed in the show's opener, "Your Day."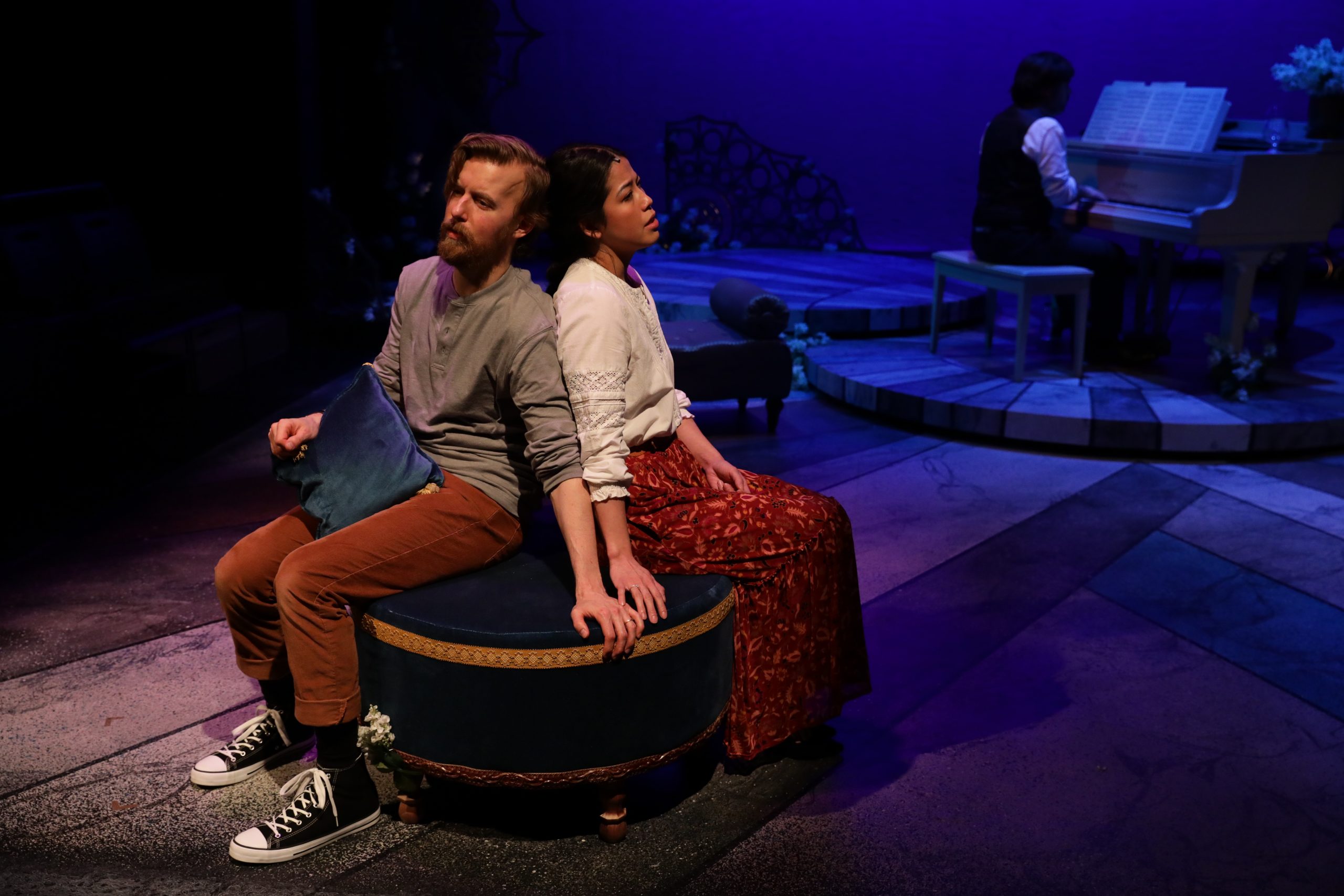 (Photo: Dan Prior, Kayla Shimizu and Dan Rodriguez in a scene from "PRELUDES" by Dave Malloy, now playing at the Lyric Stage in Boston, MA. through February 5, 2023. Photo Credit Mark S. Howard)
Sergei is also engaged to his first cousin, Natalya (Kayla Shimizu) and the two seek approval to be married by Tsar Nicholas II (Will McGarrahan) as their intended union was forbidden under a Canon law imposed by the Russian Orthodox Church.
Natalya feels not only sympathy for Sergei - she is equally frustrated by him, as Shimizu beautifully expresses in the act one closer, "Natalya."
It is not only Sergei's music that encompasses "PRELUDES." There is also a recurring theme of "white lilacs," also set on the center stage piano, that becomes a critical factor in his breakthrough therapy with Dr. Dahl (Aimee Doherty).
In the song, "Hypnosis" leading into the show's finale "Mountains," Sergei exposes his deepest emotions with Dahl (and us) which include his receiving weekly gifts of lilacs. A truly emotional moment, indeed.
Another standout number from the show is the second act opener "Loop" as performed by the character of Chaliapin (Anthony Pires, Jr.), probably the most visually stunning number from the show, equaled only by the impeccable execution by Pires.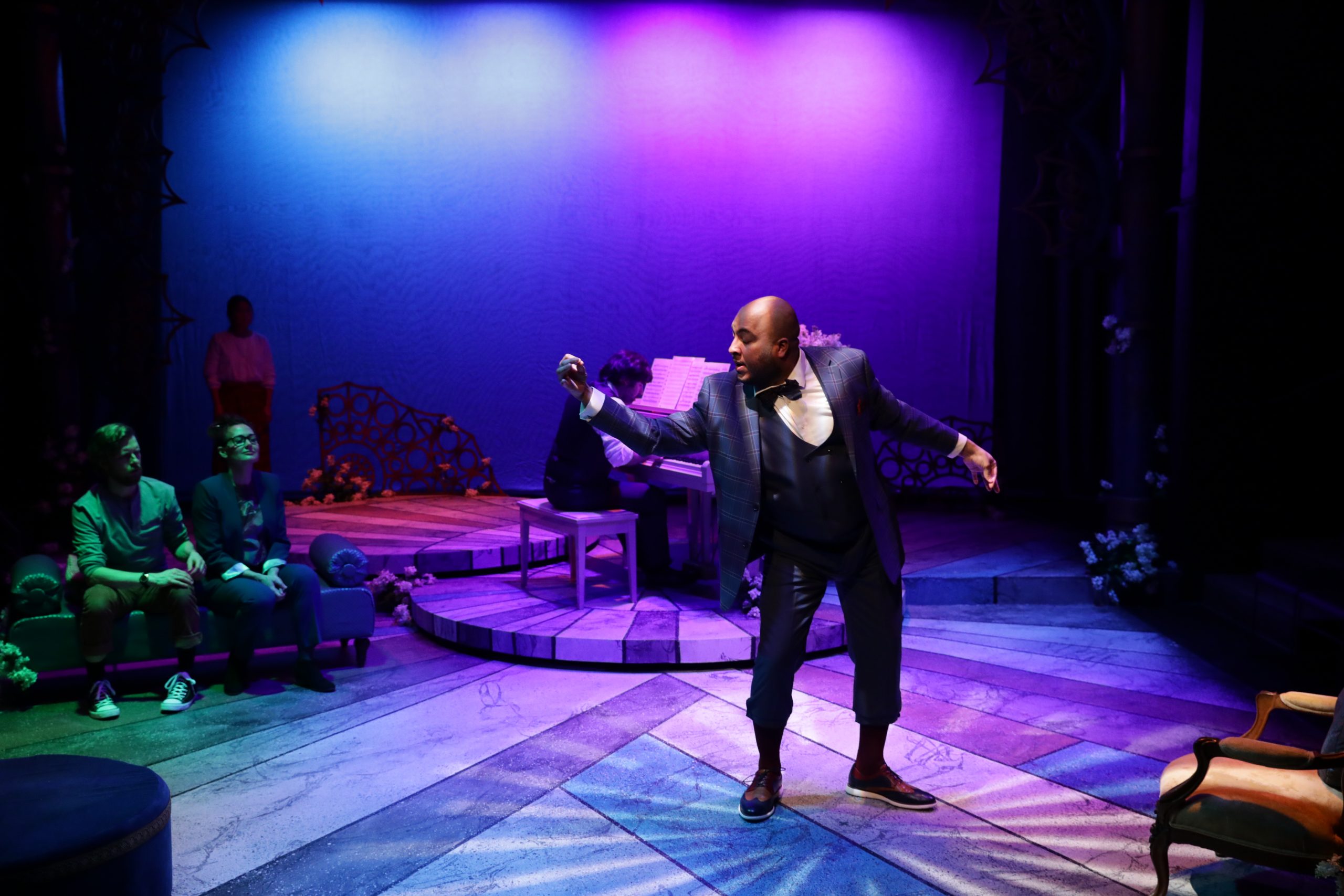 (Photo: Anthony Pires, Jr. in "PRELUDES" by Dave Malloy, now playing at the Lyric Stage in Boston, MA. through February 5, 2023. Photo Credit Mark S. Howard)
Taking on multiple roles in the show is the magnificent Will McGarrahan who expertly transforms between the characters of Chekhov, Tchaikovsky, Tolstoy, Glazunov, the Tsar Nicholas II and "The Master" - all providing various insights into and perspectives on where things went awry for the struggling Sergei.
High praise must also be given to Dan Rodriguez who not only serves as musical director but is integral to the visual experience on stage, channeling Rachmaninoff himself through his music.
Listeners might even catch the brief but recognizable recall of Eric Carmen's "All By Myself" (which lifted from the second movement Adagio sostenuto of Rachmaninoff's "Piano Concerto No. 2 in C minor, Opus 18.")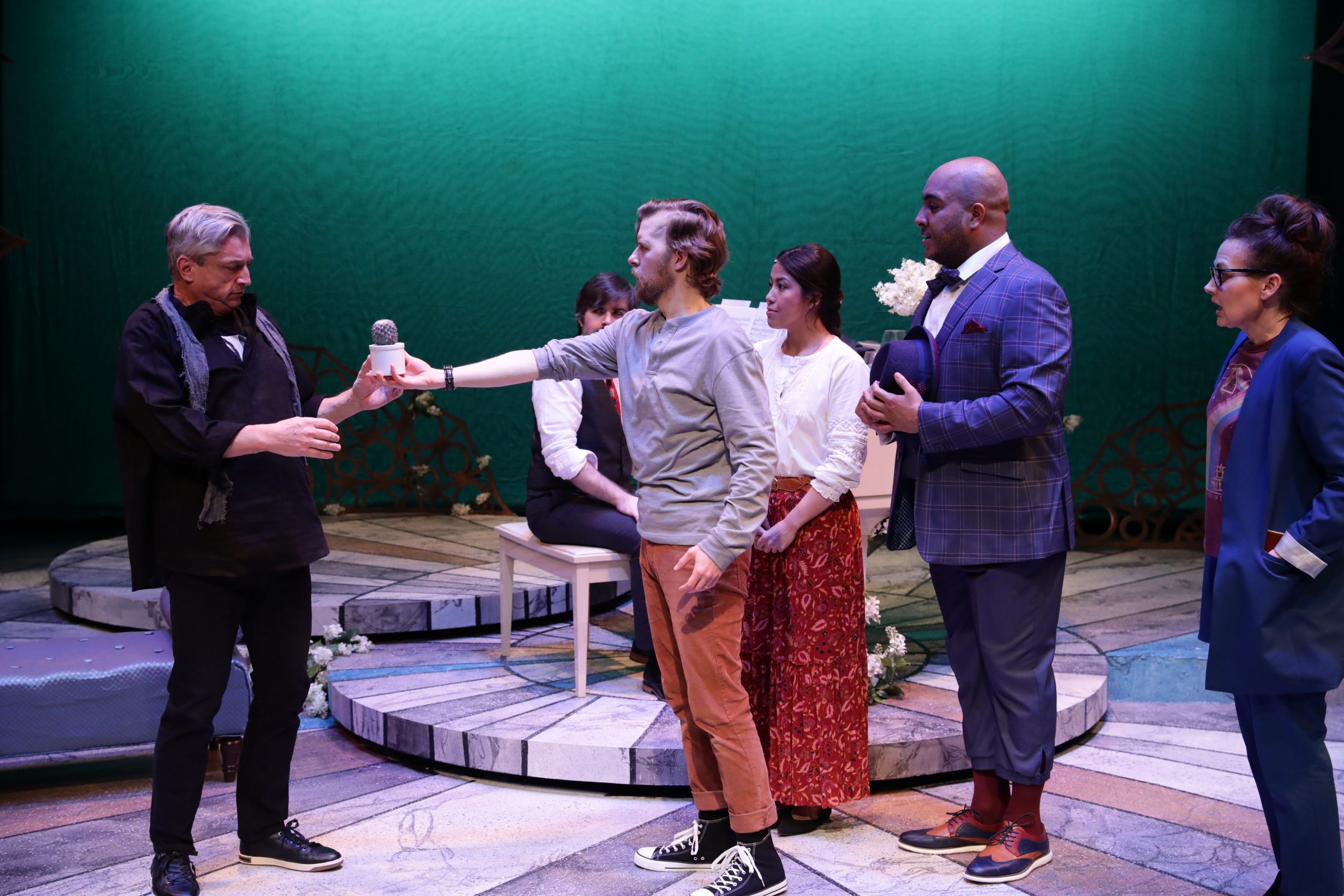 (Photo: Will McGarrahan, Dan Rodriguez, Dan Prior, Kayla Shimizu, Anthony Pires, Jr. and Aimee Doherty in "PRELUDES" by Dave Malloy, now playing at the Lyric Stage in Boston, MA. through February 5, 2023. Photo Credit Mark S. Howard)
Make no mistake - "PRELUDES" is a work of art - complex, multi-layered, well crafted and well executed.
The entire creative team involved deserves much credit for the overall visual presentation that compliments and enhances the Malloy score.
However, all that praise aside, this is something that will NOT align with every person's taste.
It tends to lean into the overly (or overtly) cerebral, at times, and anyone not familiar with Rachmaninoff may, occasionally, find themselves scratching their heads at some of the musical or biographical references.
Yet the show, as presented in such an exciting and visceral form, does not seem to want to apologize for its intelligent, comprehensive, abstract and psychological approach.
Instead, it embraces these, thus prompting a potential return by its audience to...perhaps...learn more about Rachmaninoff - or to just embrace and enjoy more of what "PRELUDES" has to offer.
Note: This production includes a visual of a gun, gunshots, issues of mental health and depression.
Approximately two hours with one intermission.
Kevin T. Baldwin is a member of the American Theatre Critics Association (ATCA)
@MetrmagReviews
@Theatre_Critics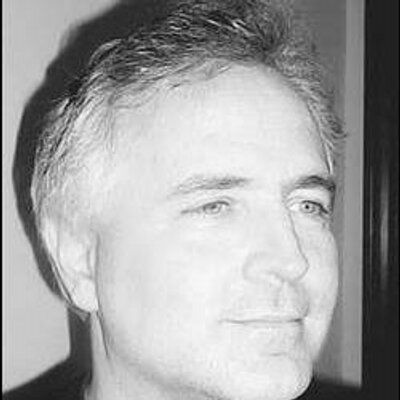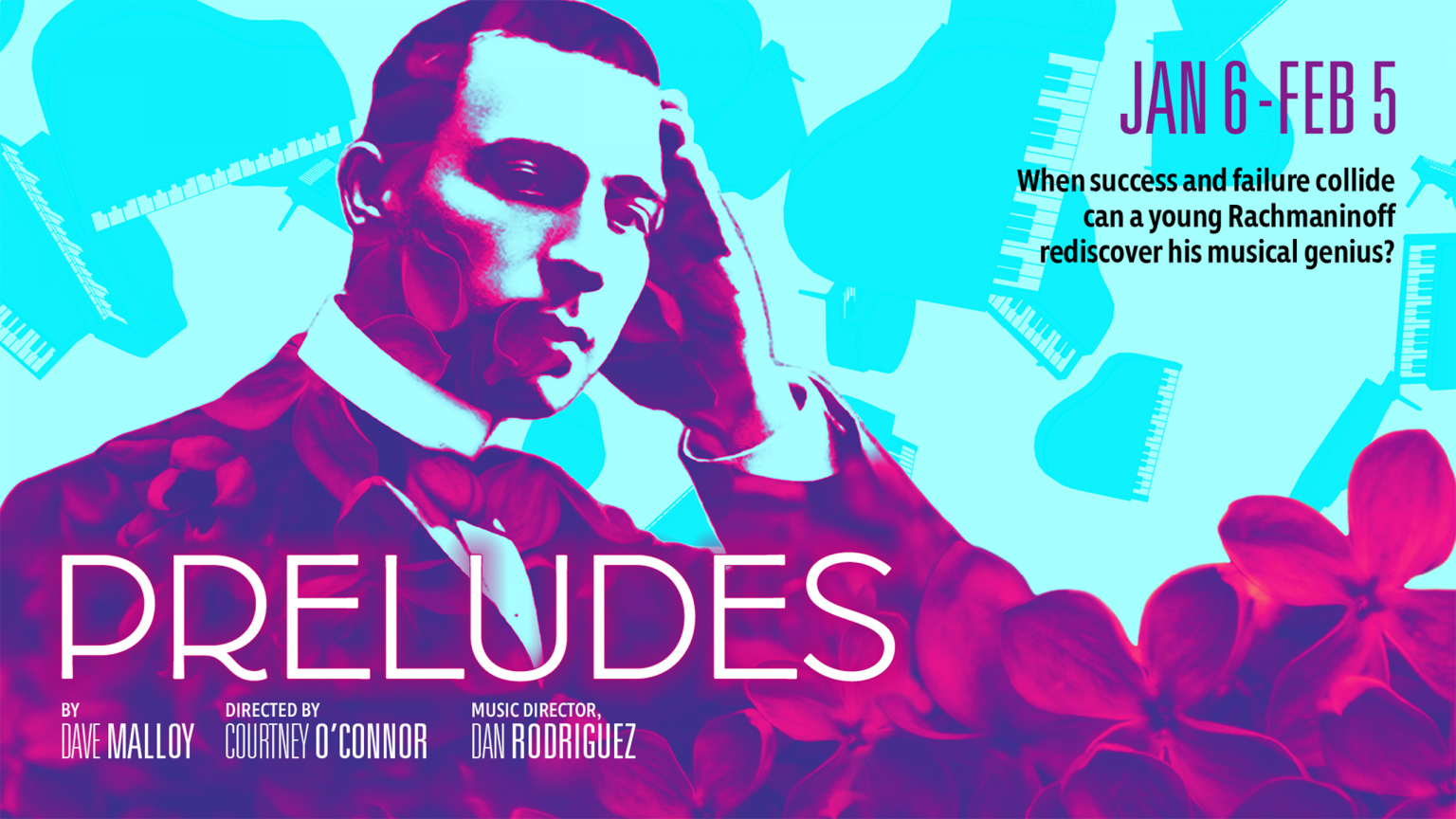 ABOUT THE SHOW
"I just want to be remembered."
When success and failure collide, can a young Rachmaninoff rediscover his musical genius?
A musical fantasia, "PRELUDES" unfolds in the hypnotized mind of composer and virtuoso pianist Sergei Rachmaninoff as he attempts to overcome his writer's block following a disastrous premiere of his Symphony No. 1 in D minor.
In an array of hypnotic reveries, he is invigorated by some of the most influential artists of the time including Tolstoy, Chekhov, and Tchaikovsky.
Creativity is unlocked and ignited through Dave Malloy's ("Natasha, Pierre & The Great Comet of 1812") bewitching mashup of original compositions and Rachmaninoff's own work that takes us on a glorious journey on an artist's quest to secure a legacy and reclaim a voice.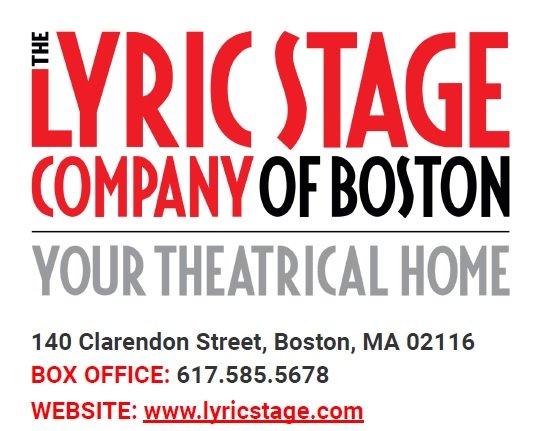 ABOUT THE LYRIC STAGE OF BOSTON
Founded in 1974 and in residence at 140 Clarendon Street since 1991, THE LYRIC STAGE OF BOSTON is Boston's oldest resident theatre company. Our mission is to produce and present live theatre in Greater Boston with an intimate approach that promotes inclusivity and connection. THE LYRIC STAGE leads an effort to integrate live theater and theater education into the lives of all residents of greater Boston.
140 Clarendon Street
Boston, MA. 02116
BOX OFFICE: 617-585-5678
WEBSITE: www.lyricstage.com