(Cover Photo: The CAST of the smash comedy "POTUS" by Selina Fillinger now playing at SpeakEasy Stage Company in Boston, MA. until October 15, 2023. Photo credit Nile Scott Studios)




By Kevin T. Baldwin
METRMAG Reviewer
# 774-242-6724

"I know you got more to say Harry. You know where all the skeletons are."
- ("Chris" to "Harriet") / Selina Fillinger

SpeakEasy Stage Company
Presents
"POTUS: OR, BEHIND EVERY GREAT DUMBASS ARE SEVEN WOMEN TRYING TO KEEP
HIM ALIVE"
New England Premiere – Direct from Broadway!
Written by Selina Fillinger
Directed by Paula Plum
Cast Includes: Marianna Bassham* as "Stephanie"; Johanna Carlisle-Zepeda* as "Bernadette"; Catia as "Chris"; Chrystin Gillmore* as "Margaret"; Laura Latreille* as "Jean"; Monique Ward Lonergan* as "Dusty"; Lisa Yuen* as "Harriet"
Additional Creative Team: Karen Perlow** - Lighting Designer; Kendyl Trott - Assistant Stage Manager; Rebecca Glick - Costume Designer; Emme Shaw - Props Designer; Jenna McFarland Lord - Scenic Designer; Audrey Dube - Sound Designer; Lauren Burke* - Production Stage Manager; Angie Jepson - Fight Choreographer and Intimacy Director
* Member of Actors' Equity Association, the Union of Professional Actors and Stage Managers in the United States
** Represented by United Scenic Artists, Local USA 829 of the IATSE
Performances:
September 15, 2023 through October 15, 2023
(Contact Box Office for Exact Times)
Calderwood / BCA, 527 Tremont Street, Boston MA 02116
TICKETS:
Contact the Box Office # 617-933-8600 or visit www.speakeasystage.com

COVID 19 PROTOCOLS
Contact Venue for Most Updated COVID-19 Safety Protocols and Information.
SpeakEasy Stage Company launches their 2023-2024 season with unbridled laughter in the unhinged comedy "POTUS: Or, Behind Every Great Dumbass Are Seven Women Trying to Keep Him Alive."
"POTUS" is a pull-no punches farce written by Selina Fillinger and features a terrific cast of seven women as the fictitious family and staff of an equally fictitious President of the United States who must contend with his ongoing ineptitude and sexual escapades to try and protect him...well, from himself.
However, as the story unfolds, it is unfathomable as to why any of them would even WANT to protect the lascivious lout.
If anyone is a fan of the television show "The West Wing" yeah...this isn't it. It is the exact opposite of that other fictitious administration.
Also, it should be noted that there is a lot of rude, crude, foul language used in "POTUS" that, guaranteed, you'd never hear uttered by any of "The West Wing" staff of "President Bartlet."
That said, while "POTUS" does not achieve that same level of "high brow" humor, if you ever were a fan of the humor witnessed in many episodes of "The West Wing," you'll find Fillinger's brand of humor in the "POTUS" script possibly wilder and definitely raunchier.
In other words, to paraphrase a line from "The West Wing" - Fillinger has definitely "brought the funny."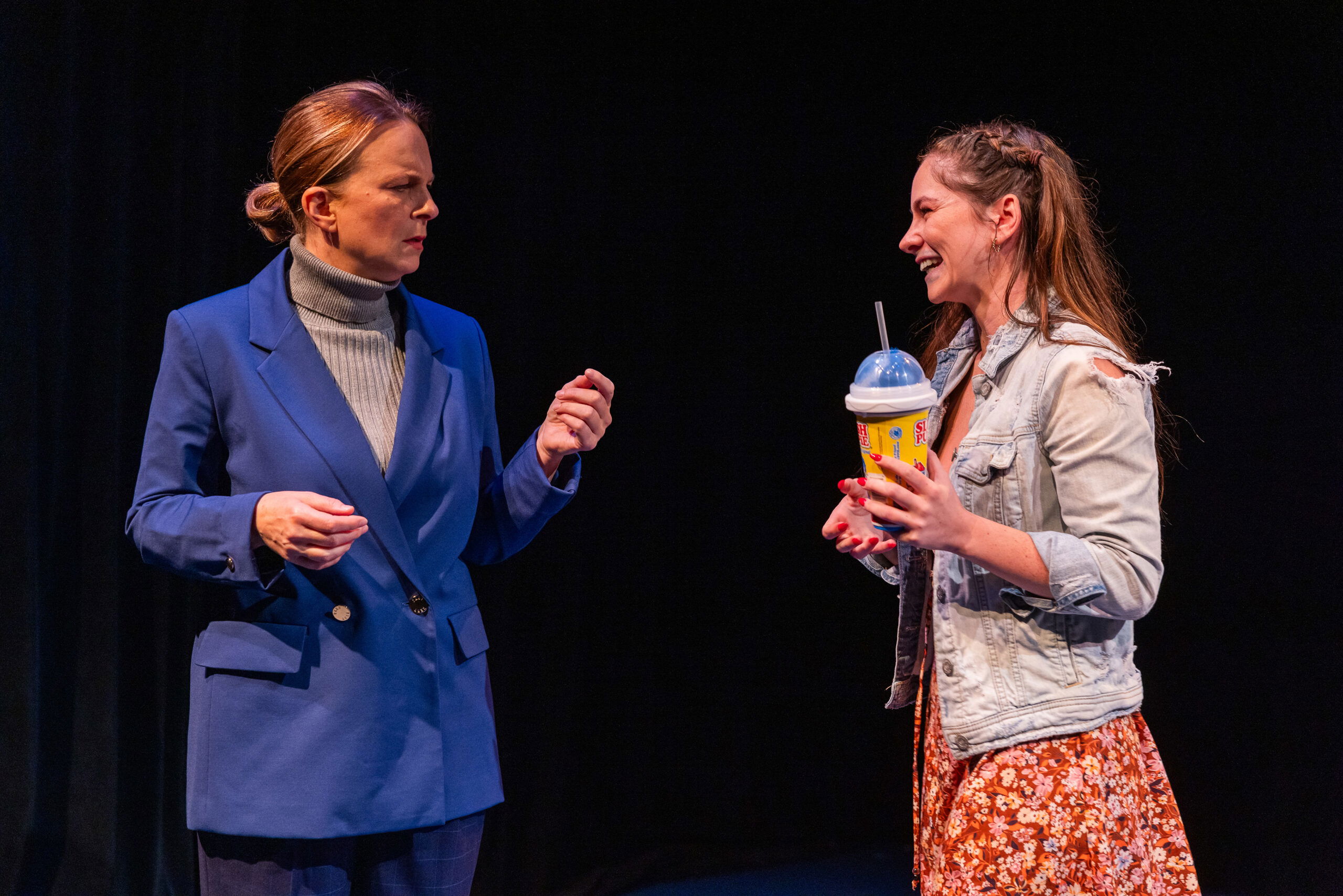 (Photo: Laura Latreille as "Jean" with Monique Ward Lonergan as "Dusty" in a scene from the smash comedy "POTUS" by Selina Fillinger now playing at SpeakEasy Stage Company in Boston, MA. until October 15, 2023. Photo credit Nile Scott Studios)
The two-act play opened on Broadway in 2022 directed by five-time Tony-winner Susan Stroman and featured an all-star cast that included Julie White, Lea DeLaria, Rachel Dratch, Julianne Hough, Lilli Cooper, Suzy Nakamura and Vanessa Williams.
The Broadway production would receive three Tony Award nominations: two for Dratch and White and one for Best Scenic Design of a Play.
The SpeakEasy staging is directed by Paula Plum and features a no less dynamic cast of seven who hit the ground running in an utterly preposterous story.
With nearly superhuman stamina, the cast never lets up for a second, making the show a joy to watch, no matter how ridiculous its premise.
We also start to really like the characters and begin to care about what happens to each of them before the end of the story.
In fact, if this were the pilot for a "POTUS" television series, a series that offered this same level of fine writing and execution, many would regularly be watching.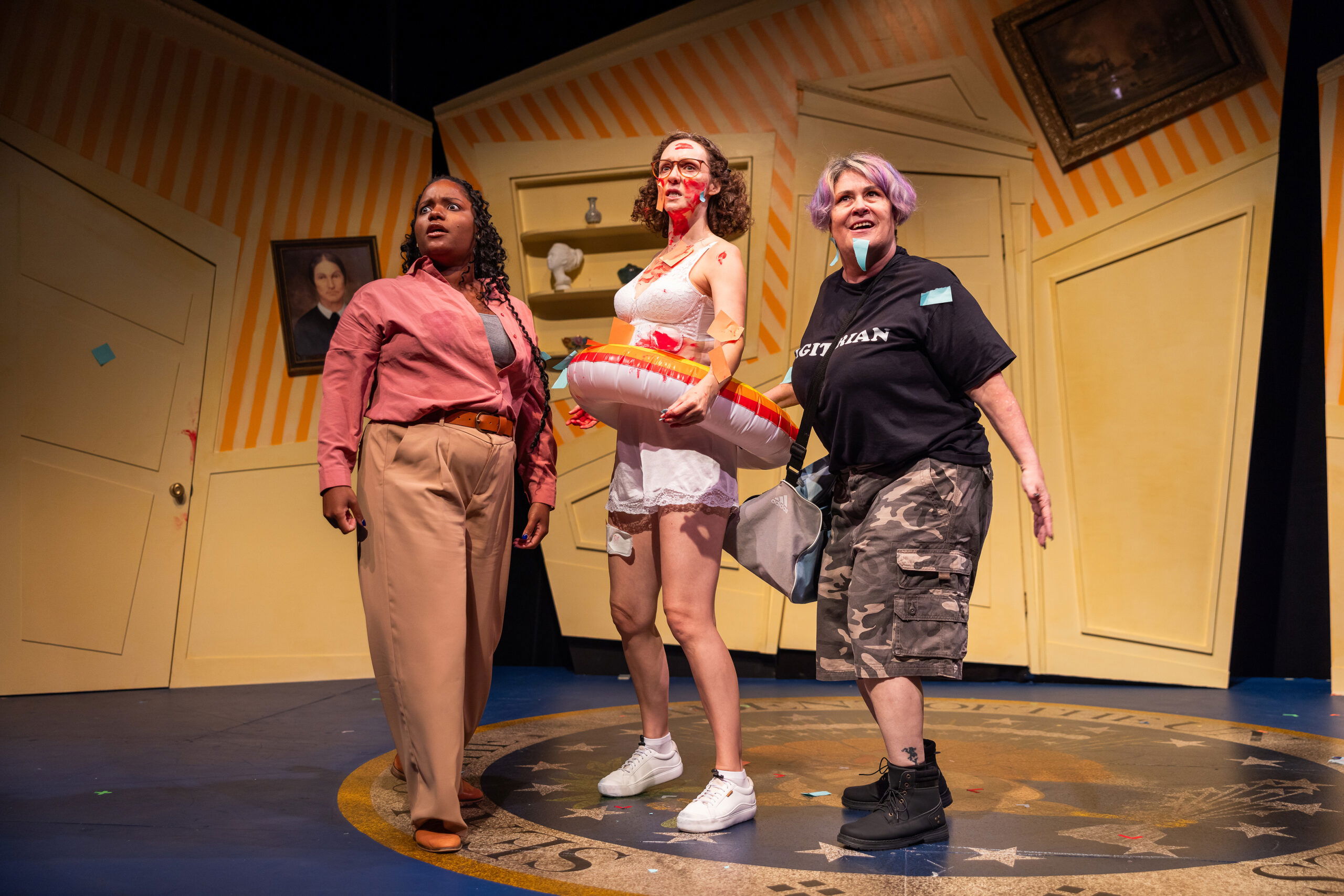 (Photo: Catia as "Chris," Marianna Bassham as "Stephanie" and Johanna Carlisle-Zepeda as "Bernadette" sticking to their posts in the smash comedy "POTUS" by Selina Fillinger now playing at SpeakEasy Stage Company in Boston, MA. until October 15, 2023. Photo credit Nile Scott Studios)

The madcap mayhem begins when "POTUS" Chief of Staff, Harriet (Lisa Yuen), is speaking with Presidential press secretary, Jean (Laura Latreille) about just one in an ongoing series of "faux pas" by the current Commander in Chief, one that puts First Lady Margaret (Chrystin Gillmore) in a horrendous situation.
Yuen is exceptional as the frantic and frazzled Chief of Staff; as is Latreille as Jean who, as part of the above, is also trying to keep White House correspondent, Chris (Catia), at bay as the reporter attempts to unearth a major scoop.
Any negative press comes from the ill-mannered, foul-mouthed, booty-chasing "POTUS" himself which adds enormous pressure to his executive staff.
The staff is also contending with highly critical foreign relations talks and an important banquet event - all of which need to be handled delicately and with an elevated degree of heightened diplomacy.
Right - No such luck given their boss and Oval Office occupant.
Catia never loses intensity as hardened reporter Chris, who is simultaneously dealing with childcare issues as a new mother, and is pumping breast milk in the West Wing with breast pumps dangling from her clothes.
By the way, as the story progresses, it soon becomes fairly obvious that ANY security detail or precautions put in place at this fictitious White House are similarly "non-existent."
Meanwhile, for Harriet and Jean, it is all the two can do to keep the lid on the "faux pas" backlash with the media and to keep Margaret from strangling "POTUS."
Gillmore is an irresistible force on stage as the First Lady, flaunting Margaret's own personal political agenda in spite of her husband's idiotic philandering and foolishness.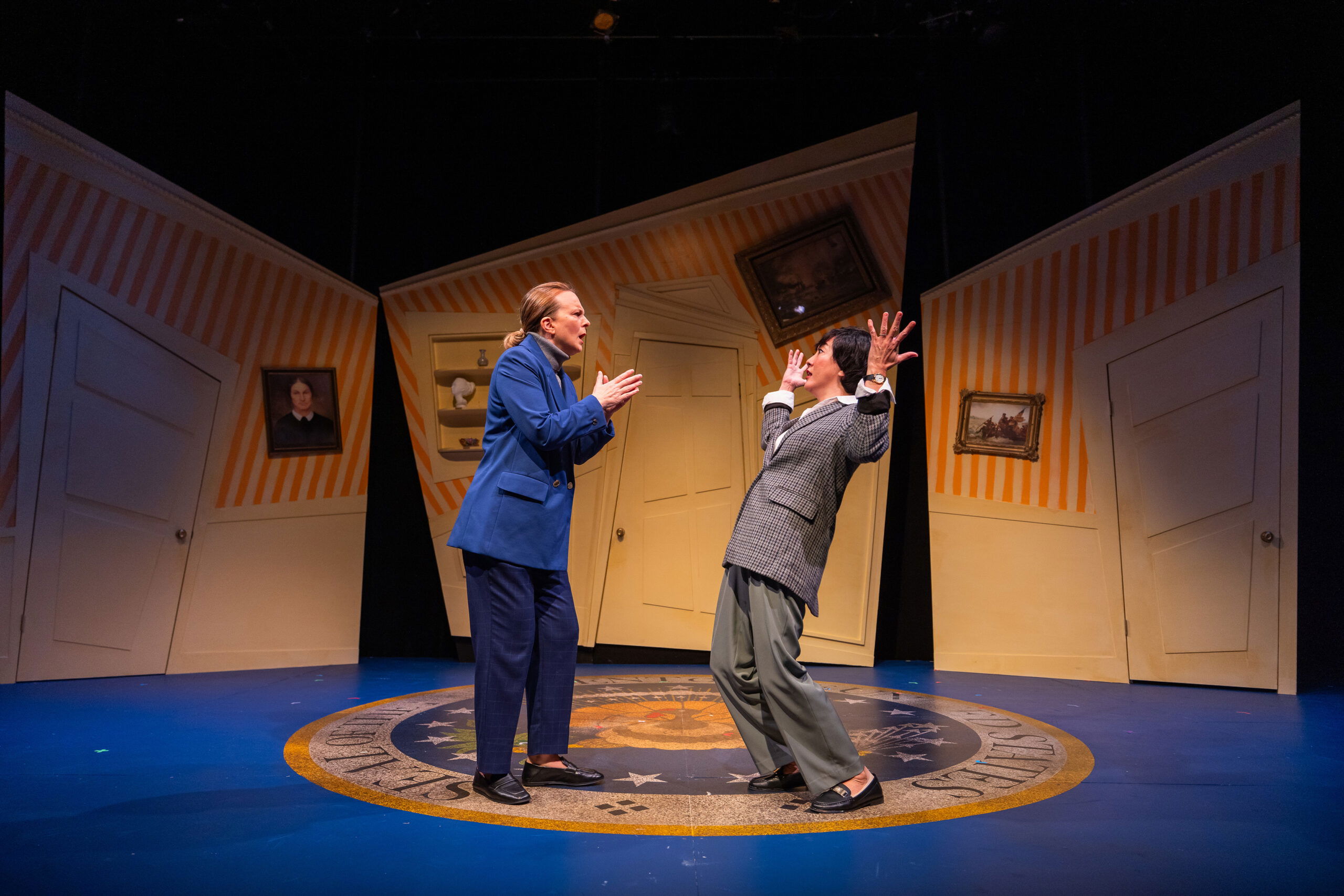 (Photo: Laura Latreille as "Jean" and Lisa Yuen as "Harriet" share one of the more serene moments from the hysterical "POTUS" by Selina Fillinger now playing at SpeakEasy Stage Company in Boston, MA. until October 15, 2023. Photo credit Nile Scott Studios)
In the midst of this latest media disaster, word comes that the problematic "POTUS" is also getting ready to issue a Presidential pardon to his own, drug-dealing sister, Bernadette (Johanna Carlisle-Zepeda).
Another brilliant move made by this pretend "POTUS."
So. Much. Winning.
Thank goodness the play is set in a fictitious presidency and could never actually happen in real life, right? Right?
Carlisle-Zepeda is a laugh riot from Bernadette's first entrance, who is not only seeking the pardon from her brother. She also seeks a reconciliation with her former lover, Jean.
Just as his staff could not envision things getting any worse, in walks Dusty (Monique Ward Lonergan), a young, sexy, energetic, free spirit who was "personally invited" to the West Wing to discuss an urgent personal matter with "POTUS."
As to the above, let your imagination take you where it will - you won't be too far off the mark, rest assured.
Lonergan is absolutely vivacious as Dusty, whose unyielding effervescence and exuberance will have you physically and mentally exhausted by the end of the show.
All of this "winning" proves mentally too much for Presidential secretary, Stephanie (Marianna Bassham), who is a bundle of frayed nerves throughout most of the first act.
Bassham is hysterical as Stephanie who, becoming hysterical herself, consumes multiple "mother's little helpers" (courtesy of Bernadette, of course) and soon becomes a "flying Dutchman," wreaking havoc during most of the second act.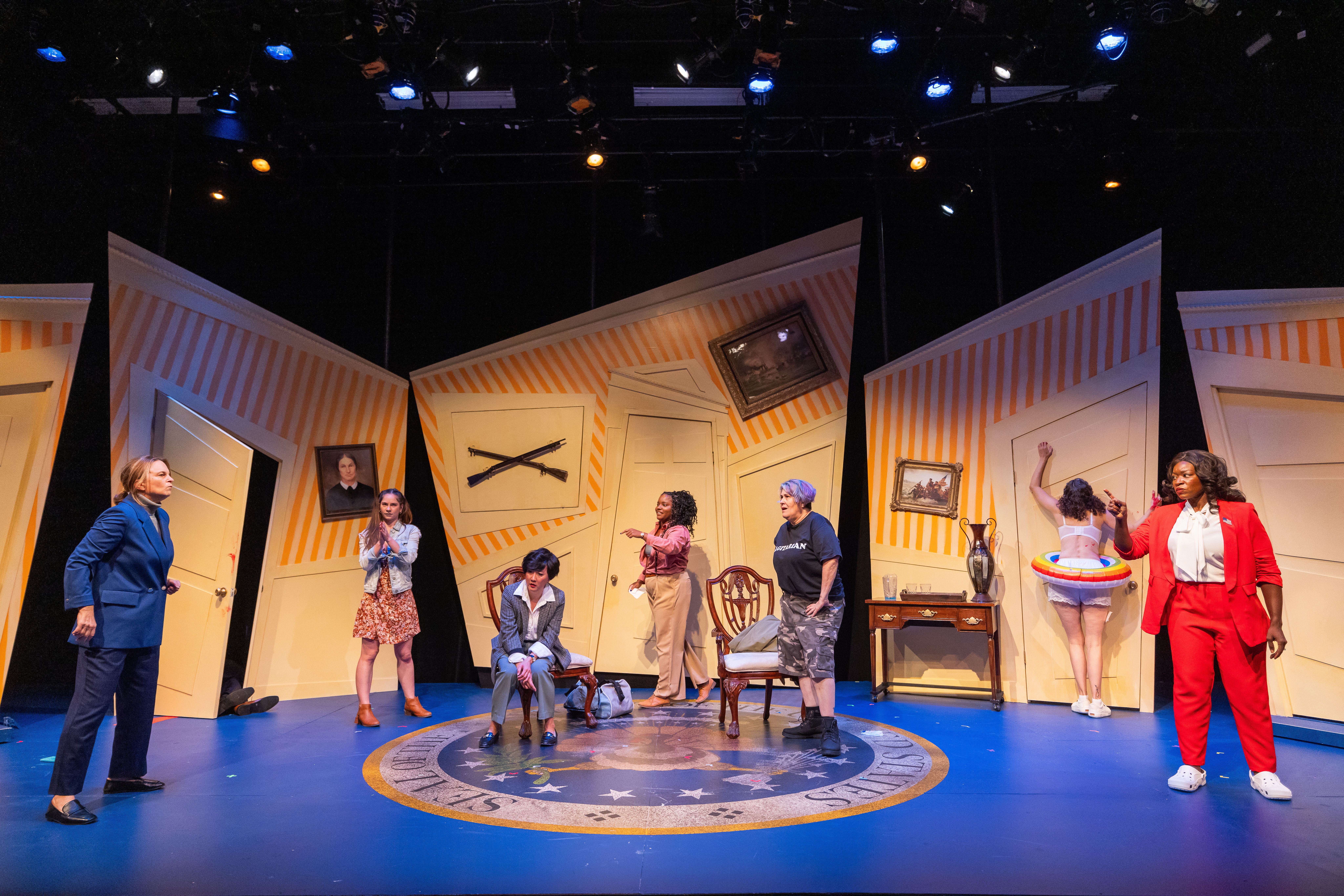 (Photo: The CAST of Selina Fillinger's "POTUS" from left to right: Laura Latreille as "Jean," Monique Ward Lonergan as "Dusty," Lisa Yuen as "Harriet," Catia as "Chris," Johanna Carlisle-Zepeda as "Bernadette," Marianna Bassham as "Stephanie" and Chrystin Gillmore as "Margaret." Now playing at SpeakEasy Stage Company in Boston, MA. until October 15, 2023. Photo credit Nile Scott Studios)

There is a high degree of physical comedy required in "POTUS" and it is implemented by the cast to perfection.
As soon as all the elements of the Fillinger script are in place, this show takes off like a rocket and is a complete master class in comedic execution conducted by example by a tight-nit ensemble, an ensemble that also performs double duty maintaining their characters while helping redress sets during scene changes.
Costumes for "POTUS" were all in keeping with the material, although the suits worn by Latreille and Yuen seemed a bit ill-fitted. If this was done to accentuate the farcical nature of the play, it did not come across as such.
The White House set by Jenna McFarland Lord was as comical as the play with its "puzzle piece" design which also proved incredibly functional for all the scene changes required.
"POTUS" continues at SpeakEasy in Boston until October 15th and is definitely worth taking this crazy White House tour.
Approximately one hour, 50 minutes with one intermission.
Kevin T. Baldwin is a member of the American Theatre Critics Association (ATCA)
@MetrmagReviews
@Theatre_Critics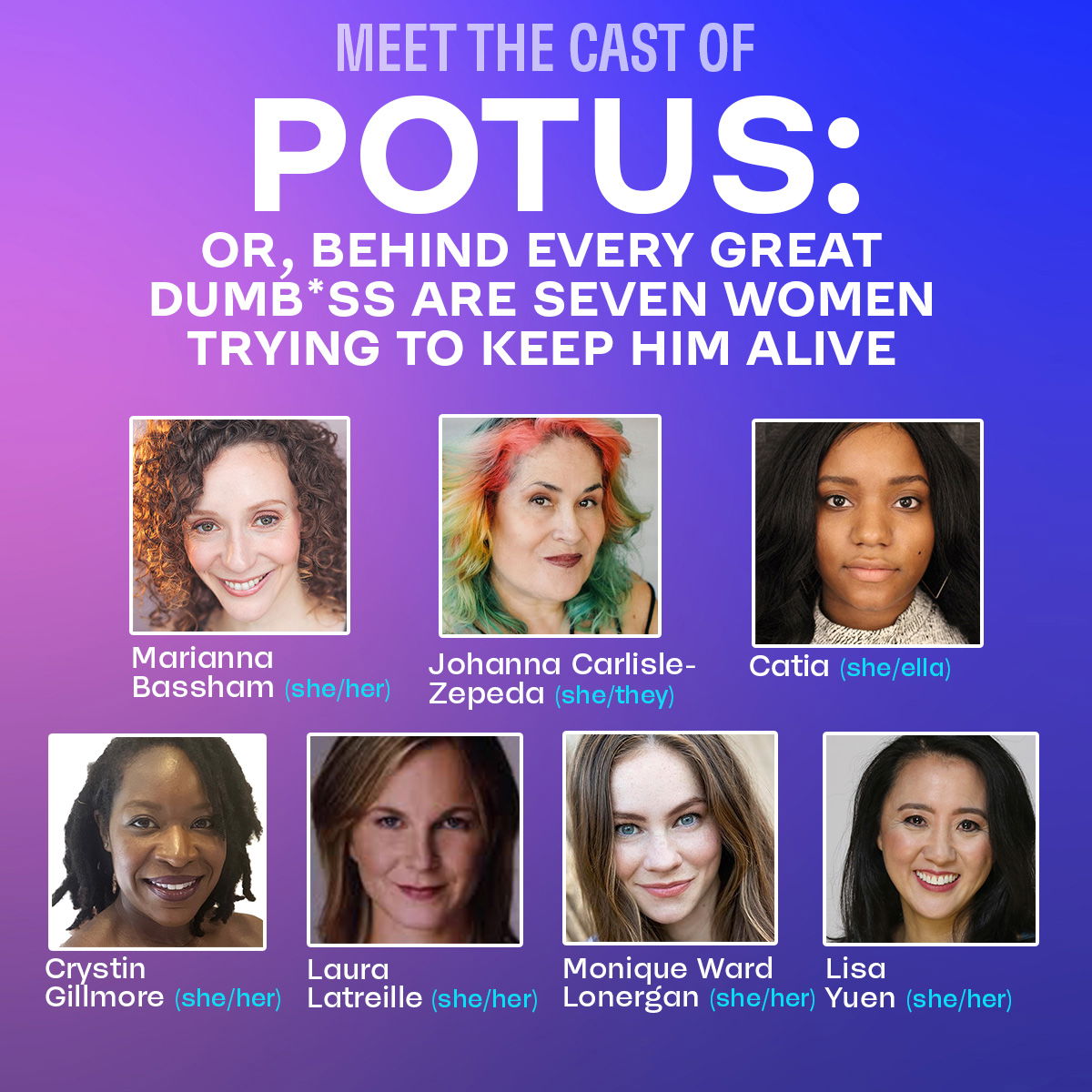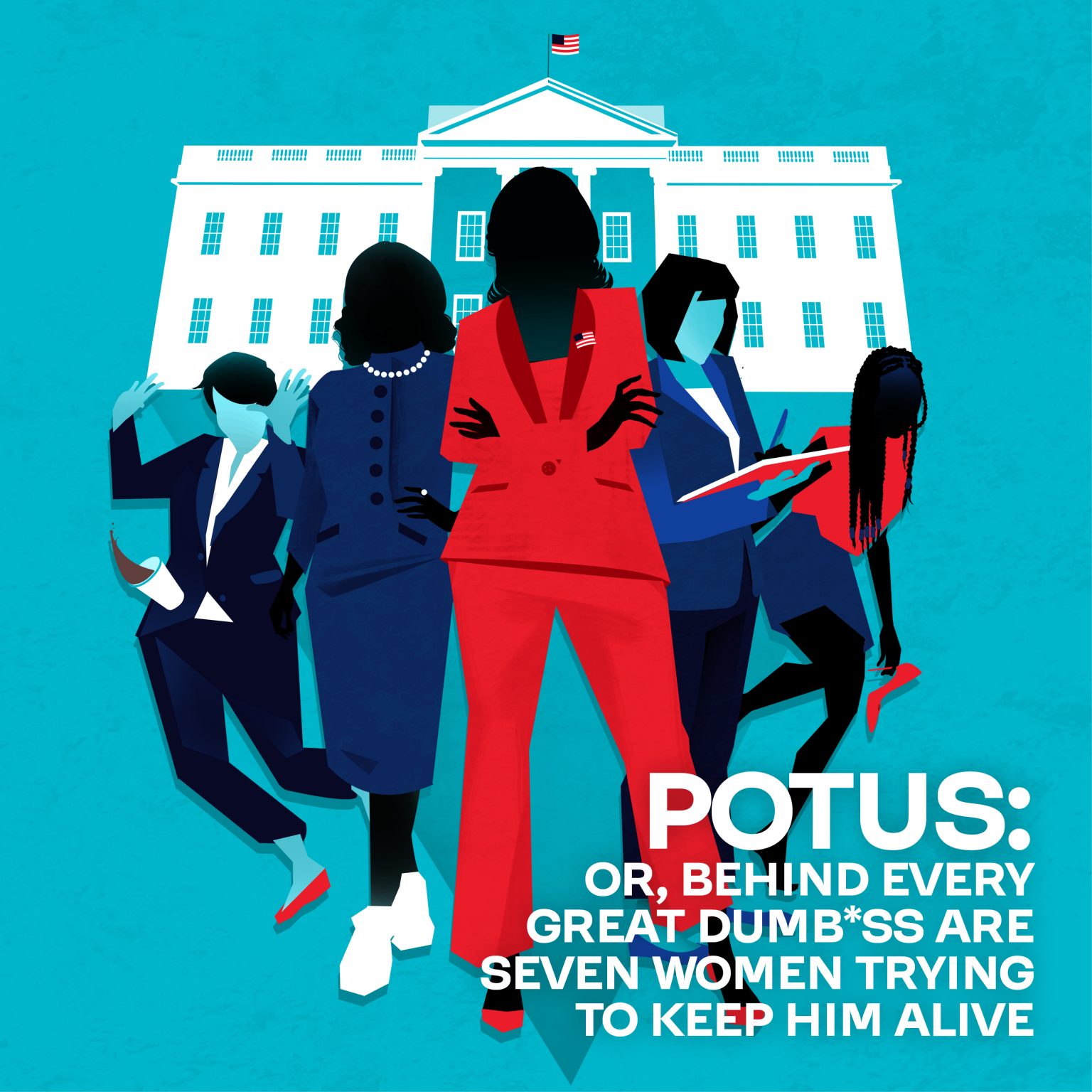 ABOUT THE SHOW
New England Premiere–Direct from Broadway!
It's "The Women" meets "House of Cards" in this riotously funny comedy that celebrates the women who keep things running behind the scenes both in — and out — of the Oval Office.
Seven brilliant and beleaguered women in the president's inner circle take increasing desperate measures to save the country when his sexist and sex-related scandals spark a global crisis.

ABOUT SPEAKEASY STAGE COMPANY
SpeakEasy Stage Company is a non-profit theatre company located in the South End of Boston and is led by award-winning Producing Artistic Director Paul Daigneault. SpeakEasy was named the Pavilion Resident Theater for the Boston Center for the Arts in 2007 and produces 28 weeks of new plays and musicals each season at the Nancy and Ed Roberts Studio Theater in the Calderwood Pavilion at the Boston Center for the Arts.