(Cover Photo: Elijah Lidonde and Amber Charest in a scene from Mary Darling's "ON OUR TERMS" in Southbridge, MA. until April 2, 2023. Photo credit Mikey Maestaz)


By Kevin T. Baldwin
METRMAG Reviewer
# 774-242-6724
"I look forward to going out when I want. Eating what I want. Not answering to anyone...not fighting all the time like my parents."
- Mary Darling


Museful Intent
In Association with
Starlite Gallery
Presents Mary Darling's
"ON OUR TERMS"
Written and Directed by Mary Darling
Rehearsal Stage Manager: Cassie Tortorici
ASM/ Production Stage Manager: Kyle Hargrove
Cast Includes: Amber Charest - Jane; Elijah Lidonde - John; Nina Darling - One; Vivian Eliza Nichols - Two; Noah Dawson - Three; Vincent Pellegrino - The Voice.
Starlite Gallery, 39 Hamilton Street, Southbridge, MA.

Performances:
March 31, 2023 at 7:30pm
April 1, 2023 at 7:30pm
April 2, 2023 at 2:00pm
TICKETS:
Start at $15.00
https://www.eventbrite.com/e/on-our-terms-tickets-541260674247?fbclid=IwAR3TF6taUKmxMQHRRAVfAvDh5y8gQkVjcRIy5iisdhzzk3gJNU5RWaReFco
Museful Intent premiere's Mary Darling's new comedy, "ON OUR TERMS" in Southbridge this weekend and the quirky comedy provides many laughs.
Probably the most entertaining aspect to the piece, in addition to Darling's writing, is the obvious close camaraderie of the ensemble.
"Love is a many splendored thing," as the song goes. However, in "ON OUR TERMS," it is far more a binding agreement - a contractual obligation with a multitude of stipulations and a fine print so small no one ever sees it.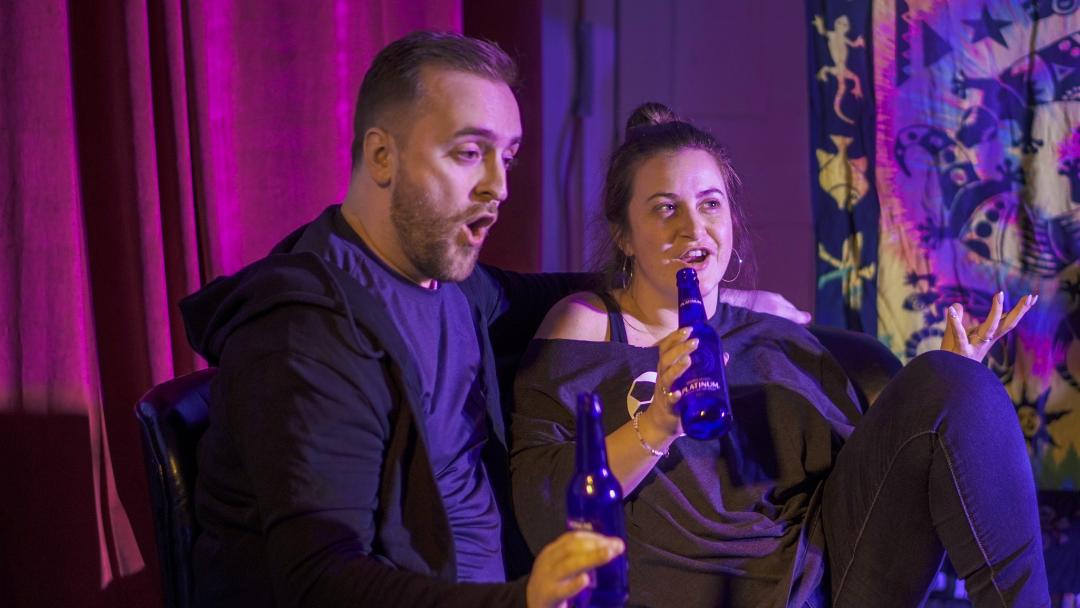 (Photo: Noah Dawson and Amber Charest in a scene from Mary Darling's "ON OUR TERMS" in Southbridge, MA. until April 2, 2023. Photo credit Mikey Maestaz)
The premise of the farce involves both dating and relationships.
More specifically, we witness dating in a time when it, apparently, feels like the rules for any possible "courtship" have gotten so subjective and complex it requires an actual automated Human Resources guide - aka "The Voice" (Vincent Pellegrino) - to control all the variables in a potential relationships before the "applicants" may contractually proceed.
John (Elijah Lidonde) and Jane (Amber Charest) are the two applicants for this computer approved relationship which requires the "intending duo" to complete a contract which must be established in writing and signed by both parties before any courtship may proceed.
Charest is exemplary as Jane who, through flashbacks, shows us her prior unsuccessful relationships.
Lidonde shows impeccable comedic timing, providing many of the laughs as John during his flashback moments and especially in his exchanges with Jane.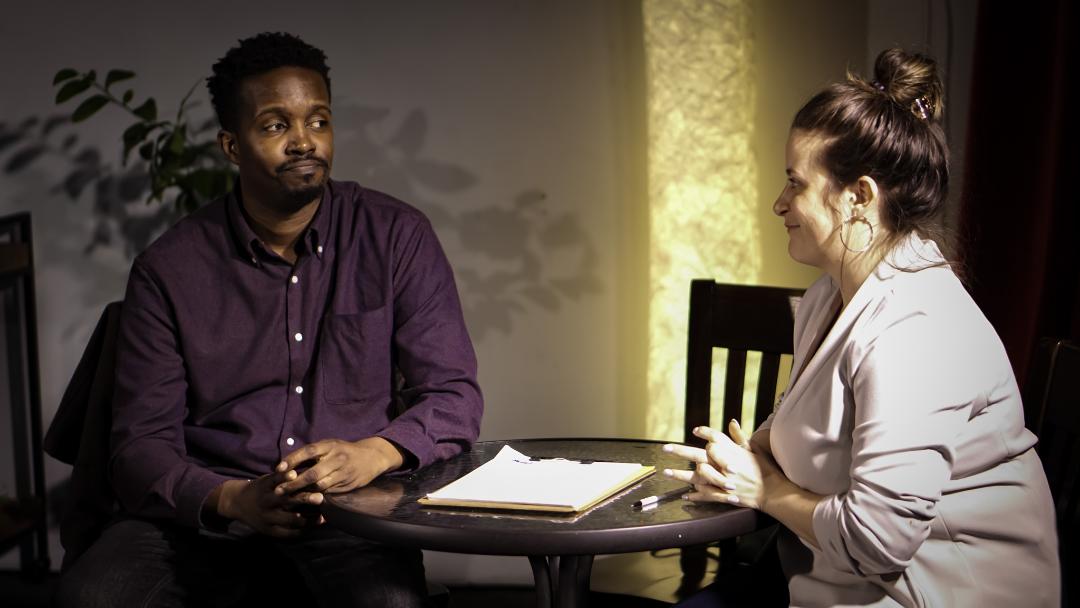 (Photo: Elijah Lidonde and Amber Charest in a scene from Mary Darling's "ON OUR TERMS" in Southbridge, MA. until April 2, 2023. Photo credit Mikey Maestaz)
Actors One (Nina Darling), Two (Vivian Eliza Nichols) and Three (Noah Dawson) aid in the flashback sequences, portraying various past partners of Jane or John.
Throughout the two-act play, there are many hilarious moments recalling when things obviously did not go well for either Jane or John.
All three of the supporting "Actor" performances are marvelous, with multiple character portrayals ranging from the absolutely silly to the more subdued - yet always engaging.
"ON OUR TERMS" explores John and Jane's past liaison disasters involving people who, either the potential couple had problems with or their varied ex-partners had problems with them.
In either scenario, we learn more about both John and Jane as a result.
Issues are unveiled such as the fear of intimacy, dispassionate emotions, issues of sexual ambiguity, exploration and/or confusion, even the death of a partner - all showing how Jane and John ultimately have opted to go this more "Orwellian" route of choosing a potential mate.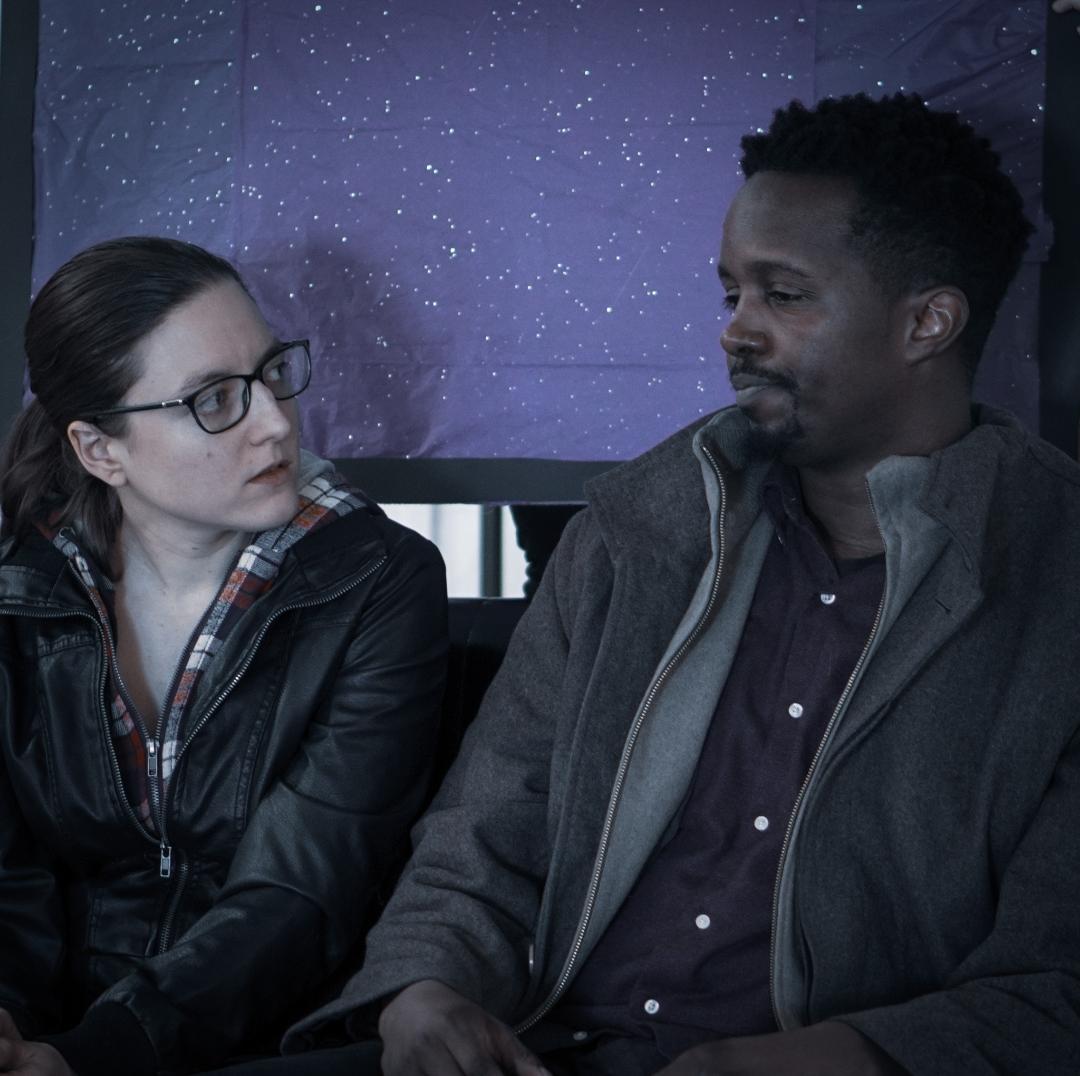 (Photo: Vivian Eliza Nichols and Elijah Lidonde in a scene from Mary Darling's "ON OUR TERMS" in Southbridge, MA. until April 2, 2023. Photo credit Mikey Maestaz)
One of the funniest, albeit most absurd, scenes in "ON OUR TERMS" involves Jane lying in a coma while her sister and lover (played respectively by Nichols and Dawson) engage in an over-the-top "General Hospital" style exchange.
There is a thoroughly delicious twist toward the final moments of the show which few will see coming but is simply inspired.
The set of the show is minimal with the flashback moments executed as separate "scenes."
To accomplish this, the lights dim and the cast must set up for the flashback moment as pop music is used to underscore and fill in the time required for the scenes to be staged.
This actually takes away from the overall "seamlessness" to the piece and, thus, reducing its impact.
Instead, what would help make the show flow more fluidly, is to not dim the lights at all and to use the cast to immediately transition into the flashbacks in lieu of doing ANY scene changes. Much of Darling's finely honed dialogue already allows for this.
"ON OUR TERMS" runs throughout the weekend until April 2nd but, unlike the prospect(s) for Jane and John, this comedy's future certainly looks bright.
Approximately two hours with one intermission.
Kevin T. Baldwin is a member of the American Theatre Critics Association (ATCA)
@MetrmagReviews
@Theatre_Critics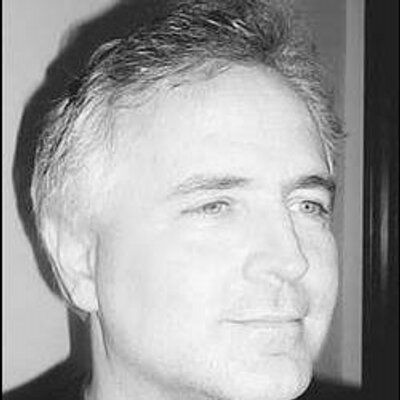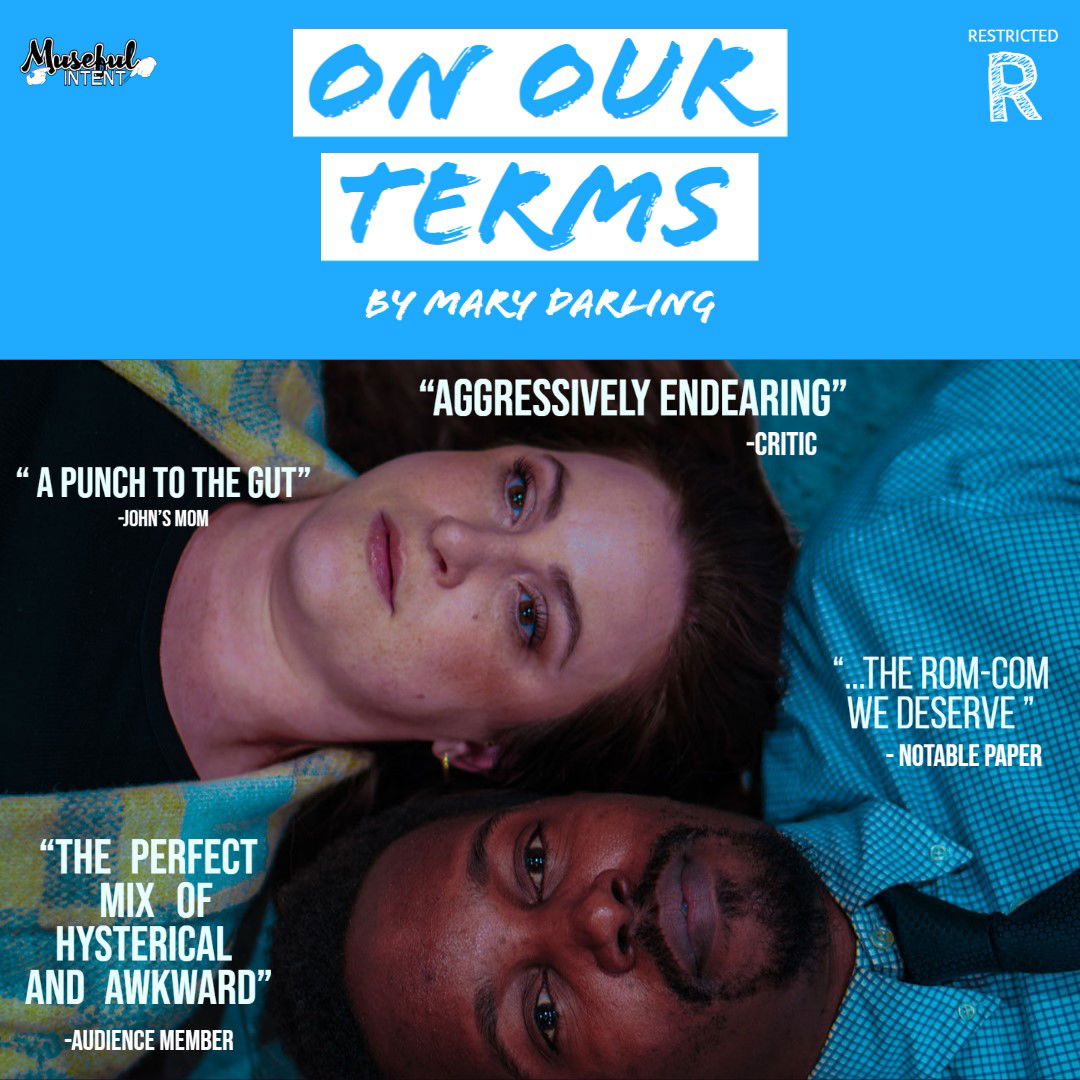 ABOUT THE SHOW
Museful Intent is proud to present "ON OUR TERMS" written and directed by Mary Darling.
Thanks to the Marry Me, Darling dating app, Jane and John are just one negotiation away from the perfect relationship...on their terms.
In this absurd comedy, two people negotiate a one-year relationship contract before their first date, to ensure that all of their expectations are met.
As they make their way through the transaction, they share stories of previous failed relationships, hoping that this one may last.
Previously produced at the Forge Theatre Lab in 2019 and by Balefire Productions in Lowell in 2022.