(Cover Photo: The CAST of Disney's "NEWSIES" now playing at the Stadium Theatre in Woonsocket, R.I. through March 19, 2023. Photo Credit Samantha Robshaw)



By Amanda Baldwin
Special METRMAG Correspondent Reviewer
# 774-242-6724

"This is not some little vaudeville I'm reviewing."
- Disney's "NEWSIES"

The Stadium Theatre
Presents the Broadway Musical
"NEWSIES"
Book by Harvey Fierstein
Music by Alan Menken
Lyrics by Jack Feldman
Based on the 1992 film "Newsies" by Bob Tzudiker and Noni White
Originally produced on Broadway by Disney Theatrical Productions
Orchestrations by Danny Troob
Incidental Music & Vocal Arrangements by Michael Kosarin
Dance Arrangements by Mark Hummel
Directed By Will Gelinas
Artistic Director Jennifer Webb
Resident Music Director Alex Tirrell
Choreographer Jennifer Webb
Cast Includes: Ron Phillips, Jake Peterson, Dean Hernandez, Ethan Kerwin, Britt Ambruson, Andrew Coutermarsh Jennifer Jeanmarie, Kayley Arruda, Jason DiCenso, Aden Duffy, Linnea Dolf, Aiden Travers, Mia Berube, Madison Highcove, Warnsey Wiggins, Molly Berard, Mackenzie Blake, Catie McFarlane, Jarvis Smith, Olivia Kurnyk, Kyle Chamberlain, Caillie Verhaegen, Sarah Mello, Giana Rose Gualda, Hannah McKearney, Carlos A. Arenas III, Nick Gaulin, Harris Cook-Hines, Dekhi Touray, Drew Lagace, Stephanie Witz, Chelsea Daniels, Dan Delosh, Liam Boulay, Josh Esquite, Robbie Hoye.
Additional Creative Team:
Molly Berard - Dance Captain; Michaelyn St. Pierre - Stage Manager; Chloe Forsyth & Alyssa Tetreault - Production Assistants; Alexander Sprague - Set Designer; Wayne Boucher - Set Builder; Dennis Berard & Amanda Desmaris - Assistant Set Builders; Terry Beitler & Kathy Provencal - Scenic Painters; Nic Hallenbeck - Sound Designer; Alexander Sprague - Lighting Designer; Katherine Grist - Costume Designer; Amanda Wade - Wardrobe Assistant; Robin Barbrie, Nancy Dufresne & Mary Wood - Seamstresses; Samantha Robshaw - Production Photographer; Ahmed El-Zeftawy, Chris Kerwin, Chris McFarlane, Keith Shaw & Will Shaw - Tech Crew; Savannah Bankert & Marley Shaw - Spot Operators.
Performances:
March 17 & 18, 2023 at 7:30pm
March 19, 2023 at 2:00pm
Stadium Theatre Performing Arts Centre, 28 Monument Square, Woonsocket, RI 02895
Tickets:
# 401-762-4545
"Extra! Extra!" The musical stage adaptation of Disney's "NEWSIES" 'Seizes the Day' at the Stadium Theatre this weekend!
With a cast of many, the musical features many familiar tunes for fans of both the movie and the stage adaptation, including: "Santa Fe," "Carrying The Banner," "That's Rich," "The World Will Know," "King of New York" and, of course, "Seize the Day."
"NEWSIES" was originally a 1992 Disney live action movie about a motley crew of young newsboys who made a paltry sum selling newspapers (aka "papes") on the New York City streets and were all played by male actors well into their teens or early 20s.
The movie itself was considered a bomb by Disney standards yet managed to develop a huge, devoted cult following since its release, prompting Disney to examine the potential for a stage musical which came to Broadway in 2012 and was an immediate smash.
The Broadway musical adaptation features music by Alan Menken and lyrics by Jack Feldman (who contributed as a team to the original film's score, as well), with a book by Harvey Fierstein based on the film's screenplay by Bob Tzudiker and Noni White.
The musical was conceptualized for the stage by using an immense, intricately intertwined stage scaffolding to indicate New York City at the turn of the last century.
All the fan favorite "NEWSIES" characters are here from Jack Kelly (Ron Phillips), to the musical's antagonist, Joseph Pulitzer (Andrew Coutermarsh), who seeks to quash the strike by the newspaper delivery boys, to the "NEWSIES" strongest supporters, Medda (Jennifer Jeanmarie) and budding reporter, Katherine (Britt Ambruson).
Highlighting some of the supporting performances: The portrayal of Crutchie (Jake Peterson) for the Stadium run of "NEWSIES" is consistent with the character's softheartedness and strength. His rendition of "Letter from The Refuge" showcases those qualities perfectly.
The dynamic between brothers Davey (Dean Hernandez) and Les (Ethan Kerwin) is fun and adds a layer of heart to the principal cast.
The ensemble maintains great energy throughout the course of the show and especially shines during the Act Two opener, "King of New York."
Prior to the above number, the choreography seems a bit uncoordinated but, for the Friday night performance, did steadily improve as the show progressed.
"NEWSIES" would be nothing without a strong actor to exude the stage presence required for the musical's lead protagonist, Jack (Ron Phillips). The role was originated in the movie by Christian Bale and then immortalized on stage by Broadway star Jeremy Jordan.
Both actors are tough acts to follow.
However, the charismatic Phillips did bring about a strong end to the first act with Jack's wistful song, "Santa Fe." Yet, like most of the principles, there is a lack of individuality in the performance.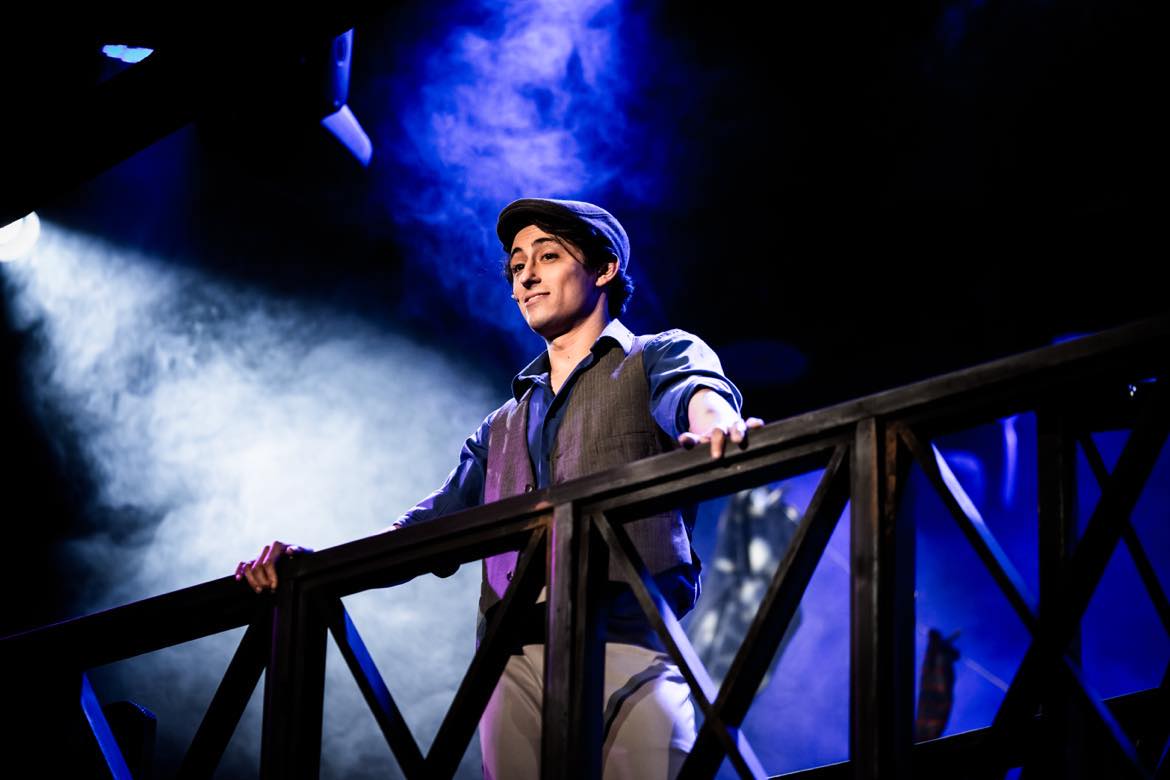 (Photo: Ron Phillips as "Jack Kelly" in Disney's "NEWSIES" now playing at the Stadium Theatre in Woonsocket, R.I. through March 19, 2023. Photo Credit Samantha Robshaw)
The orchestra, under the capable musical direction of Alex Tirrel, is delightfully dependable. From his guidance and direction, the cast is able to maneuver throughout the numerous layered harmonies.
Medda (Jennifer Jeanmarie) sings the barn burner, "That's Rich."
As a love interest for Jack, Katherine (Britt Ambruson) also proves a strong supporting character as she aids in the "NEWSIES" cause while simultaneously attempting to become a journalist.
She attempts this during an era where women were not encouraged to pursue ANY careers outside of the home. She sings of her feelings in the song, "Watch What Happens:"
"Give those kids and me the brand new century and watch what happens
It's David and Goliath, do or die,
The fight is on and I can't watch what happens!"
Costumes provided by Designer Katherine Grist and Wardrobe Assistant Amanda Wade are appropriate for the time period yet some seem a bit ill-fitting, at times, specifically for the characters appearing in the "Bowery" scenes.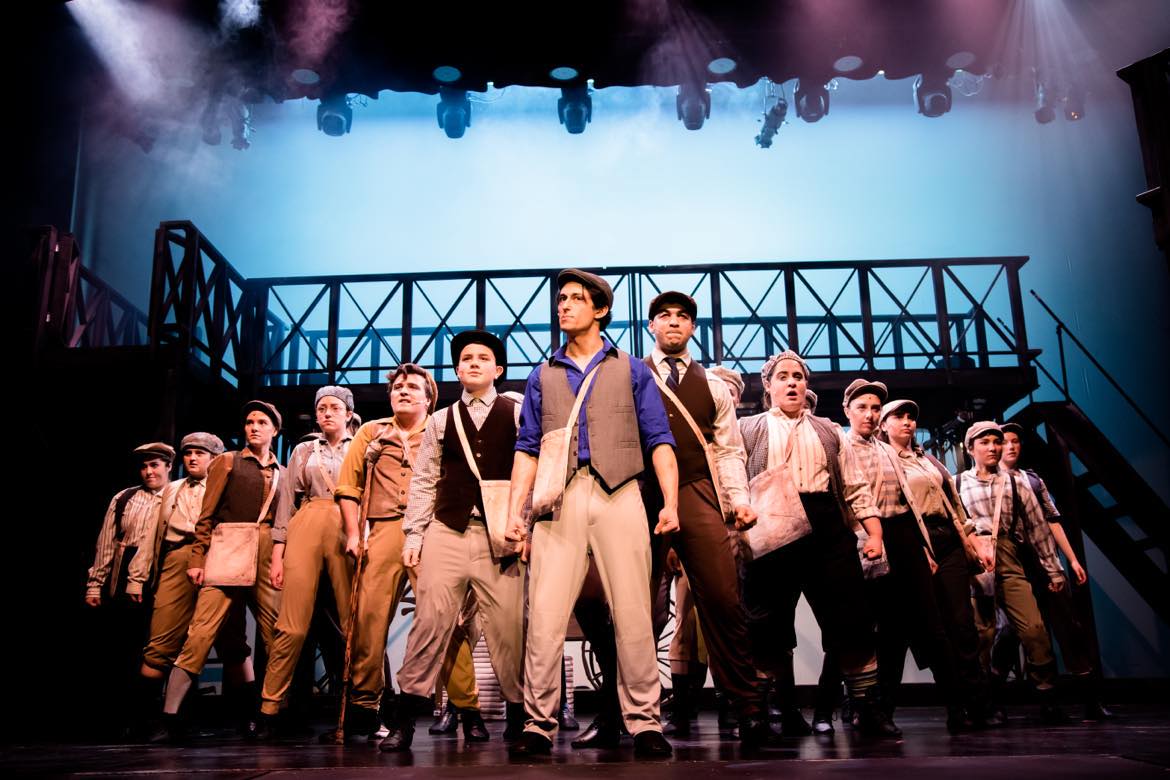 (Photo: The CAST of Disney's "NEWSIES" now playing at the Stadium Theatre in Woonsocket, R.I. through March 19, 2023. Photo Credit Samantha Robshaw)
For the bulk of the show, lighting effects do not appear to enhance the action on stage and serves as a distraction more often than not.
There are also moments when the actors are left onstage in the dark, obscuring some of the blocking. This may have contributed to the Friday night show's "clunkiness" of some transitions which could have impacted the pacing in several scenes.
The set is simple but effective, utilizing a single-level scaffolding in versatile ways.
In particular, a side entrance provides stage director William C. Gelinas with opportunities for creative staging. However, it appears this does not strengthen some scenes for which it is used as, during the Friday night performance, it appeared easily obscured.
However, these observances should not discourage folks from enjoying the overall vibrant score provided by Menken and the revamped story thanks to Fierstein.
"NEWSIES" continues at the Stadium Theatre through March 19th.
Approximately 2 hours, 30 minutes with one intermission.
Kevin T. Baldwin is a member of the American Theatre Critics Association (ATCA)
@MetrmagReviews
@Theatre_Critics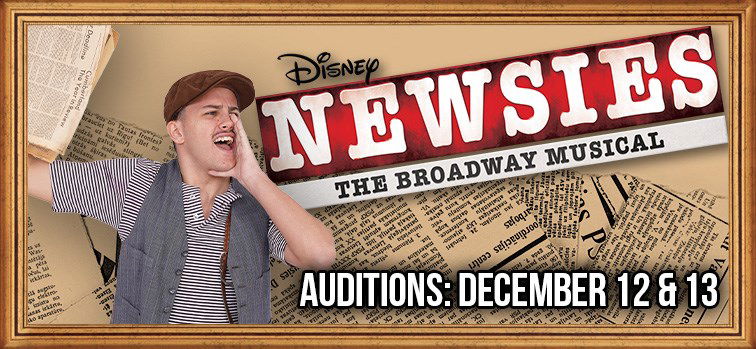 ABOUT THE SHOW
It's time to carry the banner on your stage with Disney's "NEWSIES THE MUSICAL"!
Set in turn-of-the century New York City, "NEWSIES THE MUSICAL" is the rousing tale of Jack Kelly, a charismatic newsboy and leader of a band of teenaged "NEWSIES."
When titans of publishing raise distribution prices at the newsboys' expense, Jack rallies "NEWSIES" from across the city to strike against the unfair conditions and fight for what's right!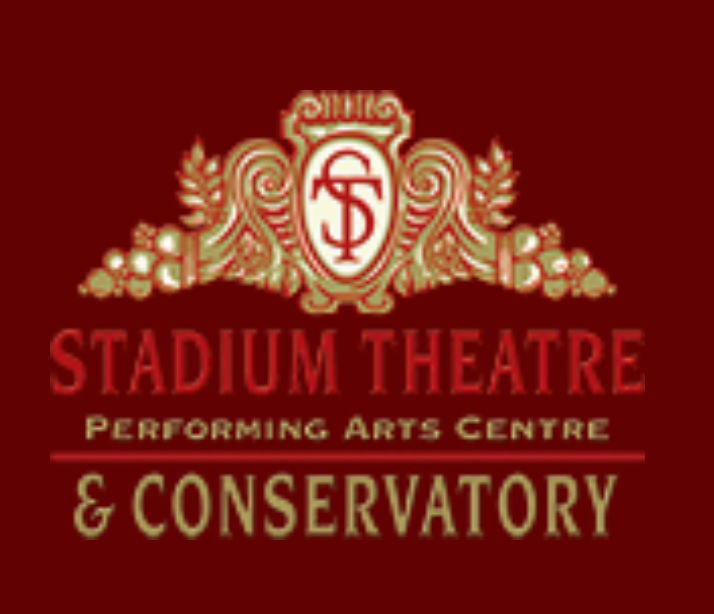 ABOUT STADIUM THEATRE PERFORMING ARTS CENTRE
The Stadium Theatre Performing Arts Centre & Conservatory was built in 1926, and is one of the few remaining examples of the majestic Vaudeville Theatre era in operation today. Since being restored in 2001, the Stadium Theatre has developed into a community center where famed international artists like Liza Minnelli, Cher and George Winston grace the same stage as community arts organizations such as community theatre, dance and music groups. It is the Stadium Theatre's mission to offer the widest variety of high caliber, live entertainment to guests at family-affordable prices.
Stadium Theatre Performing Arts Centre
28 Monument Square
Woonsocket, RI 02895