(Cover Photo: Kyle Collins, Todd Vickstrom and Liza Goodman in a scene from "MERRILY WE ROLL ALONG" by George Furth and Stephen Sondheim presented by Worcester County Light Opera Company in Worcester, MA. through April 30, 2023. Photo credit: Christopher O'Connor)




By Kevin T. Baldwin
METRMAG Reviewer
# 774-242-6724

"Burn your bridges, start again. You should burn them every now and then
Or you'll never grow!"
- George Furth/Stephen Sondheim

Worcester Count Light Opera Company
Presents
"MERRILY WE ROLL ALONG"
Book by George Furth
Music & Lyrics by Stephen Sondheim
Director: Chuck Grigaitis
Music Director: Lenny McGuire
Choreography by: Denise Day
Cast Includes: Todd Vickstrom - Franklin Shepard; Kyle Collins - Charley Kringas; Liza Goodman - Mary Flynn; Julia Bartoletti - Beth; Heather Hannon - Gussie; Andrew Bigelow - Joe. With: Jack Ryan, Mark Blessington, Liz Couture, Norman Dubois, Elise Gallagher, Jess Guertin, Lyndsey Hawkes, Joel Hersh, Thomas Jaquith-Houston, Linnea Lyerly, Anya Kipp-McGowan, Peter Russo, Robyn Scott, Steven Sousa, and Ryan Sullivan.
Additional Creative Team:
Eric Butler and Kevin Moylan - Producers; Adrian Gage - Stage Manager; Sally Holden - Production Assistant/Vocal Coach; Maggie Mercadante - Assistant Stage Manager; Z Cameron - Technical Director/Lighting, Projection Designer; Kevin McGerigle - Set Designer; John Stofell, Jesse Anderson & Mike Nosel - Set Construction; Sally Bowditch - Scenic Artist; Sound Designer - Vic Kruszinski; Jo Ann Savage - Costume Design; Lauren Bloomberg and Andrea Davulis - Assistant Costumers.
Grandview Ave. Playhouse, 21 Grandview Avenue, Worcester, MA.
Performances:
April 21, 2023 through April 30, 2023
(Contact Box Office for Exact Times)
TICKETS: 508-753-4383 or visit admin@wcloc.org
COVID 19 PROTOCOLS
Contact Venue for Most Updated COVID-19 Safety Protocols and Information.
With an entire season of theatre companies paying tribute to late Broadway legend, Stephen Sondheim, Worcester County Light Opera Company (WCLOC) has chosen "MERRILY WE ROLL ALONG" - a musical which, to some, is considered a "flop" while others find it an absolute hidden gem.
This production, if not a labor of love by director Chuck Grigaitis and the entire WCLOC cast and crew, it certainly gave the impression of being one.
The musical, which was originally staged for Broadway by the iconic Hal Prince, is based on a 1934 play of the same name written by George S. Kaufman and Moss Hart.
Audiences that first witnessed the musical "MERRILY WE ROLL ALONG" (back in 1981) literally walked out, perplexed by the show which tells its cynical tale from the "present" then moves backward in time.
These audiences would probably wouldn't even make it through the opener of "The Last Five Years."
The musical was about how time and adversity kills both optimism and idealism - and how the eventual toll of climbing the ladder of success proves devastating to a trio of friends desperately trying to hold onto their own respective optimism and ideals.
Right. So, the Broadway musical closed after only 16 disastrous performances.
The story of the doomed production is recalled in the documentary, "Best Worst Thing That Ever Could Have Happened."
Someone, possibly a critic, once remarked how audiences "can smell a stinker - a bomb - a flop."
That person was obviously either uninformed...or a complete idiot.
Those audiences that walked out on "MERRILY WE ROLL ALONG" missed out on a fine story inventively told by collaborators Sondheim and book writer George Furth. The duo also collaborated on the iconic musical "COMPANY" back in 1970.
The musical would survive, find an audience, usually made up of steadfast Sondheim fans, even becoming a beloved cult classic and which resulted in a 1994 Off-Broadway revival and, in 2014, the West End Revival won an Oliver Award.
The WCLOC production, under the intuitive direction of Grigaitis - with equally capable music supervision and guidance by Lenny McGuire and slick, well-executed choreography by Denise Day - showcases a fine vocal ensemble with equally strong leads.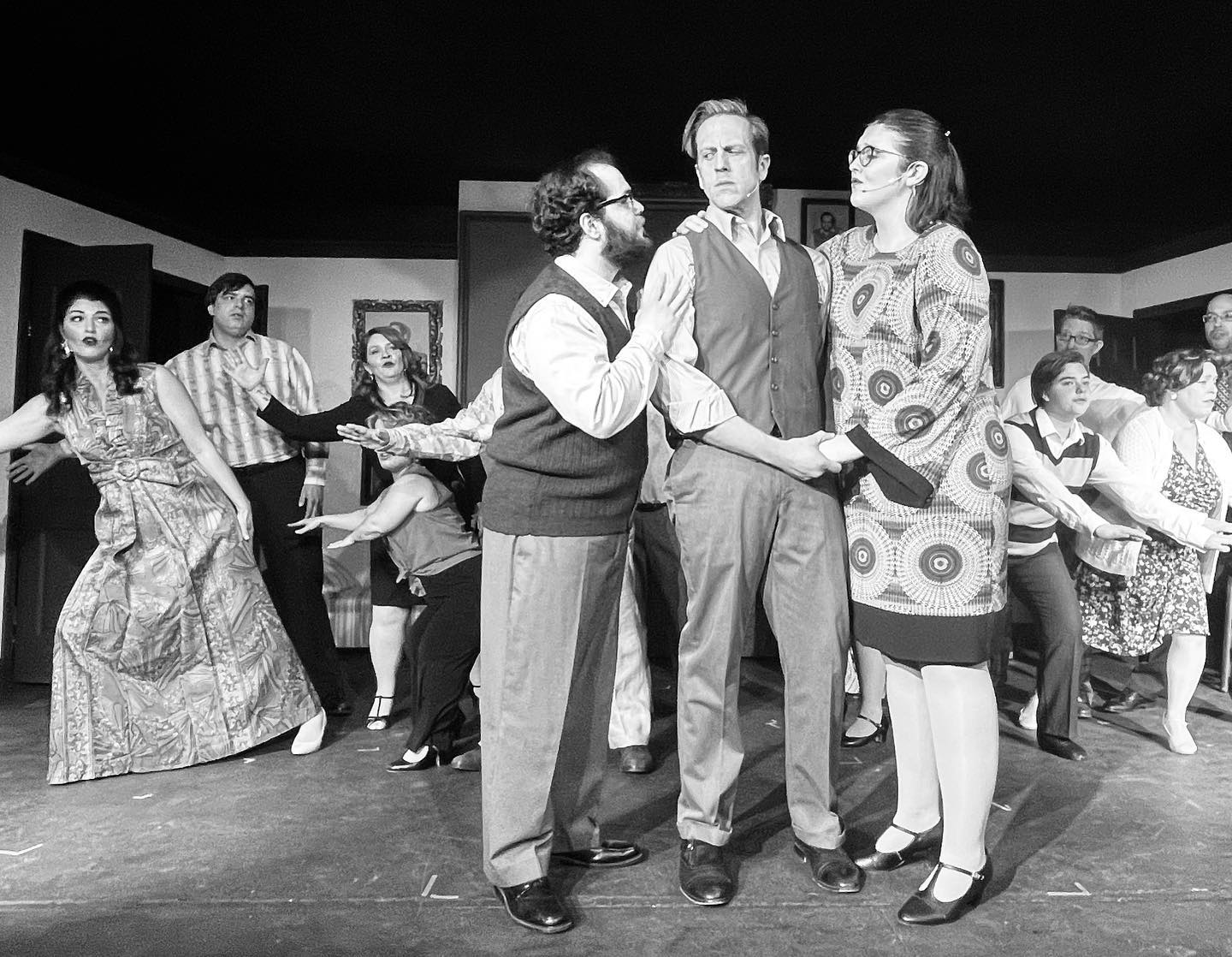 (Photo: The CAST of "MERRILY WE ROLL ALONG" by George Furth and Stephen Sondheim presented by Worcester County Light Opera Company in Worcester, MA. through April 30, 2023. Photo credit: Christopher O'Connor)
From the lyrics sung by the dynamic ensemble in the title opener, "MERRILY WE ROLL ALONG," the story begins (uh..."ends"...?) in the "present" which is the late 1970s as we are introduced to wealthy songwriter and film producer Frank Shepard (Todd Vickstrom).
Frank seemingly has it all and is celebrating the premiere of his latest project at a hot Hollywood party.
Frank's old friend, Mary (Liza Goodman), attends the party, bombed and bitter, presumably from years of disillusionment and disappointment.
That's when somebody at the party "name drops" a Pulitzer-winning play written by their former mutual friend and writing partner, Charley (Kyle Collins).
Charley was Frank's best friend and lyricist until the duo had a very public falling out.
Mary earnestly attempts to remind Frank of the dreams they once shared but to no avail - Frank has become far too self-absorbed for any of that to matter.
Frank's second wife, Gussie (Heather Hannon), adds to the increasing bitterness Mary feels.
Gussie soon becomes a recurring central figure, transitioning (backwards) from a successful woman falling from grace to an actress just coming into her own and, in Frank, plays with fire, as the story begins to move backward in time.
As the musical progresses, we hear some familiar Sondheim tunes such as "Old Friends" sung by Vickstrom, Collins and Goodman; "Not a Day Goes By," marvelously sung by Julia Bartoletti as Franks' first wife, Beth; and the title song, "Merrily We Roll Along" shared by the entire ensemble.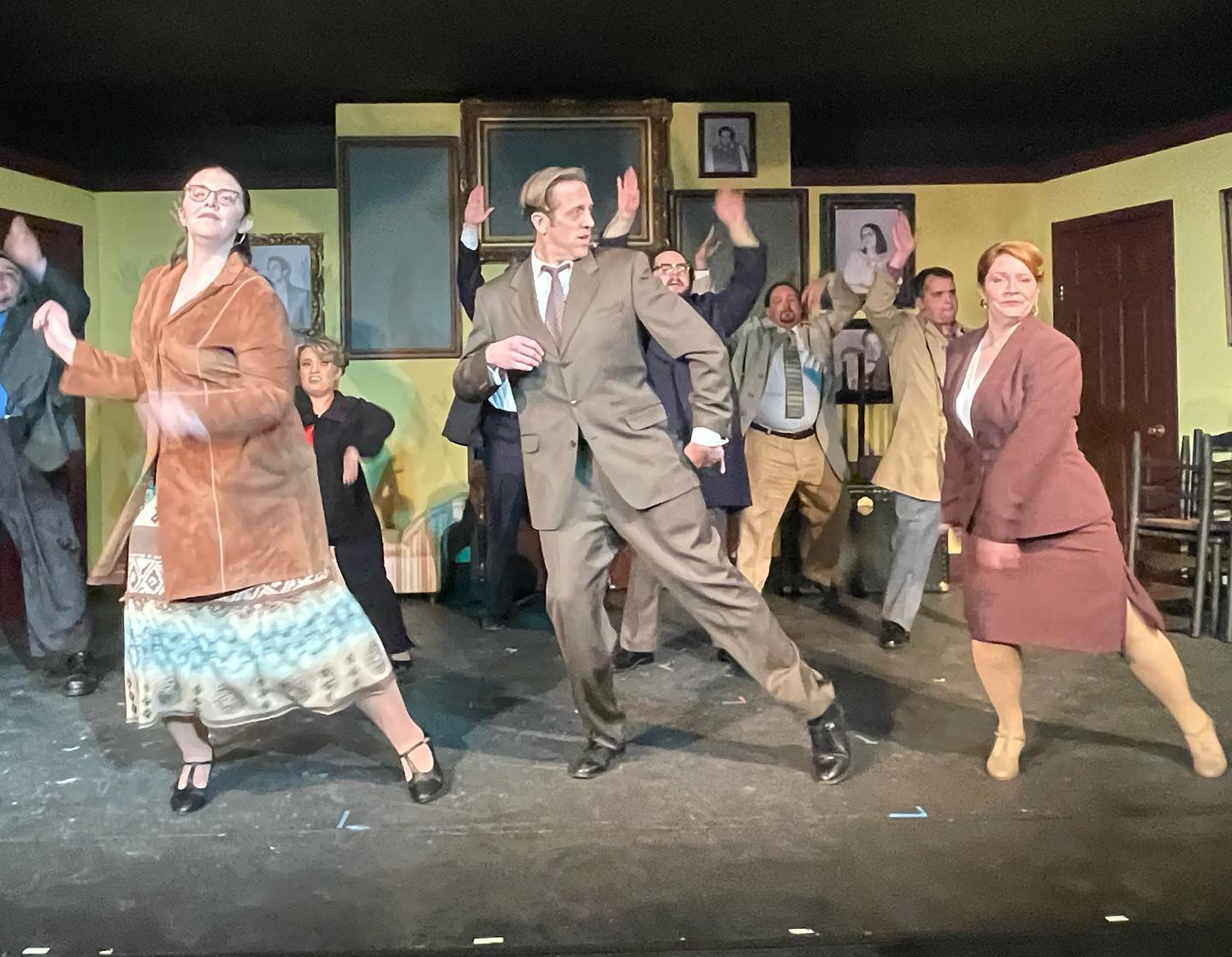 (Photo: The CAST of "MERRILY WE ROLL ALONG" by George Furth and Stephen Sondheim presented by Worcester County Light Opera Company in Worcester, MA. through April 30, 2023. Photo credit: Christopher O'Connor)
Vickstrom as central figure, Frank, is 100 percent invested in the character's total journey.
Transitioning effortlessly from narcissistic success story, Vickstrom journeys back to Frank's climb to becoming more self confident, then back further to when the "less worldly" Frank and Charley first meet Mary.
The trio, perhaps being more naïve than worldly, immediately bond and ultimately become sensitive, vulnerable and compassionate "old friends" - until the ravages of time and circumstance ultimately take their toll.
Frank's more sensitive side is conveyed well in the tender musing, "Growing Up."
Collins also shines, masterfully nailing two tunes as Charley.
First - with the brilliantly manic, intricately funny and above all else, pure Sondheim song, "Franklin Shepard, Inc." Then, later, in the more melancholy, "Good Thing Going."
As Mary, Goodman is exceptional, functioning as a support system for her two friends while all the while sacrificing much of her own happiness.
In addition (as if the story structure wasn't complex enough), Mary, while part of this trio, actually forms a second trio as part of the women who dominate Frank's life, joining with Beth and Gussie.
Bartoletti, as Beth, impresses as a young wife who loves the man she thought she married but who cannot hold onto something that isn't there.
Hannon equally is galvanized as Gussie - a star who becomes enraptured with a man who serves her needs, not only as a lover but as a means to an end - even to the point of sacrificing her preceding marriage to Broadway producer Joe Josephson (Andrew Bigelow).
Yet, as "time" proves, these two women are not able to fill the void in Frank's life by being that which Mary once was and attempts to be again...a loving friend.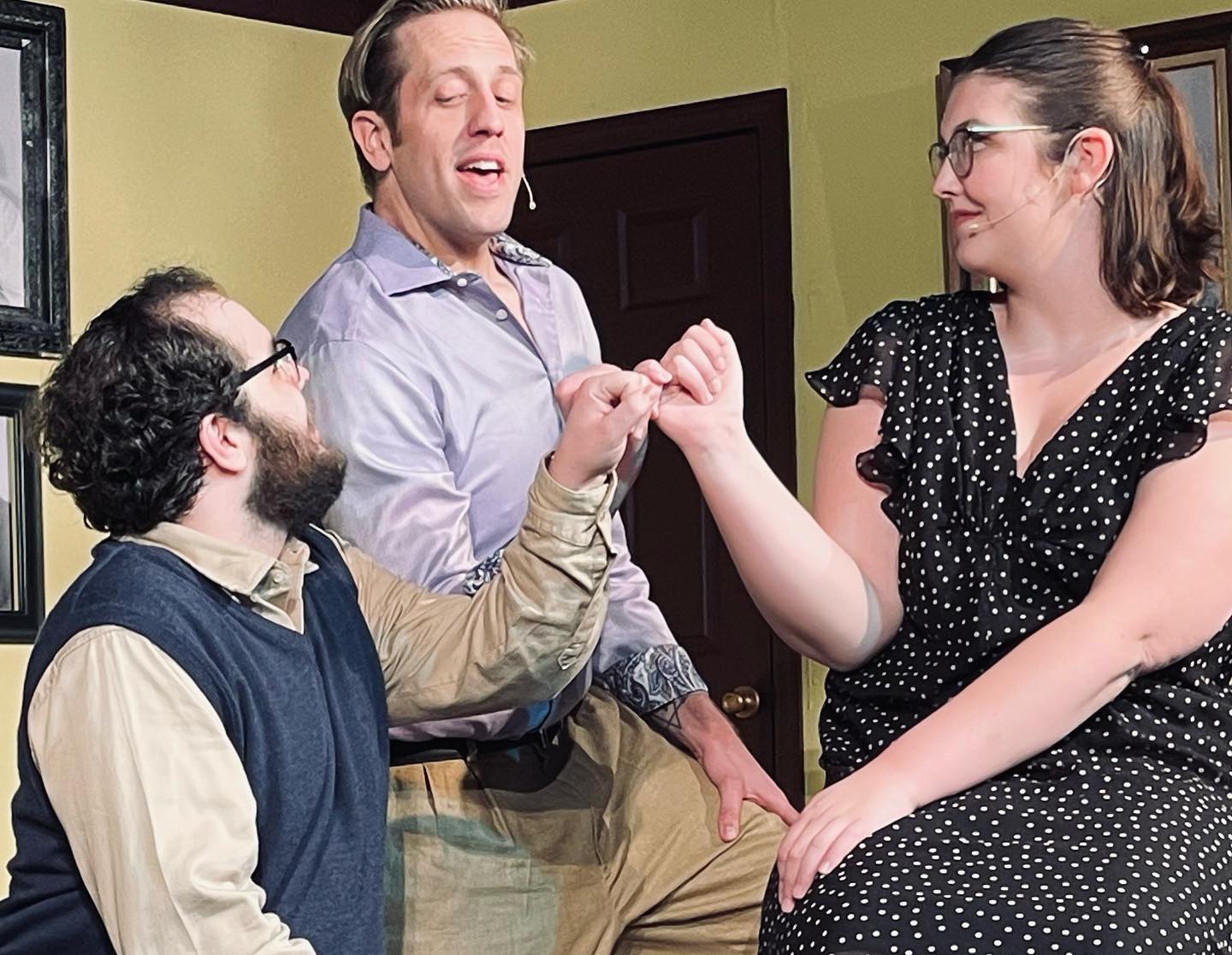 (Photo: Kyle Collins, Todd Vickstrom and Liza Goodman in a scene from "MERRILY WE ROLL ALONG" by George Furth and Stephen Sondheim presented by Worcester County Light Opera Company in Worcester, MA. through April 30, 2023. Photo credit: Christopher O'Connor)
Since the opening scene ends as it does, it almost feels as if an epilogue (uh..."prologue"...?) is required to tie up the myriad of subplots where the story ends (uh..."begins"...?)...oh, heck, two hours and 45 minutes later.
As if concluding a story by ending at the beginning isn't "unique enough," there is "Our Time" - the unusual concluding song to this "Sondheim musical." The tune doesn't even sound like a Sondheim song - it actually sounds more like a Stephen Schwartz song.
Go ahead. Listen to it. We'll wait.
"MERRILY WE ROLL ALONG" is a fascinating, daring musical which still may not appeal to everyone but the same can be said for any musical that, like this show, attempts something different.
However, the musical has certainly been maligned unnecessarily over the decades as the George Furth story rises to the level of some of the best shows within the Sondheim catalog.
The performance on April 21st was impaired slightly by obvious sound issues (constant mic pops and a prolonged static hiss) but overall there was a fine, inventive take on the presentation which was not only faithful but vibrant.
The set design is minimalist, allowing for ease of set changes and the combined staging and choreography allows for extremely fluid transitions.
The show might have been better served by a larger stage - but the smaller venue allowed for a far more intimate and emotional impact.
The photos, posters and video screens used along the surrounding set wall to help illustrate the passage of time was also a nice touch (with a nice nod to the master himself, Sondheim).
Costumes and props must have proved challenging but ultimately are splendid - totally consistent and appropriate for the epic musical "time travel" story involved here.
"MERRILY WE ROLL ALONG" continues at WCLOC until April 30th and some shows are already sold out. Do NOT miss your opportunity to catch this wonderful production.
Approximately two hours, 45 minutes with one intermission.
Kevin T. Baldwin is a member of the American Theatre Critics Association (ATCA)
@MetrmagReviews
@Theatre_Critics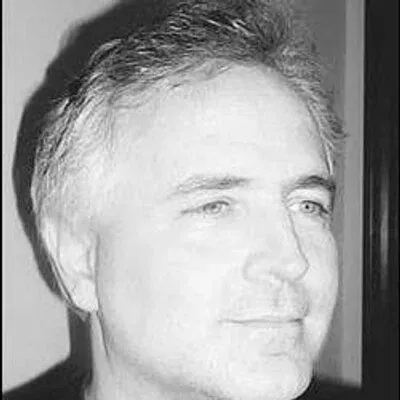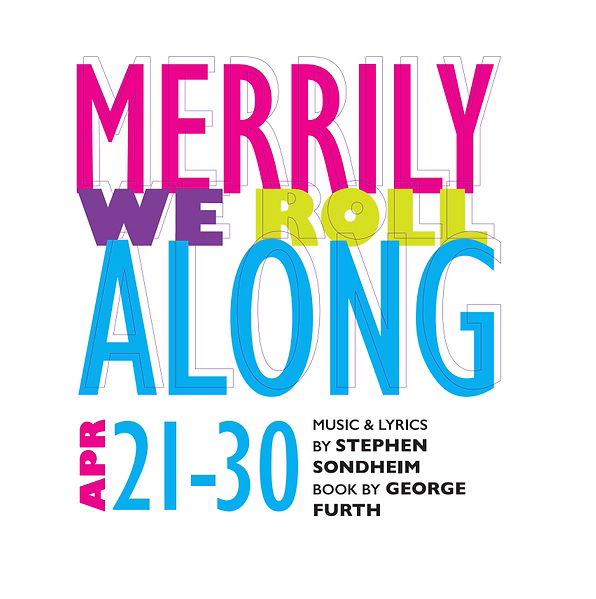 ABOUT THE SHOW
Spanning three decades in the entertainment business, "MERRILY WE ROLL ALONG" charts the turbulent relationship between composer Franklin Shepard and his two lifelong friends — writer Mary and lyricist & playwright Charley.
An inventive, cult-classic ahead of its time, "MERRILY WE ROLL ALONG" features some of Stephen Sondheim's most celebrated and personal songs.
The original 1982 Broadway production was nominated for a Tony Award and won a Drama Desk Award for Outstanding Lyrics. The musical also won three Laurence Olivier Awards for the 2001 London production.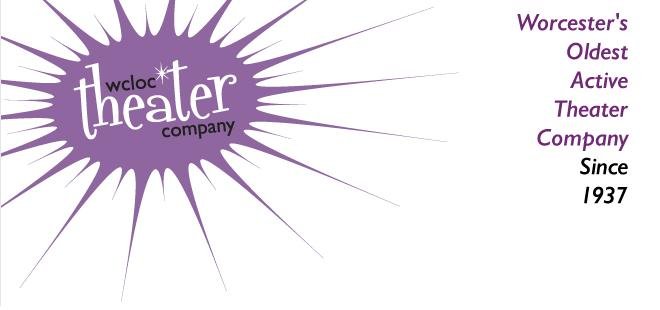 ABOUT WORCESTER COUNTY LIGHT OPERA COMPANY (WCLOC)
Founded in 1937, WCLOC is Worcester's oldest active theater company. As a local, non-profit community theater, we depend on the generosity of our members, patrons, subscribers, and donors to help forward the mission of our organization to entertain, inform, and nurture local artists and audiences through the production of high quality, affordable musicals, plays, and children's educational workshops. A donation to WCLOC allows us to continue to keep tickets affordable for local audiences, helps us maintain and make necessary improvements to our Clubhouse, and supports a full season of memorable theater and educational opportunities.
Worcester County Light Opera Company
PO Box 51
Worcester, MA 01613
508-753-4383
admin@wcloc.org