(Cover Photo: The CAST of "LITTLE WOMEN THE MUSICAL" from Concord Players in Concord, MA. now playing through May 13, 2023. Photo Credit Chris Pollari)
By Kevin T. Baldwin
METRMAG Reviewer
# 774-242-6724
"We all have our own life to pursue, our own kind of dream to be weaving, and we all have the power to make wishes come true, as long as we keep believing."
- Louisa May Alcott

The Concord Players
Presents the Musical
"LITTLE WOMEN"
Book by Allan Knee
Music by Jason Howland
Lyrics by Mindi Dickstein
Directed by Katie Swimm
Music Director Jeff Kimball
Assistant Director Chris Ortiz
Cast Includes: Devin Bean - Jo March; Samantha Casale - Meg / Clarissa; Sean Donnelly - 'Laurie' Laurence / Rodrigo; Ava Enoch – Beth; Travis Karas - Professor Bhaer; A.J. Lyman - John Brooke / Braxton; Margaret McCarty – Marmee; Aiden O'Neal - Amy March; Lonnie Powell - Mr. Laurence; Martha Warren - Aunt March / Mrs. Kirk; Amanda Casale - Ensemble, u/s Jo; Sara DeLong - Ensemble, u/s Marmee; Maddie Freeman - Ensemble, u/s Beth; A.J. Gaudreau - Ensemble, u/s Prof. Bhaer; Mia Kania - Ensemble, u/s Meg; Mike Lague - Ensemble, u/s Mr. Laurence; Molly Lovell - Ensemble, u/s Amy; Thomas Christopher Marsh - Ensemble, u/s Laurie; Cathy Merlo - Ensemble, u/s Aunt March / Mrs. Kirk; Zack Page - Ensemble, u/s John Brooke.
Additional Creative Team:
Dramaturg - Emma Futhey; Producer - Tracy Wall; Producer / Lighting Design - Susan Tucker; Asst. to Producers - Linda McConchie; Stage Manager - Katie Esser; Assistant Stage Manager - Bill Fisher; Set Design - Allen Bantly; Props - Charlotte Kelley; Costume Design - Linda Burtt; Hair and Makeup - Gabrielle Hatcher; Sound Design - Tom Powers; Publicity - Andrea Roessler; Amelia Boyce Munson - Choregraphy for "Five Forever" and the Ball; Shira Cahn-Lipman - Fight Choreography; Melissa Paz - Dance Captain.
Performances:
April 28, 2023 through May 13, 2023
(Contact Box Office for Exact Times)
Tickets:
(Warning: The following review may contain spoilers)
Concord Players celebrates its 103rd season with "LITTLE WOMEN THE MUSICAL" - a musical based on, quite possibly, one of the community's favorite families (at least in literature) – the "March Family."
The musical is staged in honor of Louisa May Alcott's 190th birthday and Concord's "decennial celebration" of the Concord author.
Since Alcott's "LITTLE WOMEN" was first published back in the late 1860s (specifically 1868 & 69) there have been a plethora of plays and musicals adapted from her timeless story of the "March Sisters" living in Civil War era Concord, Massachusetts, with numerous staged by the Concord Players.
Like some, you possibly have someone close to you who knows almost every facet to the "coming-of-age" Alcott novel.
Alcott's very name, and her stories, are virtually synonymous with the town of her resting place, Concord (where, at Sleepy Hollow Cemetery, Alcott "keeps good company" with the likes of Ralph Waldo Emerson, Henry David Thoreau, Daniel Chester French and Nathaniel Hawthorne) - while the stories themselves have come to have a far more widespread or universal appeal.
Like the characters in her stories, Alcott challenged preconceived societal notions about the roles of women, rejecting many prevailing social norms and, through her stories and her life's teachings, she imparted that forward-thinking wisdom upon young female readers.
Her life and scripted legacy still imparts that wisdom.
This rousingly entertaining musical adaptation of "LITTLE WOMEN," which includes a book crafted by Allan Knee, had far too brief a run on Broadway back in 2005.
It has since been staged multiple times to many delighted audiences all over the world.
The musical also features a truly memorable score by Jason Howland and Mindi Dickstein.
The story starts at a boarding house far from Concord where we meet the oldest March sister, Jo (Devin Bean), a struggling author seeking to be published.
Bean, as Jo, shows a resilience and perseverance in Jo's character that is not only admirable it is spellbinding.
Singing some of the musical's best known songs (including "Our Finest Dreams," the show's signature song, "Astonishing," to Jo's later "full circle moment" moment with, "The Fire Within Me"), Bean's complete conviction to the character greatly impresses, as does her vocal prowess.
Jo reads one of her stories to a friend, Professor Bhaer (Travis Karas) which comes to life before us on the Concord stage in the form of "An Operatic Tragedy" and "The Weekly Volcano Press" where an added ensemble is best utilized.
Karas adds layers to his role of the Professor - presenting a fine, nervous edge as opposed to the more stodgy approach normally taken in the portrayal of Bhaer.
In his character's more melancholy moments, Karas also showcases the more tender side of the Professor, especially in Bhaer's song, "How I Am."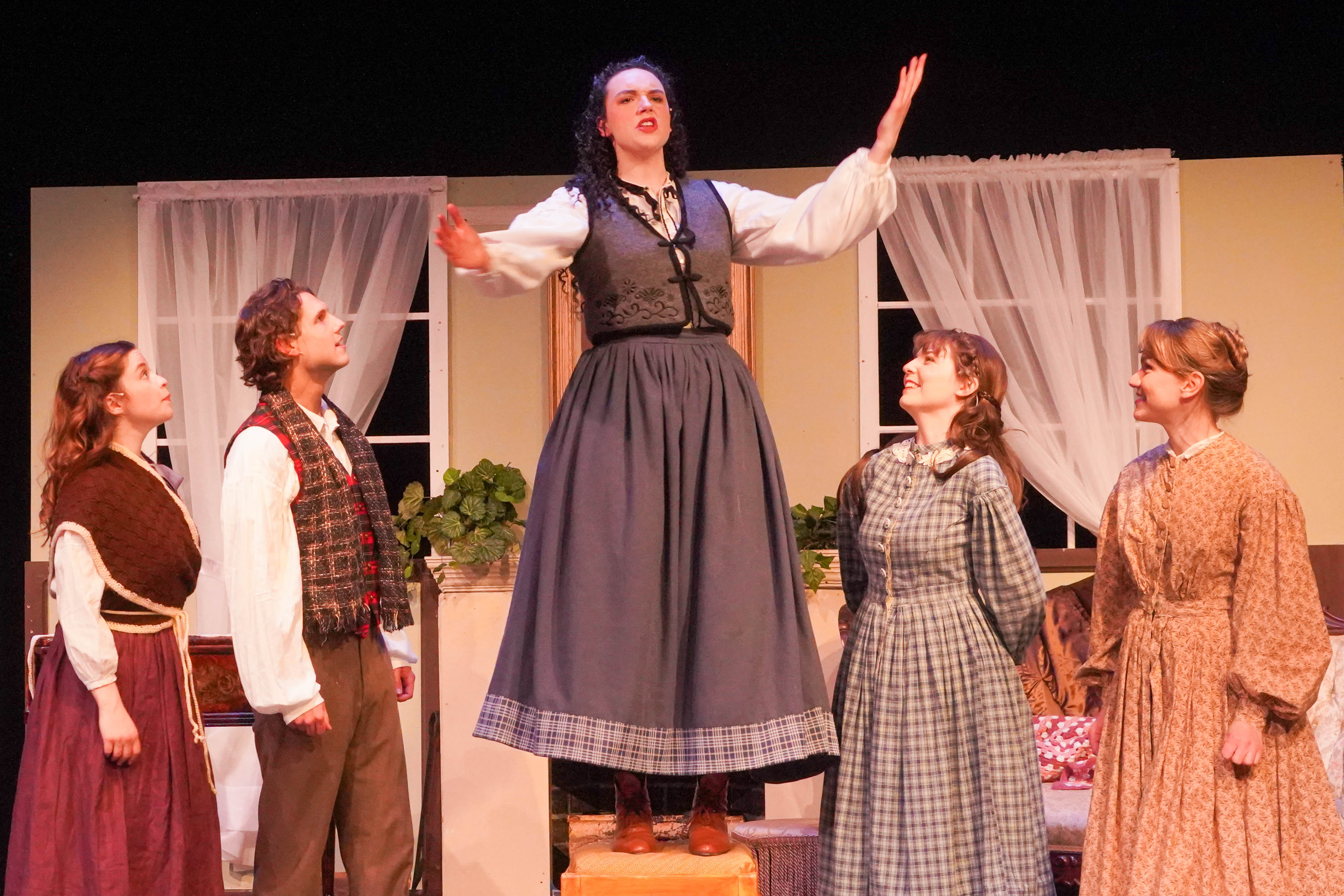 (Photo: "Five Forever" - The CAST of "LITTLE WOMEN THE MUSICAL" perform in Concord Players production, now playing through May 13, 2023. Photo Credit Chris Pollari)
In the original Broadway production, a majority of the cast "doubled up" on roles in order to portray characters featured in the story written by Jo (the show was written to be performed by a cast of 10 actors who played 18 individual roles).
In the Concord staging, the decision was made, instead, to use a full ensemble in those scenes and to also use them to supplement, or vocally augment, several other scenes.
While some may prefer the original use of cast doubling, feeling it widened the diversity of the respective supporting performances, Concord's production, under director Katie Swimm, utilized the ensemble creatively and extremely well.
However, it did also, occasionally, tend to crowd the stage - with some cast bumping into one another, particularly during a party scene where three suspended windows kept getting "impacted" by the actors (unless one wants to suspend disbelief and assume the partygoers were re-enacting the "Great Massachusetts earthquake of 1755").
All of the "LITTLE WOMEN" principal cast performances are strong and the story, as it unfolds, is presented seamlessly - in no small part to the clever use of space and fluid set changes courtesy of the entire creative and production teams.
Jo recalls a pivotal time when she and her sisters face unexpected new roads and challenges, beginning with Christmas at home in Concord.
Jo is completely fixated on writing her stories - many, of which, include her family as main characters.
At the same time, she is attempting to preserve her wonderful home life with mother, Marmee (Margaret McCarty), and Jo's sisters: level-headed Meg (Samantha Casale), frail but benevolent Beth (Ava Enoch) and annoying, immature Amy (Aiden O'Neal).
Along with Bean, not only are the above actresses splendid together in unison, they each are given individual moments to shine separately as the story progresses.
Troubles begin, as do life changes, as Jo cuts down the tree of crusty neighbor, Mr. Laurence (Lonnie Powell), whose grandson is a puppy-eyed admirer of Jo's, Laurie (Sean Donnelly).
Donnelly is not only an exceptional vocalist as Laurie, he also showcases a complete evolution of his character between Laurie's initial appearance until the end of the story.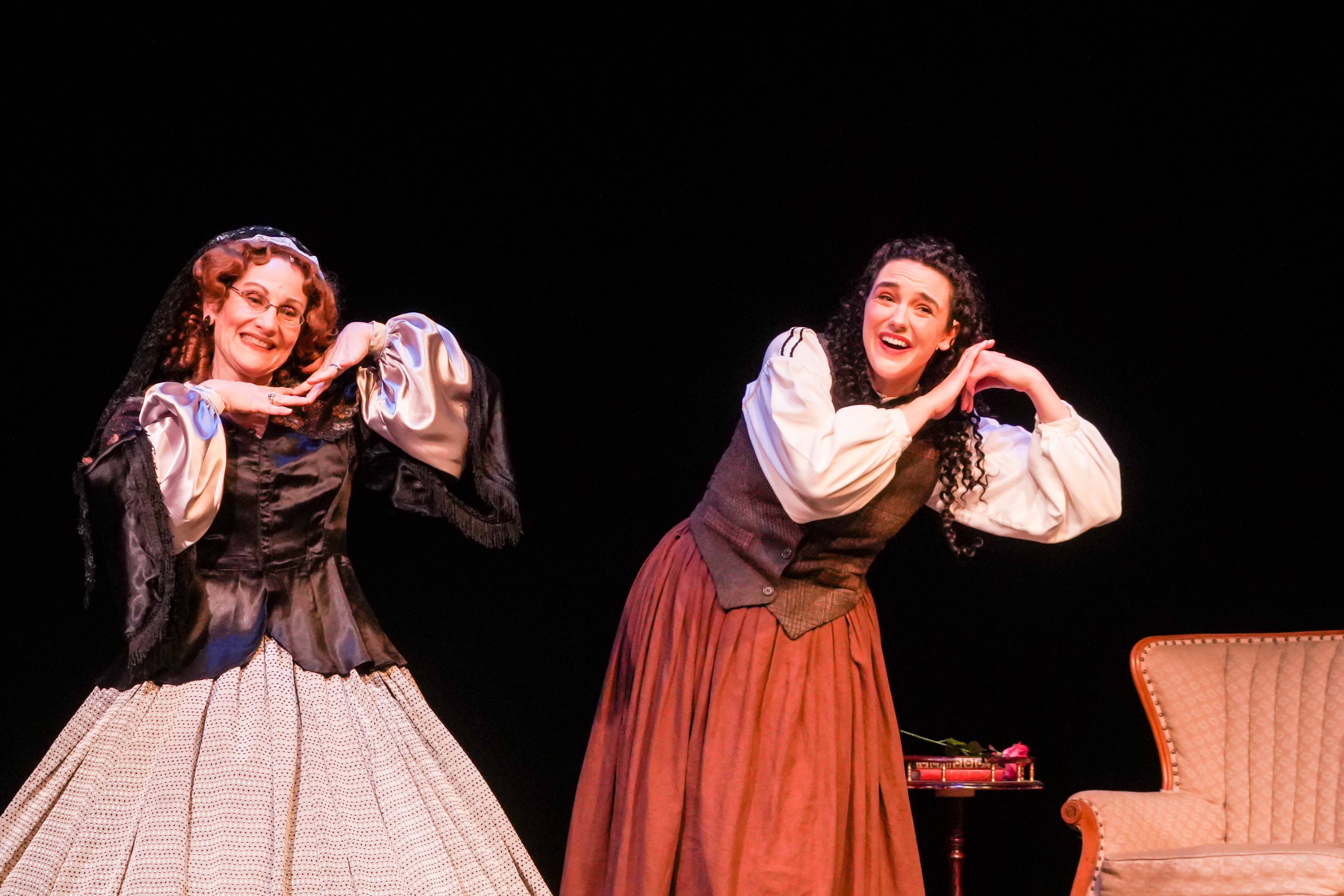 (Photo: Martha Warren and Devin Bean perform the song "Could You?" from "LITTLE WOMEN THE MUSICAL" from Concord Players in Concord, MA. now playing through May 13, 2023. Photo Credit Chris Pollari)
Jo visits her wealthy Aunt March (Martha Warren) who offers Jo the opportunity to travel abroad but ONLY IF Jo can prove herself as a cultured member of high society, i.e. a "proper" lady.
Warren is an imposing figure as cantankerous, domineering Aunt March, who presents the challenge to Jo in their 'frosty' duet, "Could You?"
Jo wants to travel and broaden her horizon as a writer - but she does not wish to do so at the sacrifice of her own true self.
Meanwhile, unlike Jo, the obnoxiously immature Amy is so jealous of Jo and the opportunities she is being offered, she lashes out at her older sister which causes a rift - no, a chasm - between the two.
Similar to Donnelly as Laurie, Aiden O'Neal, as Amy, shows a complete evolution of Amy, as we see her grow from a spoiled, self-absorbed little brat to a spoiled, self-absorbed, totally entitled young adult.
Donnelly and O'Neal are a treat as they together sing the humorous, "The Most Amazing Thing."
Enoch brings a fine "reconciling" quality to March sister Beth, who serves as mediator to everyone she interacts with and finds good in everyone, even curmudgeonly Mr. Laurence, who shows his softer side sharing his love of piano with "dreadful" Beth in the song, "Massachusetts."
Jo and Meg bump into Laurie again later at a dance where Meg meets and instantly falls for Laurie's tutor, John Brooke (A.J. Lyman).
The couple later expresses their undying love in the duet, "More Than I Am" as John informs Meg that he is going off to fight in the war - yet still asks her to marry him.
The vocal performances by Lyman and Casale in the duet are exemplary but the song itself has always been problematic as it just does not seem to fully capture the emotional moment of this couple expressing their feelings just as John is going off to war, potentially never returning.
An Act Two number staged to near perfection was the gut-wrenching duet, "Some Things Are Meant To Be" sung by Beth and Jo. They key element in the scene is the kite and director Swimm absolutely got the symbolism correct.
Jo feels blindsided by the onslaught of life changes happening projected in her Act One closer, "Astonishing."
However, her mother, Marmee, is watching as all her daughters become "little women," conveying her feelings in the moving song, "Here Alone" as a letter she is writing to the March family's absent husband and father.
Costumes were perfectly conducive to the era represented.
There were sound issues plaguing the April 28th performance as backstage chatter was being picked up on the sound system.
Also, some microphones on stage seemed unbalanced or were not functioning as expected. Some actors on stage were noticeably having to project far more than should be required to do as a result of these issues.
As to the set, the boarding house and attic extensions on either side of the main stage were a fabulous touch as were most of the sets used in the Concord staging.
What worked less well was the "March living room" set which was situated on a single, rolling platform.
The intent may have been to allow for quicker scene changes, but the platform was positioned so far back and center on the expansive stage that the dimensions of the set appeared constricting for the "March living room" scenes.
Also, the above gave the overall impression of the "March house" being a lot more confined and reduced (again given the relatively unused amount of space on the stage).
Hearing the orchestral accompaniment from the full orchestra conducted by Music Director Jeff Kimball augmented greatly the fine vocal performances.
The rousing conclusion to "Weekly Volcano Press" - featuring all musical "forces" combined - was probably the most thrilling ensemble moment of the show.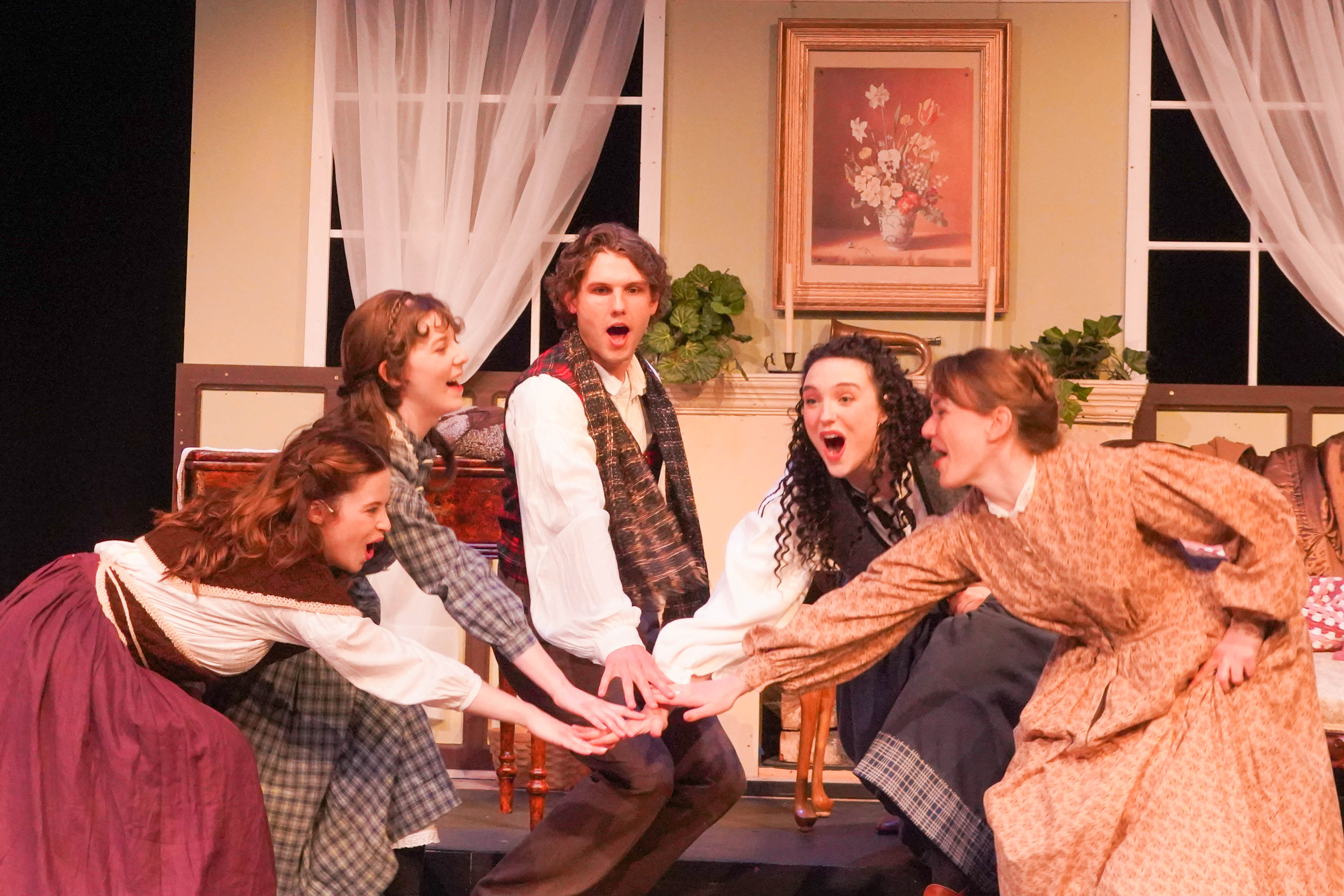 (Photo: The CAST of "LITTLE WOMEN THE MUSICAL" from Concord Players in Concord, MA. now playing through May 13, 2023. Photo Credit Chris Pollari)
There might be some "Alcott enthusiasts," even loyalists, who will relentlessly find fault in the "alternate universe" created in this adaptation by Knee, Howland and Dickstein - noting various omissions and adjustments required from the source material to make the musical better suit the stage.
However, as proven here, those changes done in order to make "LITTLE WOMEN" a better musical certainly seem appropriate while keeping with the original spirit of the Alcott story.
In fact, the saga's loyal "following" - especially those who may reside in Concord - only seems to have increased since the musical adaptation became available to be produced.
This most recent staging by the Concord Players continues an ongoing tradition making "LITTLE WOMEN THE MUSICAL" a production well worth seeing.
"LITTLE WOMEN THE MUSICAL" continues in Concord until May 13th - while the legacy of Alcott and the "March Family" shall endure for all forever.
Approximately two hours, 30 minutes with one intermission
Kevin T. Baldwin is a member of the American Theatre Critics Association (ATCA)
@MetrmagReviews
@Theatre_Critics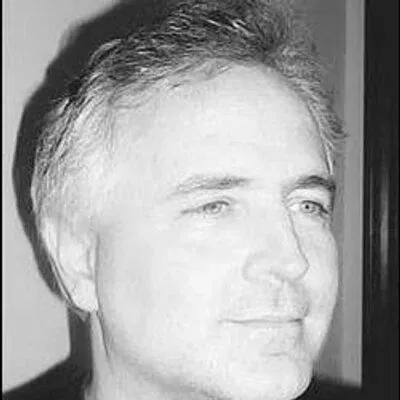 ---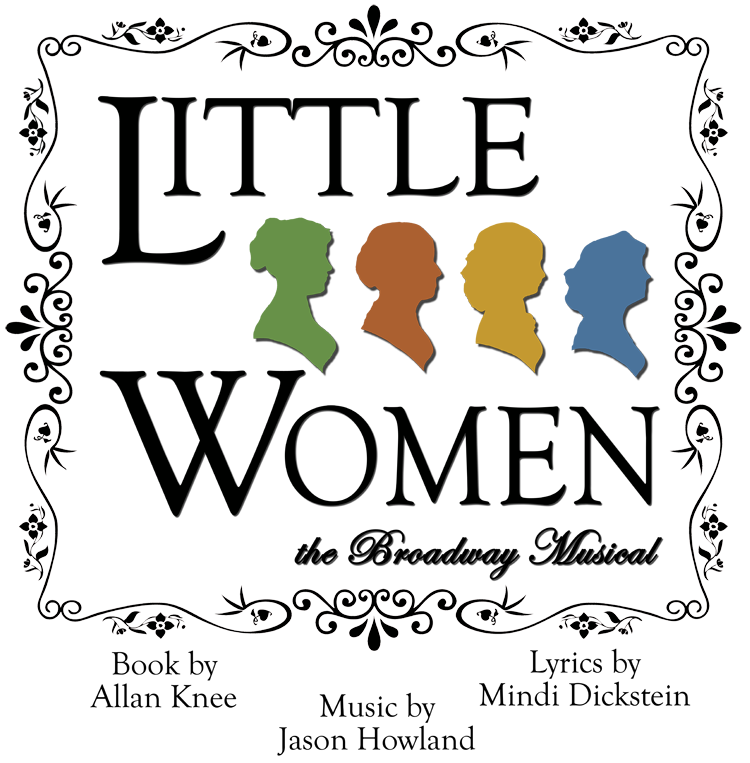 ABOUT THE SHOW
In honor of Louisa May Alcott's 190th birthday and our decennial celebration of the Concord author, we offer the 2005 Broadway musical "LITTLE WOMEN" - telling of the beloved story of the March sisters.
Romantic Meg, tomboyish Jo, loving Beth, and irascible Amy live in Concord with their Marmee while their father is off in the Civil War.
Filled with adventure (both lived and imagined), heartbreak, and a deep sense of hope, these "LITTLE WOMEN" struggle to find their own voices.
COVID 19 PROTOCOLS
Contact Venue for Most Updated COVID-19 Safety Protocols and Information.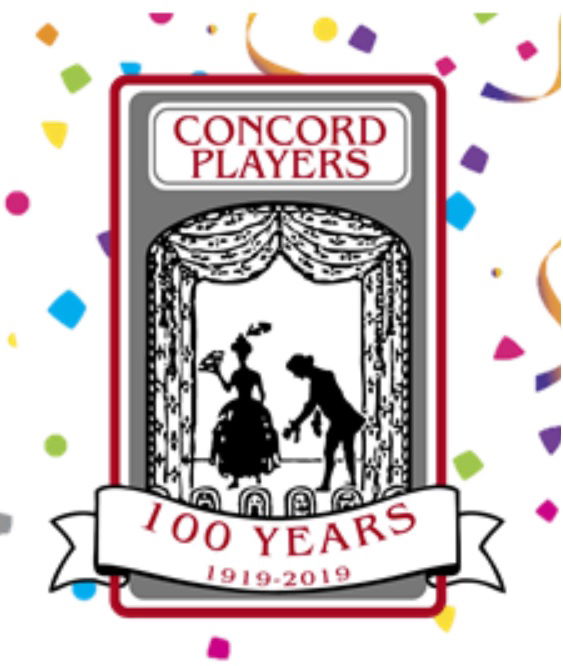 ABOUT THE CONCORD PLAYERS
The Players are proud of their continuous record of presenting quality theatre to the citizens of Concord and the surrounding communities. Three major productions are mounted each season. In addition, one-acts, such as the annual entry into the Eastern Mass Assn of Community Theatres (EMACT) Spring Festival, are frequently presented. Workshops in acting, directing, and technical theatre are also offered to the membership.
MISSION STATEMENT
The purpose of our organization is to produce and perform quality theatre for the citizens of Concord and the surrounding communities. We encourage the participation of people with an interest in technical theatre, as well as in performing.
The Concord Players
51 Walden St
Concord, MA 01742
978 369-2990
tickets@concordplayers.org