(Cover Photo: Melissa Reda as "Jack's Mother," Mike Buck as "Jack" and "Milky White" as puppeteered by Joshua Foisy in a scene from "INTO THE WOODS" by James Lapine and Stephen Sondheim from Colonial Chorus Players in Reading, MA. through May 7, 2023. Photo Credit Colonial Chorus Players)s)




By Kevin T. Baldwin
METRMAG Reviewer
# 774-242-6724

"Let the moment go...Don't forget it for a moment, though."
- James Lapine and Stephen Sondheim

Colonial Chorus Players
Presents
The Sondheim Musical
"INTO THE WOODS

"
THREE PERFORMANCES ONLY!
Book by James Lapine
Music & Lyrics by Stephen Sondheim
Directed by Corey Cadigan
Musical Direction by Alan Freedman
Produced by Jennifer Estabrooks
Cast Includes: The Baker - Maeve McCluskey; The Baker's Wife - Jessica Woodard; Narrator/Mysterious Man - Dan Kelly; The Witch - Lali Haines; Cinderella - AnneMarie Alvarez; Cinderella's Prince/Wolf - Nate Haywood; Little Red Ridinghood - Ts Burnham; Jack - Mike Buck; Jack's Mother - Melissa Reda; Milky White (puppeteer) - Joshua Foisy; Rapunzel - Alanna Rose Lynch; Rapunzel's Prince - Luke Sprenkle; Cinderella's Stepmother - Kristin Gillett; Cinderella's Father - David Scannell; Florinda - Heather Rotondi; Lucinda - Katie Iafolla; Cinderella's Mother/Granny/Giant - Jen Ryan; Gelzleichter Steward - Bradley Boutcher
Additional Creative Team:
Stage Manager - Laura Raynor; Musical Staging - Corey Cadigan; Costume Design - Barbara Malek; Costume Construction - Connie Barker, Sue Chandler, Christine Exner, MaryEllen Kenney, Barbara Malek, Liz McCarron, Andrea Messina, Rusty Palumbo, Joanne Scannell, Sharyn Taitz, Debra Tucker; Wig Design - Cara Guappone Wig Design & Rentals; Backstage Costume Assistants - Sue Chandler, Barbara Malek,Michelle Doucet Tagliarino, Sharyn Taitz; Props Coordination - Judy Taylor; Props Design - Gaby Estabrooks, Jennifer Estabrooks, Scott Estabrooks, Josh Hyatt, Ken McElroy, Judy Taylor, Debra Tucker; Milky-White Design - Lance Arnold, Crystal Vanartsdalen; Set Design - Rod Chandler, Tim Gregor; Set Build - David Bilodeau, Kirsten Brown, Rod Chandler, Tom Coffin, Fred Gallagher, Tim Gregor, Lou Palumbo; Scenic Painting - Kirsten Brown; Stage Crew - Bob Beckman, Crista Cavicchio, Tom Coffin, Scott Estabrooks; Lighting Design - Paul McTeague; Spot Operators -Laura Rodgers, Colby Taormina; Sound Design - Mike McTeague; Box Office - Rusty Palumbo; Box Office Assistant - Lou Palumbo; House Manager - Joanne Scannell; House/Ushers - Patti Beckman, Nora Bucko, Gene Butler, Mary Blake Butler, David Estabrooks, Fred Gallagher, Jan Gallagher, Josh Hyatt, Ken McElroy, Amy Oldenquist, MaryPat Phaneuf, Joel Ventura, Ronnie Ventura; Orchestra - Alan Freedman (Keyboard 1/Conductor), Therese Honda (Keyboard 2), Clara Kebabian (Violin), Marshunda Smith (Cello), Rebecca Makara (Flute/Piccolo), David Daquil (Clarinet/Bass Clarinet), Peter Broggi (Percussion), Tim Deik (Trumpet), Michael Soo (Horn); Publicity/Program - Jennifer Estabrooks; Sponsorships - Bob Beckman, Carla Perrotta; Show Photography - Colleen Gavin; Business Manager- Amy Oldenquist
Performances:
May 5 & 6 2023 at 7:00pm
May 7, 2023 at 2:00pm
For more information call # 781-944-9780, email info@1961.org or visit the Colonial Chorus website at: ccp1961.org
Shepardson Hall at Parker Middle School, GPS Address: 50 Temple Street, Reading, MA
TICKET PRICES:
$30/Adults
$25/Seniors & Students
All Tickets Reserved Seating
TICKETS
Please email the Colonial Chorus Box Office at tickets@ccp1961.org.
May contain content not suitable for all audiences.
Because food and beverages are not permitted in Shepardson Hall, water only will be available in the Lobby.
COVID 19 PROTOCOLS
Contact Venue for Most Updated COVID-19 Safety Protocols and Information.
The Colonial Chorus Players (CCP) of Reading brings to life the musical convergence of Brothers Grimm fictional characters with "INTO THE WOODS" presented at the Parker Middle School this weekend only for three performances.
It should be noted, from the outset, that this review is of a final dress rehearsal.
As such, certain production elements were still being "polished" for the show's opening performance May 5th. While not perfection it was still a commendable effort given by all involved.
The book, written by James Lapine, helps guide the audience through one of the most notable scores by the late Stephen Sondheim.
The duo also collaborated on the libretto for their much beloved, "Sunday in the Park with George."
In a rare joint interview on PBS years ago, both Sondheim and Lapine discussed the success of their writing relationship.
Both conveyed how they were on "a similar path" where, creatively, they knew the direction of where they wanted the journey of their characters to take them.
Lapine is a renowned librettist and has won the Tony Award for Best Book of a Musical three times: for "Falsettos," "Passion" (another Sondheim collaboration) and, of course, for "INTO THE WOODS."
Winning a Tony Award for Best Score in 1988, "INTO THE WOODS" is best known for its captivating underlying theme of: While we may not get the happy endings we feel exist "as written" for each of us, we WILL get an ending and, God willing, it will be the one we deserve.
The CCP production is directed by Corey Cadigan with musical direction by Alan Freedman. The unseen orchestra, led by Freedman, is also exemplary.
The staging of the CCP production works well with an enthusiasm felt by the entire cast. The ensemble faithfully executes one of Sondheim's most popular scores (at least among the average theater going public).
In concurrence with Sondheim's lyrics, the plot written by James Lapine (based on various Grimm's fairy tales) for "INTO THE WOODS" is intricate with many plotlines played in parallel at first then intersecting in one spot.
So many plots unfold that, just as you think the musical is coming to a close with a happy ending, it doesn't, then it looks like it might, then it doesn't, then it happens again.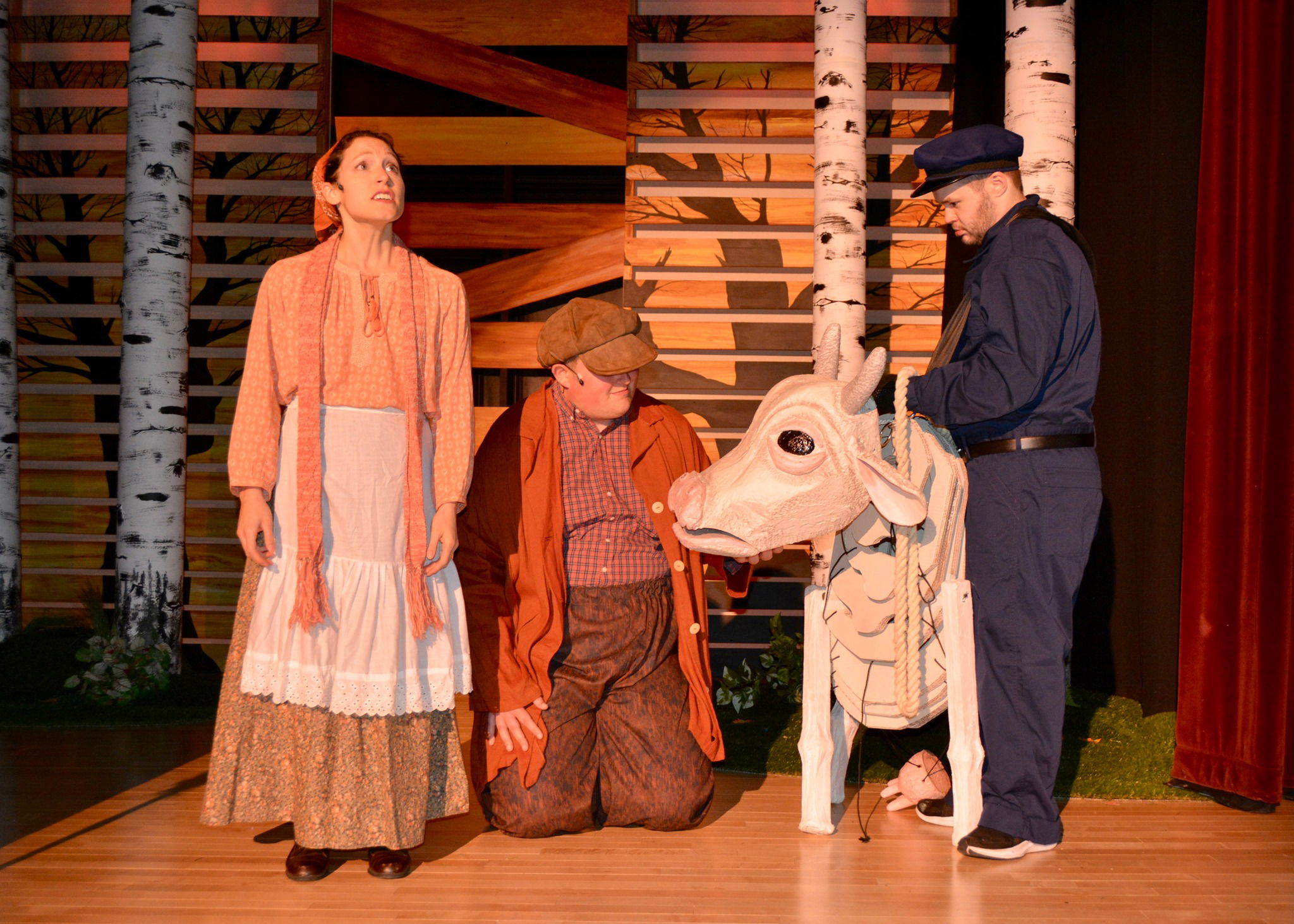 (Photo: Melissa Reda as "Jack's Mother," Mike Buck as "Jack" and "Milky White" as puppeteered by Joshua Foisy in a scene from "INTO THE WOODS" by James Lapine and Stephen Sondheim from Colonial Chorus Players in Reading, MA. through May 7, 2023. Photo Credit Colonial Chorus Players)
As the musical begins (with an almost obligatory "Once Upon a Time"), we are guided by a Narrator (Dan Kelly) who introduces us to all the fabled characters with whom we are about to become re-acquainted, yet not in the way we might recall them from our youth.
Kelly is both amiable and animated playing the "Narrator" and also a "Mysterious Man" who continuously confronts several of the characters.
As all the fabled stories converge and intertwine, as all the sub-plots become entangled (much like Rapunzel's hair), the characters seek their fairy tale endings...but at what cost?
Yes - What happens after "Happily Ever After?"
The "rogues gallery" of Grimm stable of characters most focused upon for "INTO THE WOODS" include Cinderella (AnneMarie Alvarez), Rapunzel (Alanna Rose Lynch), Jack (Mike Buck) and his Beanstalk and Little Red Ridinghood (Ts Burnham).
The main plot for "INTO THE WOODS" (which will ultimately cause the stories of the above characters to intersect) concerns a Baker (Maeve McCluskey) and his wife (Jessica Woodard) longing for a child but discovering they are incapable of conceiving from a curse cast upon them by an evil Witch (Lali Haines).
The Witch holds young Rapunzel (Alanna Rose Lynch) captive in a tall castle room.
While she actually loves Rapunzel as a daughter, the Witch keeps the kidnapped girl locked away until another handsome Prince (Luke Sprenkle) falls in love with Rapunzel and attempts to rescue her.
Haines is commendable in the role of the Witch giving one of the production's most effective performances.
Lynch is fine as Rapunzel who has more entangled miseries than one could run a comb through.
However, like one or two other plot points, in the end the character is seriously underdeveloped, leaving mysteries for us to solve by the conclusion of the story (for example: Whatever happened to young Rapunzel's' twins? They must have been at least toddlers by the time Act Two begins - he rhymed).
The above does not fall like Rapunzel's hair on Lynch's shoulders. It was simply a choice made by Lapine and Sondheim who possibly considered the subplot not really requiring a resolution and might, instead, reduce the impact of the main stories being told.
Another choice made by Lapine and Sondheim was to reduce the focus on Cinderella (Alvarez) wishing to attend a festival being held by the King in honor of his handsome, womanizing son, the Prince (Nate Haywood, who also plays the Wolf).
Alvarez is pleasing in the role of the "footwear-challenged" Cinderella, as she delivers a nice rendition of, "On the Steps of the Palace."
Haywood gives an adept interpretation of the "monogamy-challenged" Prince as he confesses to his brother, Rapunzel's Prince, when Sprenkle and Haywood duet in the smarmy but amusing, "Agony.".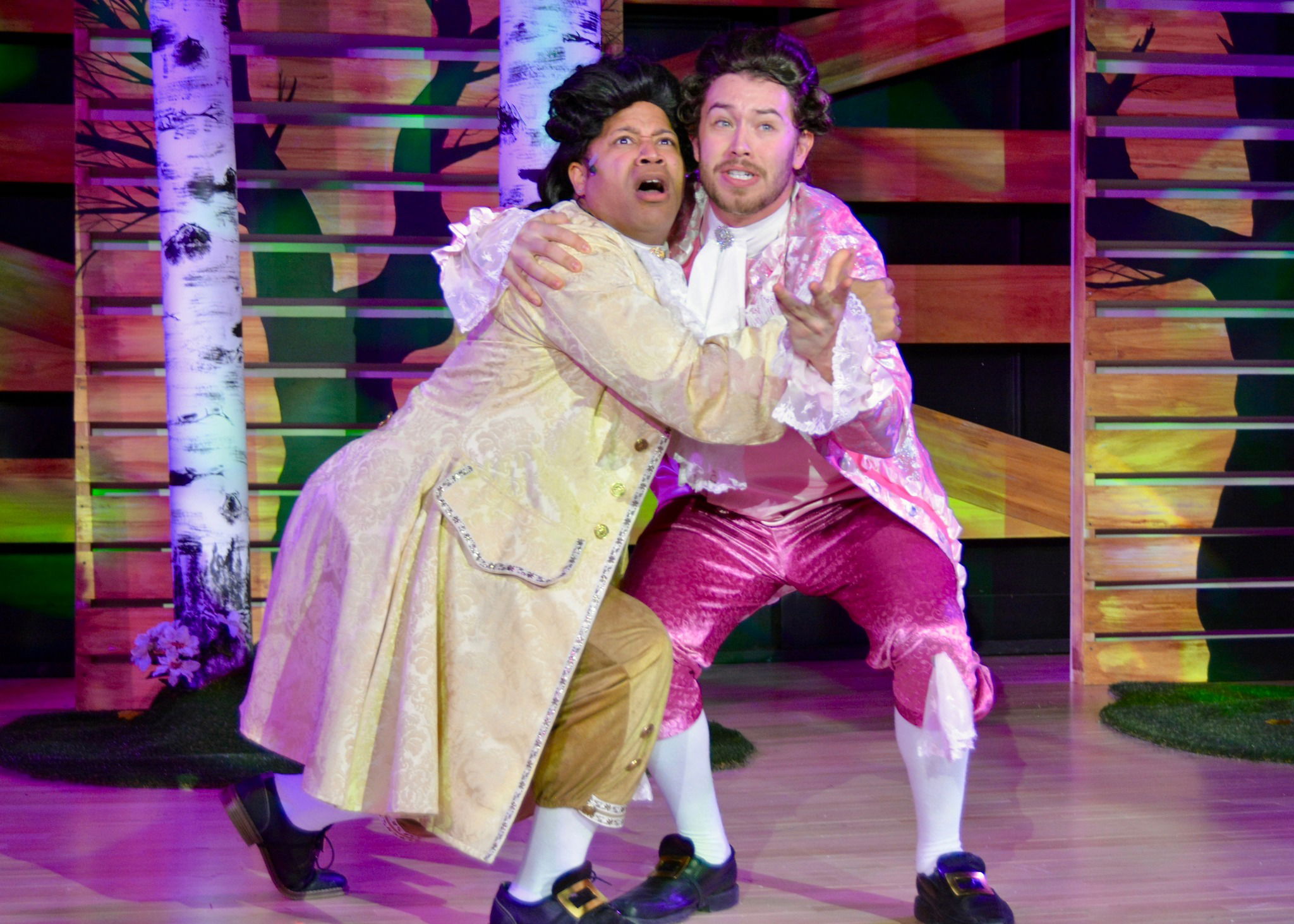 (Photo: Nate Haywood as "Cinderella's Prince" and Luke Sprenkle as "Rapunzel's Prince" in "INTO THE WOODS" by James Lapine and Stephen Sondheim from Colonial Chorus Players in Reading, MA. through May 7, 2023. Photo Credit Colonial Chorus Players)
McCluskey and Woodard, as the Baker and his Wife, have working chemistry with Woodard impressing vocally, in particular with the Act Two "Moments in the Woods."
The duo venture through (okay, "into") the woods in order to find a way of breaking the Witch's curse.
The Baker encounters Little Red Ridinghood (Burnham) rescuing her from the evil, manipulative Wolf (Nate Haywood, who also plays Cinderella's Prince).
Burnham was equally engaging and humorous as the furiously feisty young "Red."
We also meet Jack (Mike Buck), who wishes his cow, "Milky White" (puppeteered by Joshua Foisy) would give milk.
Buck has a gorgeous voice and plays up the naiveté of Jack well - but, as a supposed "little boy," one must truly suspend disbelief.
While given this was a dress rehearsal by CCP, lighting choices became questionable early on.
Attempting to isolate certain areas of the stage, scenes in the show's opener proved problematic as actors found themselves performing in the dark at times. A full wash of the stage would have sufficed.
The above issue would repeat a few times during Act One. However, Act Two was far improved with some nicely chosen lighting design and effects.
The set design by the CCP creative team is simple yet effective. Scene changes are handled expeditiously.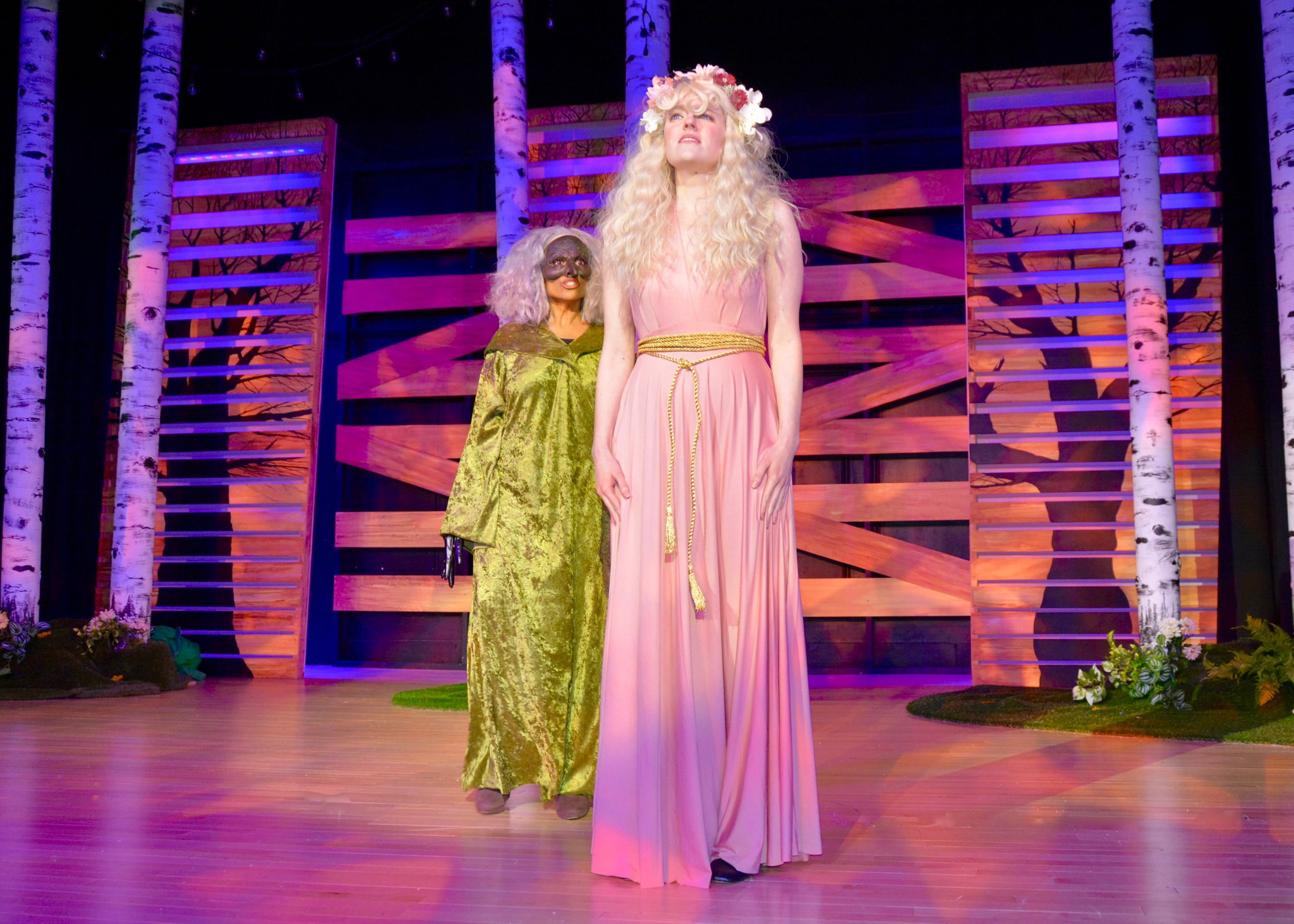 (Photo: Lali Haines as "The Witch" and Alanna Rose Lynch as "Rapunzel" in "INTO THE WOODS" by James Lapine and Stephen Sondheim from Colonial Chorus Players in Reading, MA. through May 7, 2023. Photo Credit Colonial Chorus Players)
Some costumes, particularly for the Princes, seem overdone and underwhelming. Cinderella's Prince looks like he wandered in from a production of "Hamilton" while Rapunzel's Prince appears clad as the "Pepto Bismol Pimpernel."
Cinderella's ball gown is adorned with dozens of bird images proving a tad distracting from the otherwise pleasing frock.
Among the more positive visuals, the costumes for the Witch and Red Ridinghood were easily among the evening's best, with both actresses seeming to revel in what the costumes helped them bring forth as their characters.
The puppet making and puppetry of the cow "Milky White" (with a reminder that the latter is performed by Joshua Foisy) works quite nicely for the required and pivotal bovine character, although the cow's udder does occasionally, and literally, hit the floor, making for some humorous moments.
"INTO THE WOODS" continues at the CCP until May 7th and it is the dedication and enthusiasm by the ensemble which makes for a charming evening out.
Coming in 2024, Colonial Chorus Players will present another Sondheim classic, "ASSASSINS."
Approximately three hours with one intermission
Kevin T. Baldwin is a member of the American Theatre Critics Association (ATCA)
@MetrmagReviews
@Theatre_Critics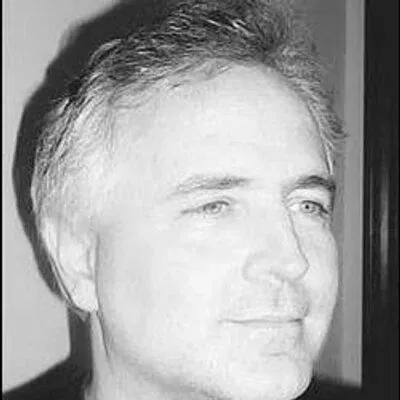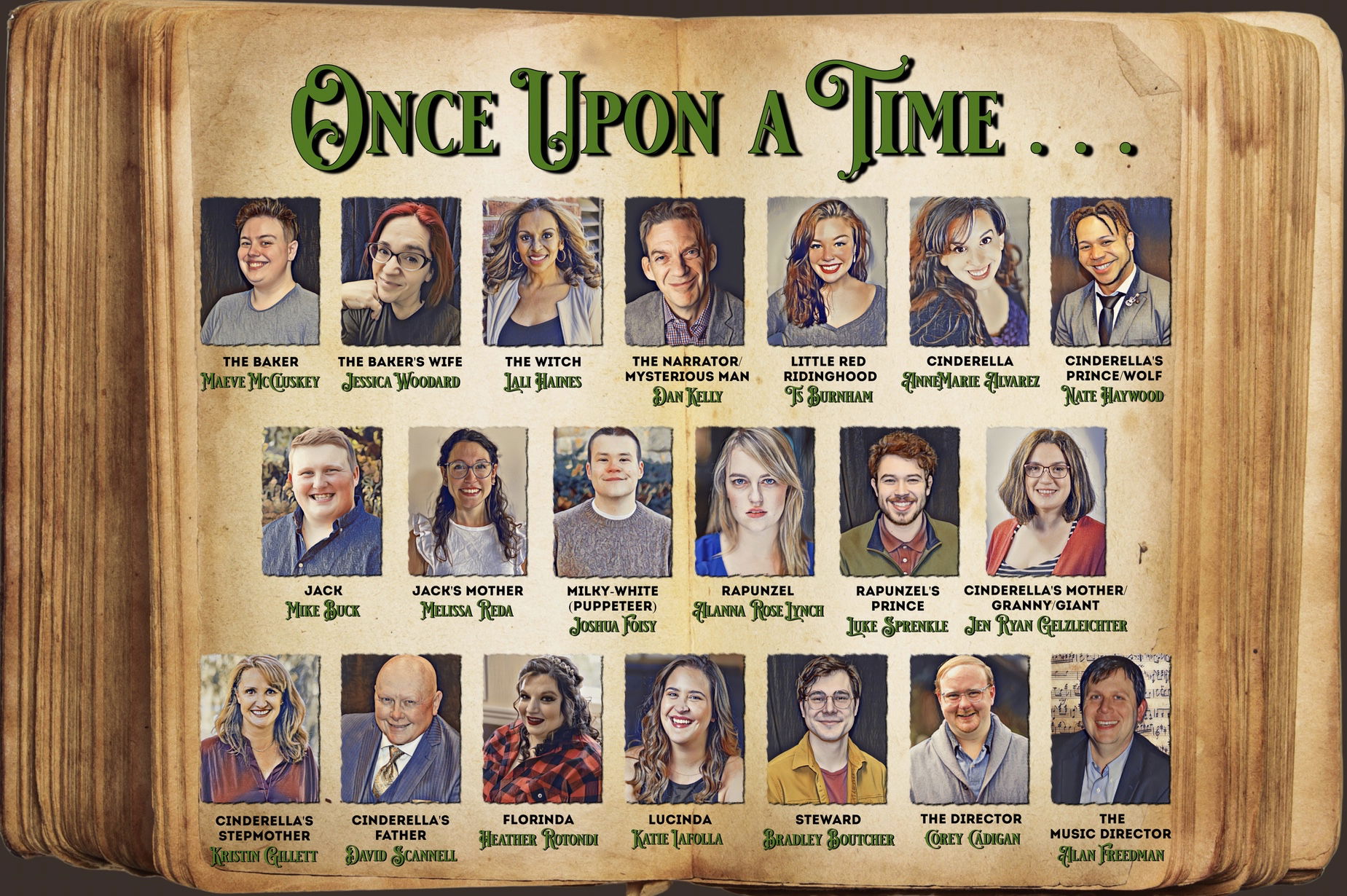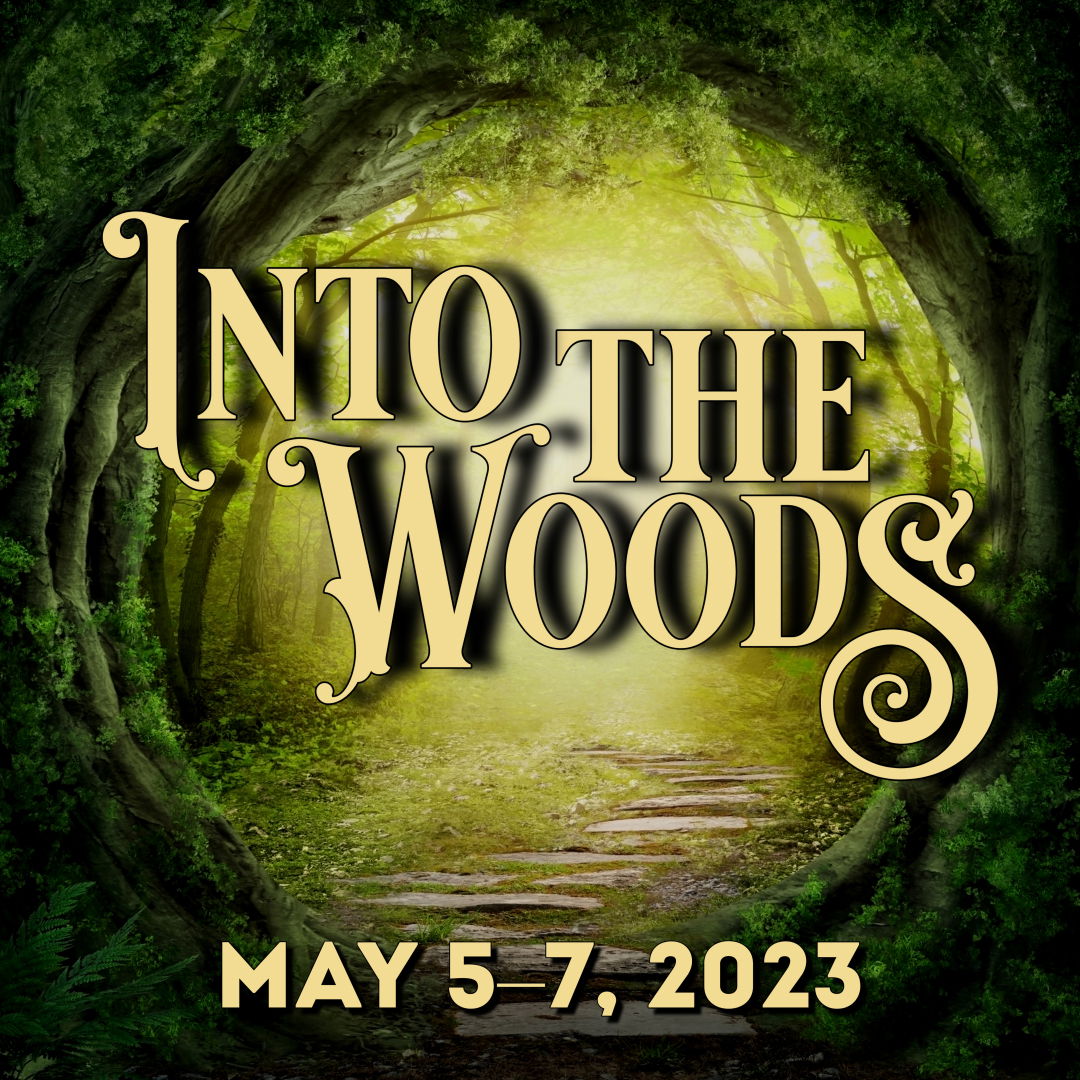 "Be careful what you wish for" seems to be the ongoing theme in Stephen Sondheim and James Lapine's Brothers Grimm inspired musical, "INTO THE WOODS."
The story follows The Baker and his wife who wish to have a child, Cinderella who wishes to go the King's Festival, and Jack who wishes his cow would give some milk.
When the Baker and his wife are visited by the neighborhood witch, who reveals to them that she placed a curse on their family, the two set off on a journey into the woods to reverse the curse.
Also in the woods, we meet Little Red, who is trying to visit her grandmother, the Wolf who loves tasty little girls, the Witch's daughter Rapunzel, and the Princes chasing after their loves.
By the end of Act I, everyone has gotten their wish and will seemingly live happily ever after.
But in Act II, when Jack's beanstalk brings them a visit from an angry Giant, we see how the consequences of their actions haunt them in disastrous ways.
The community must come together to save each other and their kingdom, but sacrifices must be made.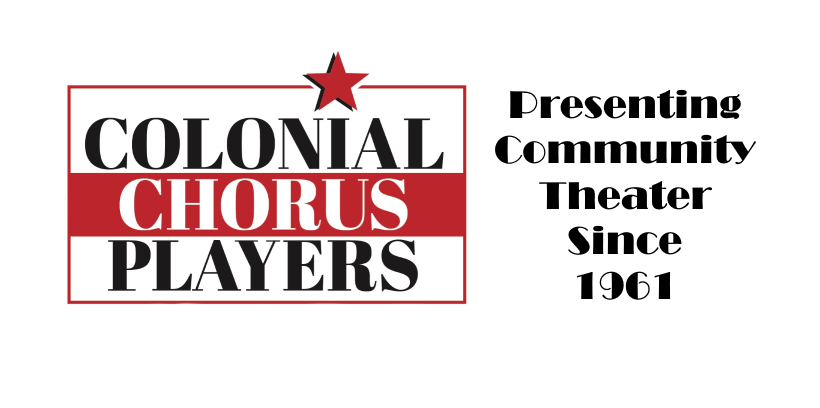 ABOUT COLONIAL CHORUS PLAYERS
MISSION
COLONIAL CHORUS PLAYERS (established 1961) provides quality theatrical entertainment that showcases the diverse talents of our family of members and volunteers, both on and off stage, and educates people of all ages in the theater arts through mentoring, workshops and summer programs.
VISION
To provide a vital performing arts outlet that inspires creative community involvement, educating and supporting lovers of musical theater and the arts, while producing quality entertainment. This includes our dream of renovating and expanding the Old Hose House into a state-of-the-art blackbox theater and rehearsal space.
COLONIAL CHORUS PLAYERS
Reading, MA 01867
# 781-944-9780