(Cover Photo: The CAST of "GILLIGAN'S ISLAND THE MUSICAL" from Calliope Productions in Boylston, MA. now playing through May 28, 2023. Photo Credit Karen Josbacher)

By Kevin T. Baldwin
METRMAG Reviewer
# 774-242-6724

"There's no such thing as creatures from the sky. There's no such thing as creatures from the sky…except for the one that I saw..."
- Sherwood Schwartz and Lloyd J. Schwartz

Calliope Productions
Presents
"GILLIGAN'S ISLAND THE MUSICAL"
Words and Music by Hope and Laurence Juber
Book by Sherwood Schwartz and Lloyd J. Schwartz
Based on the TV Show "Gilligan's Island" created by Sherwood Schwartz
Directed by Dave Ludt
Musical Direction by John Leslie
Choreographed by Karen White
Cast Includes: Ryan Hebert - Gilligan; Chris Schmitt - The Skipper; Erik Johnsen - The Professor; John Bausch - Thurston Howell III; Joan Stewart - Mrs. Howell; Abigail Bradie - Ginger; Alexandra Wink - Mary Ann; Meaghan Culkeen - The Alien.
Additional Creative Team:
Stage Manager & "Gilligan" Stand-In - Doug Beller; Stage Crew - Doug Beller, Kelcey Beller; Lights / Sound - Dave Ludt; Sets - Bob Reidy, Dave Ludt; Costumes - Donna Reidy, Karen Josbacher; Props - Kim LiPuma; Sound Effects/Voice-Overs - Al Dano; Box Office - Karen Josbacher.
Performances:
May 18, 19, 20, 26 & 27, 2023 at 7:30pm
May 21 & 28, 2023 at 2:00pm
Calliope Theatre, 150 Main Street, in Boylston, MA.
Tickets: https://www.ticketstage.com/T/CALLIOPE
Contact the Box Office at 508-869-6887
COVID 19 PROTOCOLS
Contact Venue for Most Updated COVID-19 Safety Protocols and Information.
Calliope Productions will have many "Boomers" swept overboard with joy thanks to a musical labor of love in an old TV favorite, "GILLIGAN'S ISLAND THE MUSICAL" now playing in Boylston through the remainder of May.
"A sampling of nautical nonsense that promised gags, gals, guffaws also helped set stage, hopefully, for success…"
"No laugh track ever chortled more gleefully."
"…a sudden storm beached the boat on an island, leaving stranded rubbernecks with nothing much except a gag-loaded script."
"It was easy to watch if not to swallow."
These are NOT comments from this reviewer on Calliope' latest offering, "GILLIGAN'S ISLAND THE MUSICAL."
These are comments from 1964 - made by then-television critic and reporter Ed Olmstead of the Hollywood Reporter, regarding the original pilot episode of a new television show entitled, "GILLIGAN'S ISLAND," created by Sherwood Schwartz.
Olmstead's was among the more forgiving of reviews for the show, widely panned by critics but totally loved by viewers.
The premise was simple: Five passengers, some boarding with enough luggage for a months-long journey, set out on a three-hour cruise and, along with the ship's captain and first mate, wind up ship-wrecked, stranded on a deserted island following a freak storm.
The Calliope cast and creative team serves up a faithful attempt at recreating an old chestnut....or perhaps, "coconut"...of a comedy, succeeding on many levels.
No one will ever confuse the score of this show with that of any Andrew Lloyd Webber musical, but they might be surprised at just how closely the songs capture the "feel" of the original series.
Yet, why IS "GILLIGAN'S ISLAND THE MUSICAL" even a "thing?" To better understand, one has to voyage back to the beginning.
If you grew up in the 70s, you might recall something called "UHF" (no – NOT the "Weird Al" movie). It refers to "UHF" (Ultra High Frequency) television channels. Basically, this was where syndicated television re-runs resided in those pre-cable, pre-VHS, pre-DVD/Blu-ray and pre-pre-pre-streaming channel years.
In Boston, and while using a rooftop "UHF antenna" (which is a whole other saga in itself), there were perhaps six or seven channels you MIGHT get well on "UHF" with Channels 38 and 56 being the most popular.
Channel 56 is where many Massachusetts kids of the 70s were originally introduced to the goofy antics of the "Castaways" on "GILLIGAN'S ISLAND" possibly while curled up in a comfortable blanket in front of a television set receiving marginal reception.
The show ran from 1964 through 1967 with reruns beginning almost immediately after the show was cancelled.
Today, the show is available either in edited-for-broadcast form on cable channel "ME-TV" or in unedited form on streaming platforms such as TUBI.
"GILLIGAN'S ISLAND" filmed 98 episodes, with early episodes recorded in black and white and then, later episodes filmed in color. It has since been in re-runs all over the world for over 50 years.
Fans of the series made the seven "Castaways" part of their lives - this is also why the silly, absolutely preposterous show still resonates with them…okay, us…after half a century.
The original cast and corresponding actors' names are known by experts AND novices to the show on many a "trivia night."
See if you recall some - if not all - of the names of the original television cast (filling in any gaps on some character identities):
Playing "Willie" Gilligan was Bob Denver; Alan Hale was Skipper "Jonas Grumby"; The Professor "Roy Hinkley" was Russell Johnson; The Howells - Thurston and Eunice - were played by Jim (aka "Mister Magoo") Backus and Natalie Schafer (mostly referred to as "Lovey" on the show); movie star Ginger Grant was "embodied" by (now sole-surviving original cast member) Tina Louise and Kansas farmgirl Mary Ann Summers was played by Dawn Wells.
The series spawned three television film sequels showing the "Castaways" being rescued and ultimately having the Howells turning the island into a vacation resort (to capitalize on the success of then popular "Love Boat" and "Fantasy Island" series on a competing network).
These movies, each one becoming more preposterous than the series ever was, were aired between 1978 and 1982.
Decades later, perhaps just when you thought it was safe to go back in the water, now comes "GILLIGAN'S ISLAND THE MUSICAL."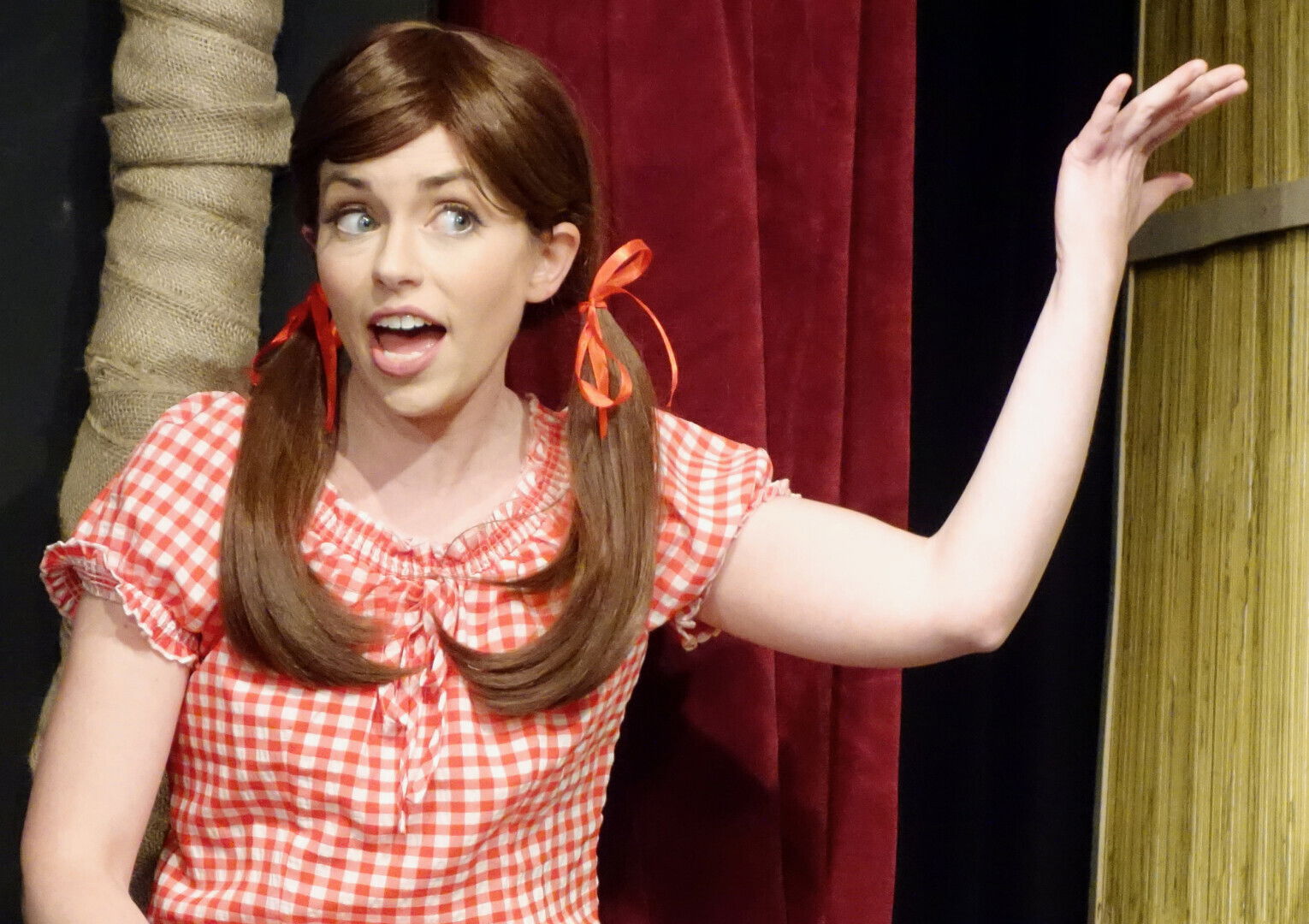 (Photo: Alexandra Wink as "Mary Ann" in a scene from "GILLIGAN'S ISLAND THE MUSICAL" from Calliope Productions in Boylston, MA. now playing through May 28, 2023. Photo Credit Karen Josbacher)
In the Calliope staged musical adaptation, the book was co-written by Lloyd J. Schwartz, son of series creator, Sherwood Schwartz (also of "Brady Bunch" fame) who co-wrote the musical's book the same year he passed away (in 2011).
The show features a pleasant score by Hope and Laurence Juber.
Assuming the iconic roles are Ryan Hebert as Gilligan; Chris Schmitt is the Skipper; The Professor is played by Erik Johnsen; The Howells - Thurston (John Bausch) and Lovey (Joan Stewart) Ginger Grant is Abigail Bradie; Mary Ann is Alexandra Wink and Meaghan Culkeen is the Alien.
Wait – what? "Alien?"
Yes, apparently, in this story, there IS an Alien.
One can sense being in the room while the musical was being written and hearing the discussion of all the various characters that came to the island on the original series.
Many of those characters were racial/ethnic stereotypes which, if not blatantly offensive, would (at minimum) feel "problematic" today.
So? What's left? Of course - an Alien.
If it were any other show being presented, that might seem a tad "far-fetched."
However, Culkeen impresses as the absurd added "Alien" character and this is definitely a musical that requires one to bow to the absurd.
This IS, after all, "GILLIGAN'S ISLAND" where a "Professor" – a guy with multiple doctorates in just about everything - smartest guy on the island - made "far-fetched" things like a bomb out of a coconut but, somehow, couldn't repair a two-foot hole along the side of a boat. (certainly a "lamentable moment")
All of this begs the questions:
Is this musical good?
Does it succeed?
Does it entertain and is it hilarious?
Those are all very good questions and all share one, surprising answer: YES!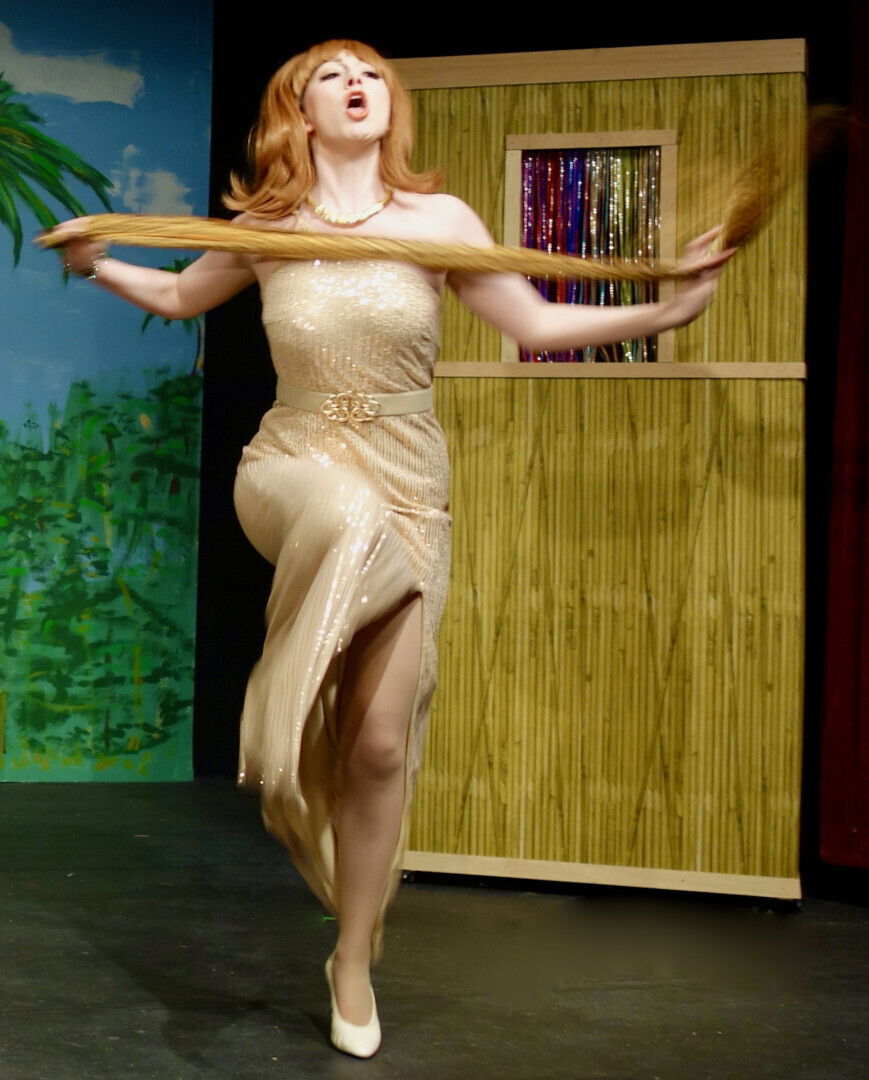 (Photo: Abigail Bradie as "Ginger" in a scene from "GILLIGAN'S ISLAND THE MUSICAL" from Calliope Productions in Boylston, MA. now playing through May 28, 2023. Photo Credit Karen Josbacher)
If you want to consider the television series and its subsequent movies as "canon" then consider this "GILLIGAN'S ISLAND" as being from an "alternate universe"...one that replaces television "slapstick" with musical "step together step touch."
This isn't "King Lear" – it isn't even close to being "Norman Lear."
It is also difficult to label the musical as a "satire" or a "spoof" (since it is hard to "spoof" something as inherently "spoofy" as was the original "GILLIGAN'S ISLAND") - but the tight- nit Calliope ensemble does its nautical best.
Karen White's choreography supplements director Dave Ludt's staging extremely well, keeping the show simple so as to not try and "overreach" its limitations.
The set is kept basic and the "bamboo huts" used are extremely well constructed and maneuverable on stage, allowing for fluid scene changes. Sound and lighting cues all function as designed and costumes are representative of the original "Castaway" characters.
One prevailing aspect to the show is how it feels much more like "dinner theatre" – giving one the sense it would make a pleasant companion to follow a fundraiser dinner – assuming plenty of liquor is provided before, during and after the meal.
As a musical, it certainly has far, FAR better music than anything that came out of the 70's "Brady Bunch Variety Hour." Granted, that may not seem like setting the bar real high.
Yet, there are some pleasant songs involved in the score and executed proficiently by Music Director John Leslie on keys and his orchestra. Just try and resist the temptation to sing along to the famous...(…infamous?…)..."memorable" theme song lyrics to the television show.
While the overall score can hardly be compared to, say, that of a certain "disfigured musical maniac wearing a ceramic half plate on his face" - the songs in "GILLIGAN'S ISLAND THE MUSICAL" feel sincere - they are also funny and are perfectly suited to the characters.
The hysterical "Though Winds May Blow," the buoyant "Goodbye Island" the happy hula "Island Lullaby" and the...uh...cohesive "Together" are particularly jaunty ensemble numbers. The show's penultimate "World's Apart" offers up a 60s sensibility of "Peace, Love and Happiness."
In the Howell's "It's Good to be Rich" Thurston (John Bausch) and Lovey (Joan Stewart) explain...well...the obvious. What isn't so obvious comes later in the tune, "I'll Spend My Time With You," where the couple unexpectedly conveys genuine affection toward one another.
"The Professor's Lament" has Erik Johnsen as the island's resident genius venting as he tries to balance his failures against all his successes. In "The Legend" he tries to explain a looming and ominous danger to his fellow "Castaways."
In the musical, there are also moments addressing unrequited love on the island.
As Ginger, Abigail Bradie gets to strut her stuff opposite the Professor in the sultry vamp, "Natural Phenomenon," but then shares a brief compassionate side of her personality to him in the comforting, 'Meeting of the Minds."
The Skipper (Chris Schmitt) isn't given too much to sing as a solo but he does join in on songs like "Hieroglyphics" and "Change Your Ways (Reprise)."
Which brings us to the musical's namesake Gilligan and his songs. In "Lucky Guy," Ryan Hebert shows everybody's favorite bungler as an easygoing, happy-go-lucky Gilligan who thinks of his fellow "Castaways" as a family more so than friends.
It appears the very BEST songs in the score are saved for the character of Mary Ann (Alexandra Wink).
While "Things I Never Said" and "How Do You Know You're In Love" are wistful, melancholy tunes, the latter builds until it almost sounds as if the Kansas farmgirl is shooting for a spot on the Grand Old Opry. ("Things I Never Said" feels like part of the melody actually lifts from the Broadway standard, "I Dreamed a Dream" from "Les Miserables")
One does NOT need to reduce any expectations in order to enjoy the madcap mayhem in "GILLIGAN'S ISLAND THE MUSICAL."
One just needs to consider the absurdity of it all fairly and objectively, with a willingness to sit back and enjoy the fun...and there is a LOT of fun to be had.
Inspired, possibly, by actor Jim Backus' notorious predilection for going "off script" occasionally with off color remarks while taping, there are also a good amount of double entendre moments in the script to which audiences should definitely pay attention because, if interpreted correctly, are deliciously filthy.
Another nice nod to Backus is Mr. Howell's "Teddy Bear" which makes a cameo.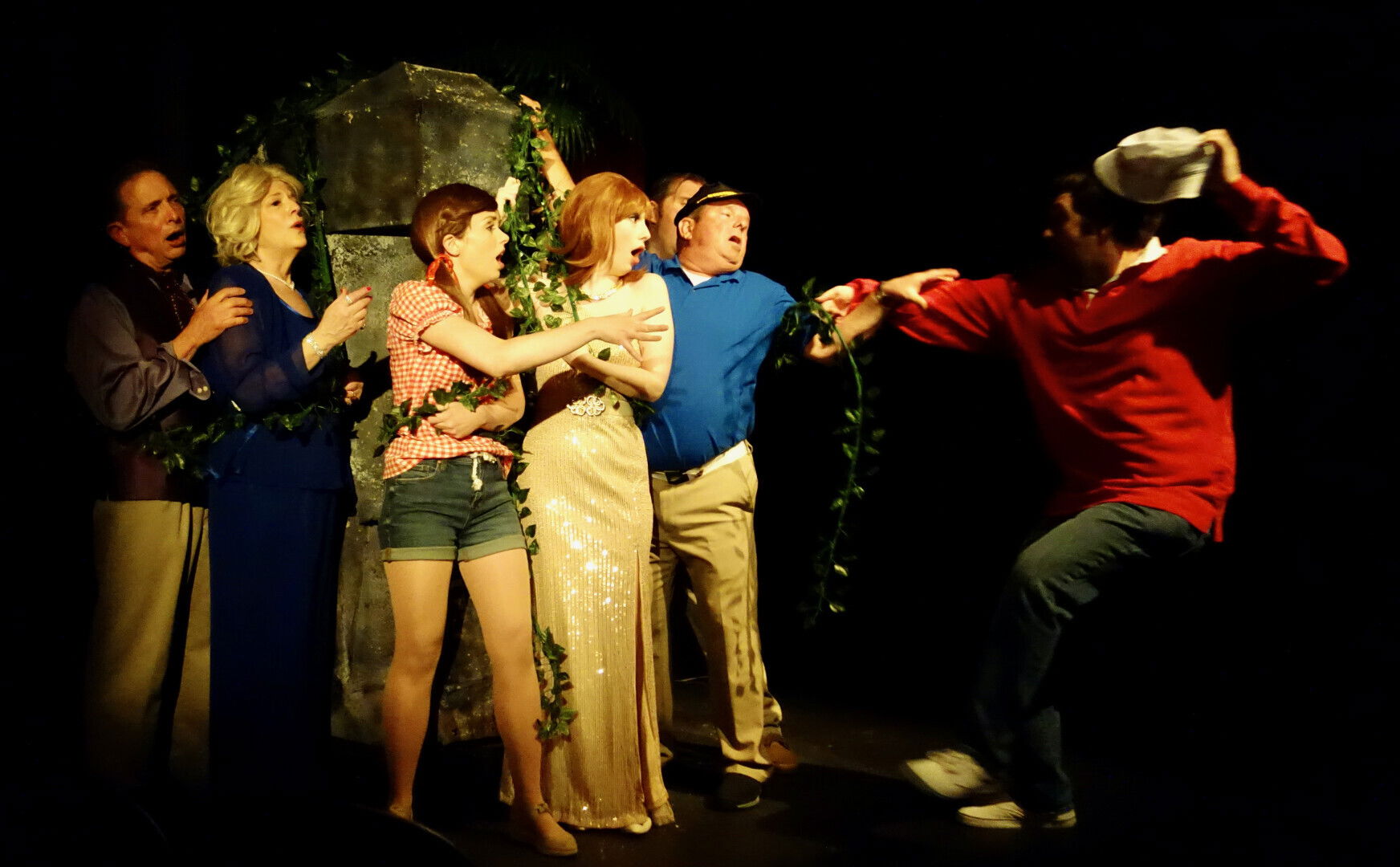 (Photo: The CAST of "GILLIGAN'S ISLAND THE MUSICAL" from Calliope Productions in Boylston, MA. now playing through May 28, 2023. Photo Credit Karen Josbacher)
This is, without a doubt, one of the silliest concepts for a musical based upon one of the silliest premises for any television comedy.
So, what's NOT to love about the whole damn thing?
As the song says - "Just sit right back and you'll hear a tale…" (See? You're doing it already) – simply relax and have a good time.
Taking into account, none of the cast is doing an "impersonation" of Bob Denver's "Gilligan," Jim Backus's "Howell" – "and the rest" - what they capture is the chemistry and overall SPIRIT of the "Castaways" of "GILLIGAN'S ISLAND."
Even with highly identifiable characters such as these, the cast approaches their respective portrayals as they would any other role – with their own skillsets and the ability to make these characters their own but remaining true to the source material.
I would no more expect Hebert's "Gilligan" to be just like Bob Denver's than I would Topol's "Tevye" to be just like Zero Mostel's.
In fact, Hebert's "Gilligan" has moments where he seems closer to Dana Carvey's "Garth" from "Wayne's World" - yet it still works.
Ultimately, all that matters is that the actors work to capture the essence of their characters and, thanks to the guidance of Dave Ludt, this cast absolutely captures that spirit of the seven timeless, loony, lovable "Castaways."
The show IS, very much, a labor of love and not just for these characters.
This is also feels like a labor of love by Lloyd J. Schwartz for his father, Sherwood, as an homage to the lovable characters Sherwood created over the course of his lifetime.
This musical is like bringing back a memory - of being curled up in that warm blanket, sitting down in front of that television set - with that old, lousy rooftop UHF antenna (still providing marginal reception) - and watching some old familiar faces...bringing a smile to your face.
Set course for Boylston where "GILLIGAN'S ISLAND THE MUSICAL" continues at Calliope until May 28th.
Approximately two hours with one intermission.
Kevin T. Baldwin is a member of the American Theatre Critics Association (ATCA)
@MetrmagReviews
@Theatre_Critics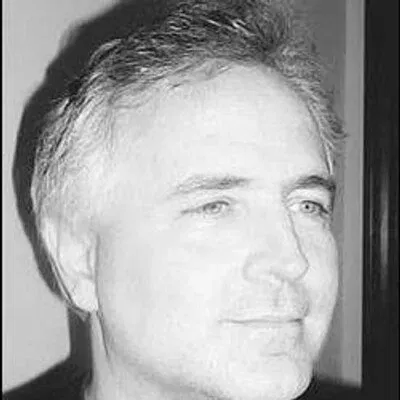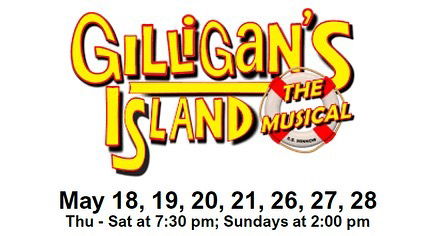 ABOUT THE SHOW
"GILLIGAN'S ISLAND: THE MUSICAL" is a family-friendly stage musical version of the ever popular and iconic 60's TV comedy show "GILLIGAN'S ISLAND."
Shipwrecked on a remote Pacific island, the seven castaways build huts and begin to explore their surroundings.
They discover strange hieroglyphics in a spooky cave, which speak of an ancient legend.
The weather gets rough, Gilligan foils the best-laid of the castaway's rescue plans…romance develops…the castaways have an out-of-this-world encounter…it's fun, wacky and entertaining with 18 original, tuneful and memorable songs.

ABOUT CALLIOPE PRODUCTIONS
Calliope Productions

is a year-round non-profit theatre company founded in 1982 that serves the needs and interests of audiences and performers in the Central Massachusetts region. Calliope Productions presents six main-stage productions each year, and operates performance training workshops for students (ages 9 - 18) and adults.

Calliope Productions

is a member of the American Association of Community Theatre, the Eastern Massachusetts Association of Community Theatres, and the Worcester Cultural Coalition.
Calliope Productions
150 Main Street
Boylston, MA 01505
508-869-6887