("Dancing With the Stars" Photos Courtesy of Geoff Burke for Facultyinc)
By Kevin T. Baldwin
METRMAG Reviewer
# 774-242-6724
The following is a review of the Jan. 17th performance of
"Dancing with the Stars Live Tour 2020" at the Boch Center Wang Theatre.

BOSTON, MA: "The Dancing with the Stars Live Tour 2020" jetted into Boston last week and for those who missed it, the show is travelling to multiple destinations and should not be missed.
In fact, "travel" is the theme of the show, or rather, the dancer's collective "journey" and could well represent the journey of all those who follow the professional dancers as if they were part of their own family.
The first half of the show has a main focus of cars and travelling down the highway listening to the coolest of familiar tunes. The second half is far more expansive in concept where the dancing is engaging (sometimes literally as there are some audience interactive moments).
Every style of dance that viewers would see on ABC's "Dancing with the Stars" (DWTS) is here – ballroom styles such as Tango, Foxtrot, Cha-Cha, Waltz and their variants – along with many great contemporary dance moments in every combination using the 11 member professional dance ensemble.
The show not only features some dazzling dance routines, it brings with it spectacular special effects and a light and sound show that seems to expand beyond the confines of the stage space.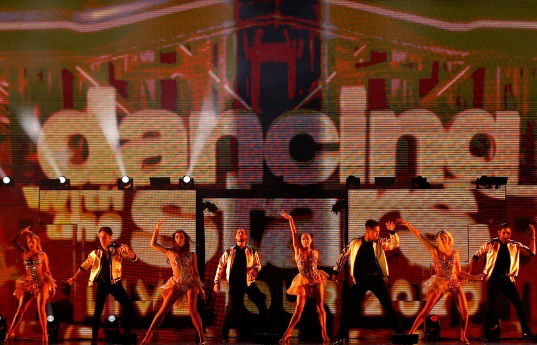 The "Dancing With the Stars" Pros Live on Tour 2020. Photo Credit: Geoff Burke)

Featured dancers include Brandon Armstrong, Lindsay Arnold (DWTS "Mirrorball" Champion season 25), Alan Bersten (Champion season 28), Witney Carson (Champion season 19), Val Chmerkovskiy (Two Time "Mirrorball" Champion seasons 20 & 23), Sasha Farber, Jenna Johnson (Champion season 26), Gleb Savchenko , Emma Slater (Champion season 24), Daniella Karagach and Pasha Pashkov.
Featured as the "travel guide" throughout the Boston performance was "Office" star Kate Flannery who appeared on season 28 of DWTS opposite Paskov. Flannery was especially funny as the evening's hostess.
During the electric 90-minute show, the dancers execute precision style movement to the choreography under tour directors Mark "Swany" Swanhart (Little Big Shots, World's Best), Amanda Balen (La La Land, A Star Is Born) and assistant Haylee Roderick (Bunheads, So You Think You Can Dance).
Supervising Choreographer for the tour is Will Loftis (whose credits include credits include the Teen Choice Awards and the "Maks Val Peta MVP" tour) with assistant Brit Stewart (who was DWTS first black female professional dancer to have a full-time role on the show).
Contributing Choreographers include Emmy-winning Mandy Moore and Travis Wall, twice Emmy-nominated Chris Scott, along with Matt Cady (Madonna's "Madame X" tour) and Jonathan Redavid (X-Factor Italy).
These professional dancers have not all been part of every season of DWTS, nor on every DWTS tour, but the majority currently on tour have been so involved and in the public spotlight they have become like an extended family to many viewers.
They aren't, of course. They are hired dancers and professional dance partners who appear on a television show and that line, that distancing, between celebrity and fan, must be preserved and respected. Or, so one would presume.
However, that line, occasionally, may get 'blurred' for these pros who gain a high level of exposure into their personal lives.
Since premiering in 2005, for better or worse, the long-standing television staple has moved its spotlight sometimes more onto its dance pros than onto its sometimes dubiously dubbed "celebrities." Sometimes, voting results have also been more the result of audience admiration for the pro and less for the celebrity contestant.
The show is co-produced by Disney-owned ABC and BBC Studios. The tour is a Faculty Production also co-produced by BBC Studios.
Viewers have seen the pros through their respective weddings, divorces, family births and deaths and have responded, sometimes, through highly emotional social media posts, expressing either praise or condolences. Some of these viewers may not have expressed such praise or condolences for events of their OWN relatives or friends.
Some fans have become so attuned to, and educated by, DWTS and FOX network's staple dance competition, "So You Think You Can Dance", they can now recognize a Travis Wall or Mandy Moore routine from the very first movement.
When Lindsay Arnold's sister, Jensen, came in as runner up to the winner of "So You think You Can Dance" on season 15, fans were rooting for the sibling as if she were part of their own family.
When dance pro (fill in the blank) was rumored to be romancing celebrity partner (fill in the blank) during season (fill in the blank) viewers were interested as if personally involved. People Magazine focused an article in 2019 on the many rumored relationships between DWTS contestants and/or pros over the past 15 years.
Val Chmerkovskiy is now married to tour co-star Jenna Johnson and Sasha Farber is married to Emma Slater.
Throughout the "DWTS Live Tour 2020" some in the audience may not even have had any exposure to the cast or the show. It does not matter. The show has been constructed in an exceptional manner and flows perfectly from beginning to end. None should exit the theatre not having felt that aforementioned special bond that exists between the DWTS pros and their fans.
That connection works both ways and became evident toward the end of the night. Val Chmerkovskiy brought out a gift for a special audience member who, according to Chmerkovskiy, has loyally followed the tour, cheered on the pros, sat in the front row and could be seen that night enthusiastically dancing in front of his seat to the music being played during intermission.
Chmerkovskiy went the extra mile by bringing the young man up onto stage to join the dance pros during curtain call where the young man, the pros, and the audience were all visibly moved by the experience.
Truly, the reciprocal love during this exchange was evident and if anyone ever questions what positive value, what substantive impact, what emotional significance, a television show like "DWTS" could have to people in "real life" (however that is defined), they would no longer question after having experienced this heartwarming moment.
The tour moves onto Lancaster, PA. next (after a Jan. 19 show in New Brunswick, NJ) and then continues with many dates around the country and ultimately ending in Portland, Oregon in April.
The cast of pros will be joined by Kate Flannery and other celeb partners from last season which include newly crowned "Mirrorball" champion Hannah Brown from "The Bachelorette" (who was Alan Bersten's partner), pop star Ally Brooke, country artist Lauren Alaina, comedian and actor Kel Mitchell and model Sailor Brinkley-Cook.
But the show is high octane entertainment from beginning to end. So, no matter how you get there, it is a show definitely worth the journey.
For tickets and more information, visit https://dwtstour.com/
Show runs approximately 90 Minutes with one intermission.
Kevin T. Baldwin is a member of the American Theatre Critics Association (ATCA)
@MetrmagReviews
@Theatre_Critics