(Cover Photo: The CAST of Clare Barron's "DANCE NATION" now playing at Apollinaire Theatre Company in Chelsea, MA. through May 14, 2023. Photo Credit: Danielle Fauteux Jacques)

By Kevin T. Baldwin
METRMAG Reviewer
# 774-242-6724

"When they watch Amina dance, they cry. I know. Because I cry when I watch Amina dance."
- Clare Barron

Apollinaire Theatre Company
Presents Clare Barron's
"DANCE NATION"
Written by Clare Barron
Directed by Danielle Fauteux Jacques
Choreographer: Audrey Johnson
Cast Includes: Audrey Johnson - Amina; Schanaya Barrows - Ashlee; Srin Chakrovorty - Connie; Erik P. Kraft - Luke; Ann Carpenter - Maeve; Alison Butts - Sofia; Paola Ferrer - Vanessa/The Moms; Katie Pickett - Zuzu; Dev Luthra - Dance Teacher Pat.
Additional Creative Team:
Costume Design - Elizabeth Ro; Scenic & Lighting Design - Nathan Lee, Jennea Pillay, Danielle Fauteux Jacques; Sound Design - Joseph Lark-Riley; Stage Manager/Assistant Director - Emily Larson; ASM - Arianna Diaz-Celon, Miguel Dominguez.
Chelsea Theatre Works, 189 Winnisimmet Street, Chelsea, MA. 02150
Performances:
April 14, 2023 through May 14, 2023
(Contact Box Office for Exact Times)
TICKETS:
Reserve your tickets today!
Tickets are $30, $25 for seniors, $15 for students.
Tickets can be purchased online or by calling # 617-887-2336 or via email at tickets@apollinairetheatre.com
Apollinaire Theatre Company presents an intense look at the "savage" world of teenage competitive dance in the play "DANCE NATION" which runs in Chelsea from now until the middle of May.
"DANCE NATION" is a one-act play about thirteen year-old competition dance team students that feels like it was written by a thirteen year-old competition dance team student.
The above is not a complaint but rather a compliment to the incisive writing by Clare Barron.
Barron's play feels like the author crawled inside the minds of these youthful characters to convey their innermost thoughts, emotions and, most of all, their overwhelming anxieties.
As the show begins, the young dancers on the team appear in sailor costumes.
This is quite fitting as they are mostly depicted throughout "DANCE NATION" as trying to navigate choppy waters, contending with the tidal wave of emotions coming from the changes happening to their bodies and minds.
The play premiered in 2018 in both New York and London. It was finalist for the 2019 Pulitzer Prize for Drama and was winner of the Relentless Award and Susan Smith Blackburn Prize.
Adult actors, spanning a wide range of age and appearances, portray these young people at a critical juncture in their emotional journey as dance competition nears qualifying for upcoming "Nationals" in Tampa Bay, Florida.
It may be difficult for some to ignore the reality of the actors' ages (but give it a shot as the performances are all remarkable).
Each of the seven members on the dance team is given a moment to share a moment in their journey in brief monologues.
All but one member, Luke (Erik P. Kraft), are girls (or at least, have been written to identify as female).
Luke emotes about his times driving to and from dance with his mother. Kraft delivers a highly sympathetic portrayal of the gentle, sensitive young Luke.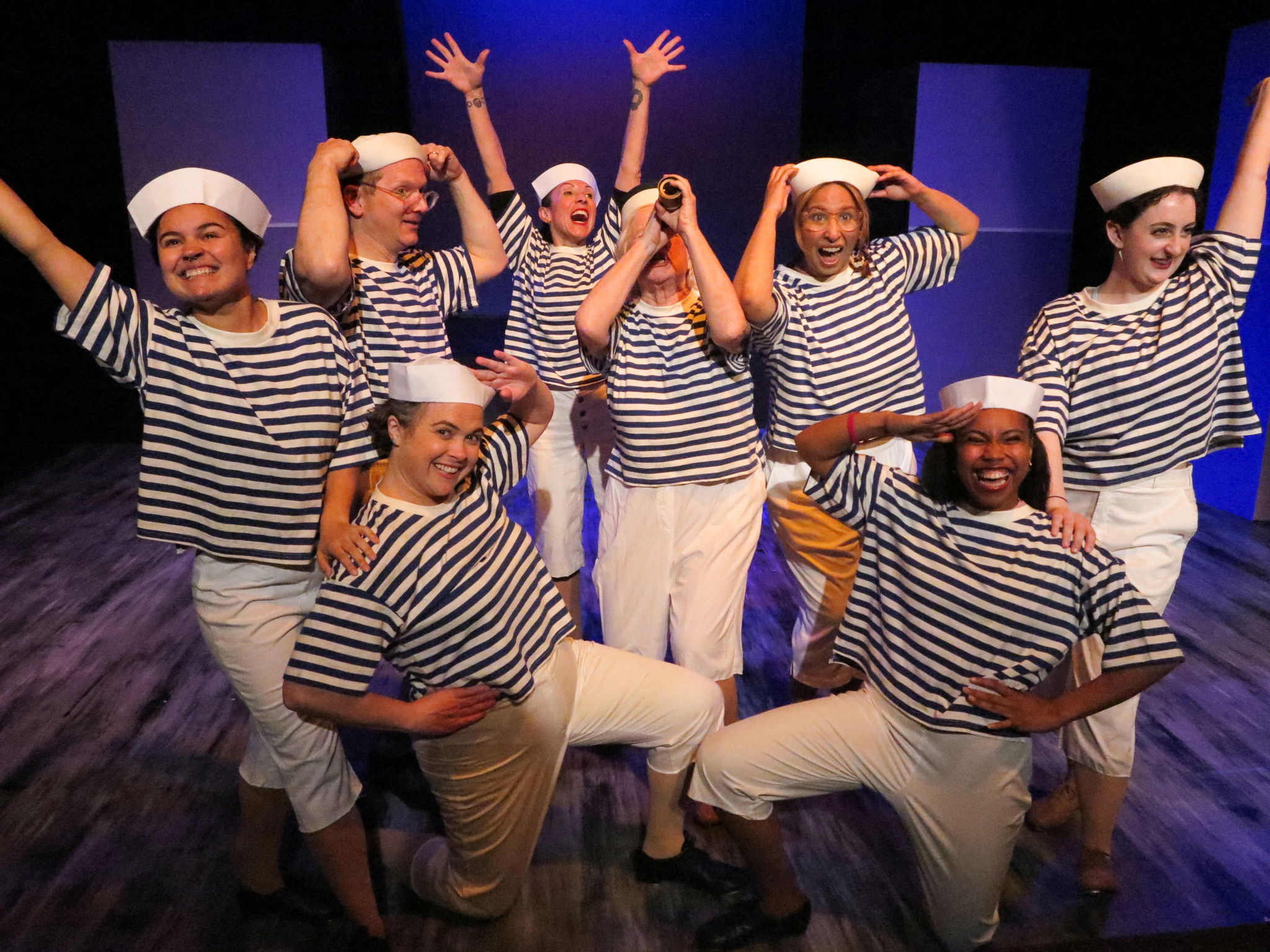 (Photo: The CAST of Clare Barron's "DANCE NATION" now playing at Apollinaire Theatre Company in Chelsea, MA. through May 14, 2023. Photo Credit: Danielle Fauteux Jacques)
Amina (Audrey Johnson) is the star competitive dance pupil on the team.
To her fellow dancers, Amina is the cream that always, without fail, rises to the top in whatever she has been given to do and does so with great ease.
Johnson (who also choreographed), herself, "rises" to the occasion as the gifted albeit complex young Amina, as Amina has her own anxiety and feels enormous pressure...sometimes self-inflicted, sometimes not...to succeed.
Johnson's choreography was sufficient to help propel the story without turning the play into a faux musical whereby fully choreographed moments actually serve to distract, taking away from the plot.
Amina is pitted against young, less self-confident Zuzu (Katie Pickett) who seemingly needs to work three times as hard to achieve only a fraction of what comes so easily to Amina.
At least, as far as dancing goes.
Returning to the earlier nautical analogy, in other more personal areas, Amina seems to have "missed the boat."
Sofia (Alison Butts) is a member of the dance team attempting to teach Amina about "self-pleasuring" – but "self-pleasure" seems to be a concept that eludes Amina.
Later, in a traumatic moment marvelously acted by Butts with appropriate sensitivity, Sofia must also deal with a far less pleasurable reality that occurs at a pivotal moment in the story. (Word of caution: For some, this moment may prove to be visually unnerving).
Meanwhile, Zuzu's plight is shared by the remaining other dancers on the team, especially as they prepare for a big competition.
As to the remaining members of the tram, there is Ashlee (Schanaya Barrows), who is into wolves, and this "wolfpack mentality" becomes quite symbolic to the piece as the show evolves and as she shares in the recurring conversation with dancers Connie (Srin Chakrovorty) and Maeve (Ann Carpenter).
Barrows has probably the most riveting of monologues for which she provides a truly fantastic execution.
It begins subdued then builds into a fiercely intense diatribe where one does not know whether to be impressed or in fear of their life from this emotionally charged thirteen year old.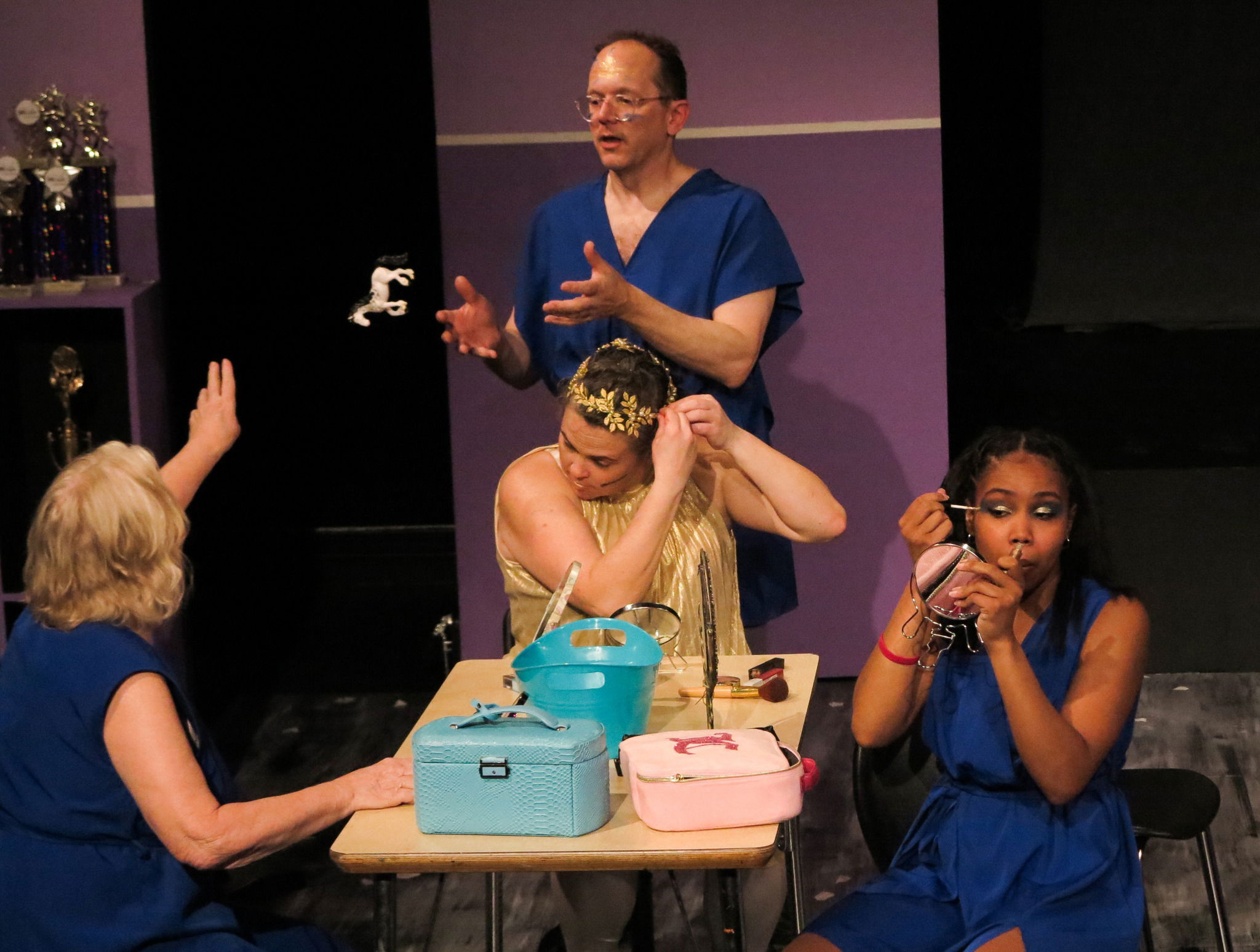 (Photo: The CAST of Clare Barron's "DANCE NATION" now playing at Apollinaire Theatre Company in Chelsea, MA. through May 14, 2023. Photo Credit: Danielle Fauteux Jacques)
Two actors play the only adult figures in the play.
Paola Ferrer plays young injured dancer "Vanessa" at the start of the show (a character/plot point which really adds nothing to the balance of the story) then transitions to portraying all "The Moms" in the show.
Ferrer does an admirable job differentiating her portrayal between these parental figures. The parents are as emotionally diverse as their children.
We see some parents as demanding compared to others far more empathetic to the changes happening within these students' lives, especially during the more delicate, emotional moments of the play.
Dev Luthra portrays "Dance Teacher Pat" an older male dance instructor who seems to represent almost every negative adult male authority figure in the lives of these young, impressionable girls and Luke.
The only thing equally as fascinating as Barron's dialogue is how it resonates with many in the audience (at least, it did at the April 15th performance).
There are many conversations, especially when the "teens" are interacting with the adults, which elicit numerous assorted groans, gripes and gasps.
While the intended audience for Barron's play may not have been teenagers, much of the content certainly seems to reverberate fiercely with a younger demographic.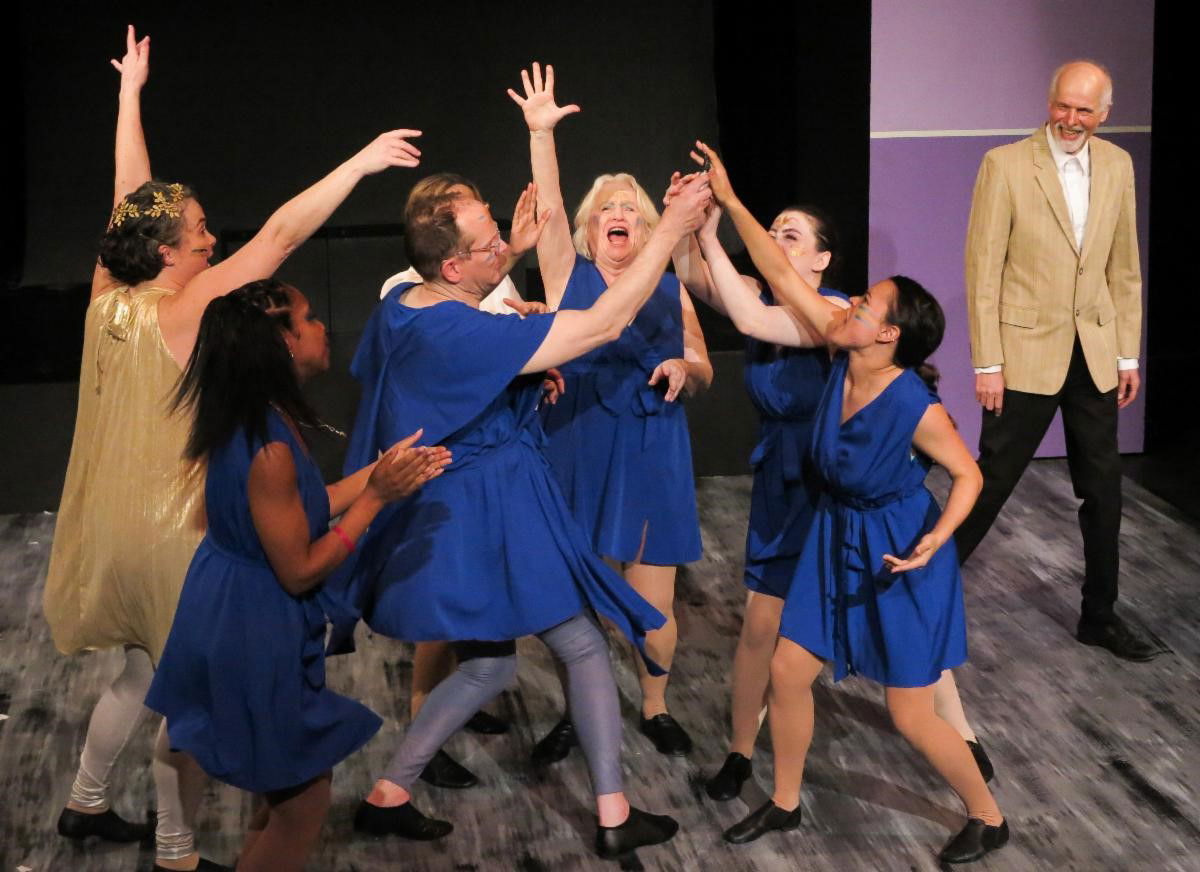 (Photo: The CAST of Clare Barron's "DANCE NATION" now playing at Apollinaire Theatre Company in Chelsea, MA. through May 14, 2023. Photo Credit: Danielle Fauteux Jacques)
The set is minimal with most of the staging set up as the dance studio.
Set changes moved seamlessly and, under the capable direction of Danielle Fauteux Jacques, the show flowed with very little downtime in between scene changes.
Costumes served their purpose but were a little underwhelming. However, that also might have been intentional so as to not give the impression a dance studio would be able to afford Broadway-level costumes for dance competitions.
The play runs a little long and a couple of plot points seem to get abandoned before quickly wrapping up at the end with a rather silly conclusion.
However, overall, and putting aside the above minor issues, it is Barron's well-crafted story and the captivating performances by the ensemble that ultimate makes "DANCE NATION" a show well worth seeing.
"DANCE NATION" continues through May 14th in Chelsea.
Approximately 100 minutes with no intermission.
Kevin T. Baldwin is a member of the American Theatre Critics Association (ATCA)
@MetrmagReviews
@Theatre_Critics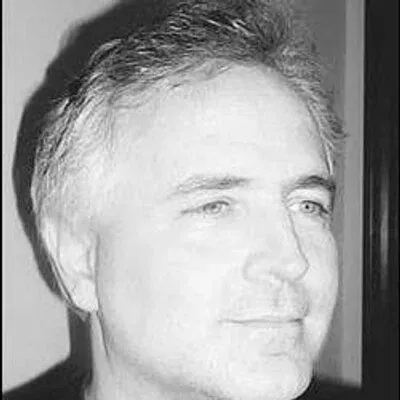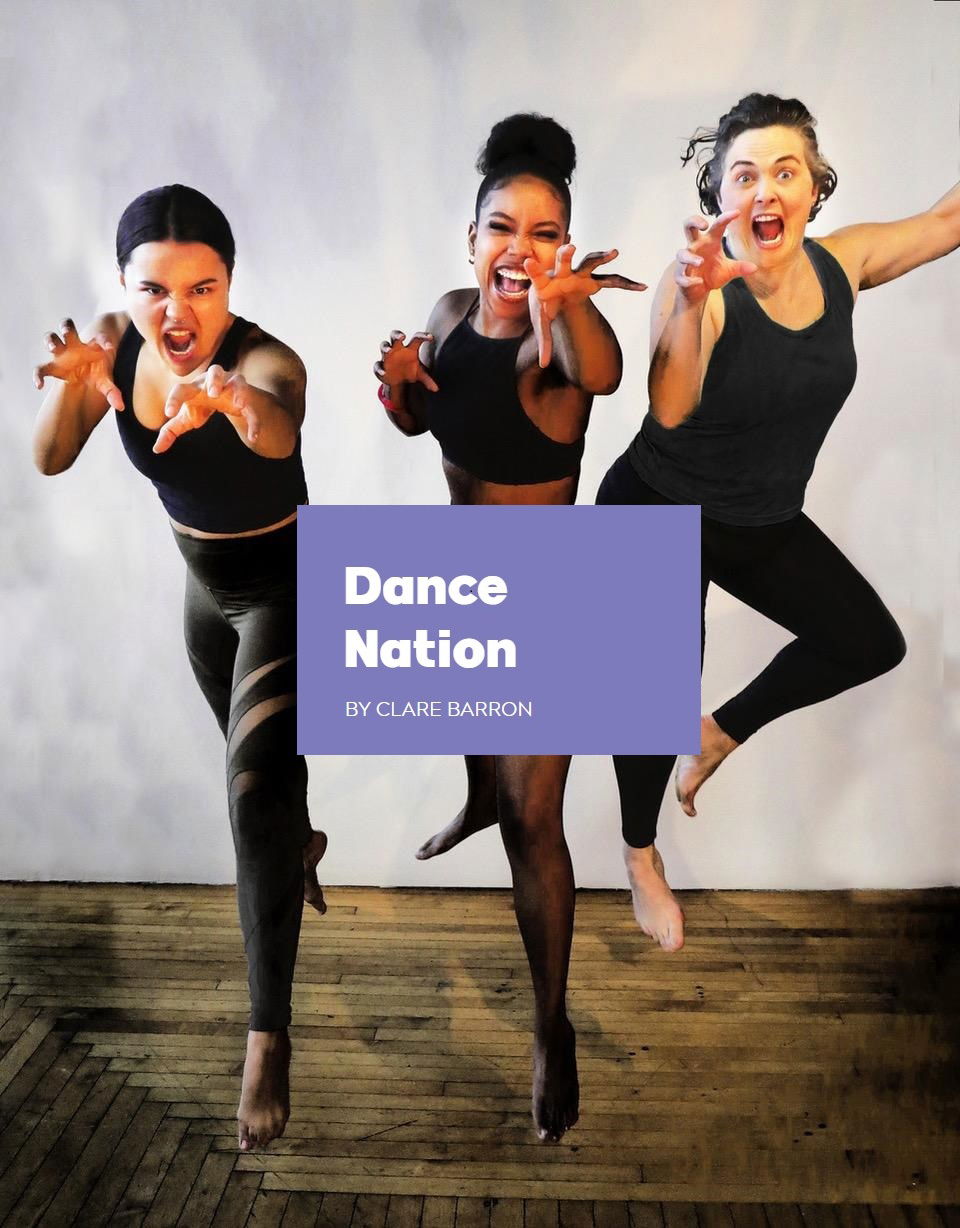 (Photo: Audrey Johnson as "Amina," Schanaya Barrows as "Ashlee" and Katie Pickett as "Zuzu" in CLARE BARRON's "DANCE NATION." Photo Credit: Danielle Fauteux Jacques)
ABOUT THE SHOW
Somewhere in America, an army of pre-teen competitive dancers plots to take over the world.
And if their new routine is good enough, they'll claw their way to the top at Nationals in Tampa Bay.
Clare Barron's "DANCE NATION" is a play about ambition, growing up, and yearning to embrace our bodies and our souls.
Barron's exploration of the feral passions and ambition of pre-teen girls striving to excel, is also, by the nature of their portrayal by three generations of adult actors, a memory play and reflection on who we were and who we longed to be.
"I have seen the future, and it is Dance Nation." – The Washington Post
"A blazingly original play... marvel at how close what you see cuts to the bone." – The New York Times

ABOUT APOLLINAIRE THEATRE COMPANY
Apollinaire Theatre Company is known for cutting-edge contemporary work, regional premieres, and for breathing new life into classics. We are proud recipients of multiple Elliot Norton and IRNE Awards, including The Kenneth A. MacDonald Award for Theatre Excellence awarded to Artistic Director Danielle Fauteux Jacques. We are also honored to have received the New England Theatre Conference Regional Award for Outstanding Achievement in the American Theatre.
APOLLINAIRE THEATRE COMPANY
Chelsea Theatre Works
189 Winnisimmet Street
Chelsea, MA 02150
# 617-329-5350