(Cover Photo: Members of the CAST of Lynn Brittney's "BUNKERED" playing at Calliope Productions through October 16, 2022. Photo Credit Karen Josbacher)
"Mad bull lost its way"
- Jagger/Richards
Kevin T. Baldwin
METRMag Reviewer
# 774-242-6724

Calliope Productions
Presents the British comedy
"Bunkered"
Written by Lynn Brittney
Directed by Dave Ludt
Calliope Theatre, 150 Main Street, in Boylston, MA.
Cast Includes:
John Bausch, Gary M. Kendall, Joan Stewart, Amy Newberg, Ginny Hilli, Andy DeSisto, Al Dano, Karen Josbacher
Production Staff:
Stage Managers - Doug Beller, Kelcey Beller; Costumer - Donna Reidy; Set Design and Construction - Dave Ludt, Doug Beller; Sound Effects / Voice-Overs - Al Dano
October 6, 7, 8, 13, 14 and 15, 2022 at 7:30pm
October 9 and 16, 2022 at 2:00pm
Tickets:
Contact the Box Office at 508-869-6887.
Military Intelligence quote from the late, great comedian George Carlin:
"The term 'Jumbo Shrimp' has always amazed me. What is a Jumbo Shrimp? I mean, it's like 'Military Intelligence' – the words don't go together, man."
Well, in Lynn Brittney's British comedy, "BUNKERED," now playing at Calliope Theatre in Boylston, Brittney goes a long way to prove Carlin's theory on 'Military Intelligence,' occasionally with mixed results.
Comedy, especially British comedy, is quite subjective and requires a good understanding of the author's intended pacing and knowing where certain punch lines rest, which is not always easy for non-British actors to gauge.
Under the direction of Dave Ludt, the cast of "BUNKERED" give the above criteria a collective valiant effort, for sure, elevating the overall basic premise of the plot and level of the material.
"BUNKERED" tends to spend a lot of time (almost a full half hour) filling us in on all the backstories of its characters before getting us to the main plot point of the story, which is of a long-manned military bunker maintained by several retirement age naval personnel.
The "seasoned" Royal Naval crew consists of Peter (John Bausch), Joan (Joan Stewart) Mags (Amy Newberg) and Bill (Al Dano) who all work together in an underground bunker with obsolete, antiquated equipment from the Cold War era.
The Royal Navy has all-but-long-forgotten the bunker, yet, through a government oversight, still has paid the quartet for their many decades of...well, we'll call it..."service?"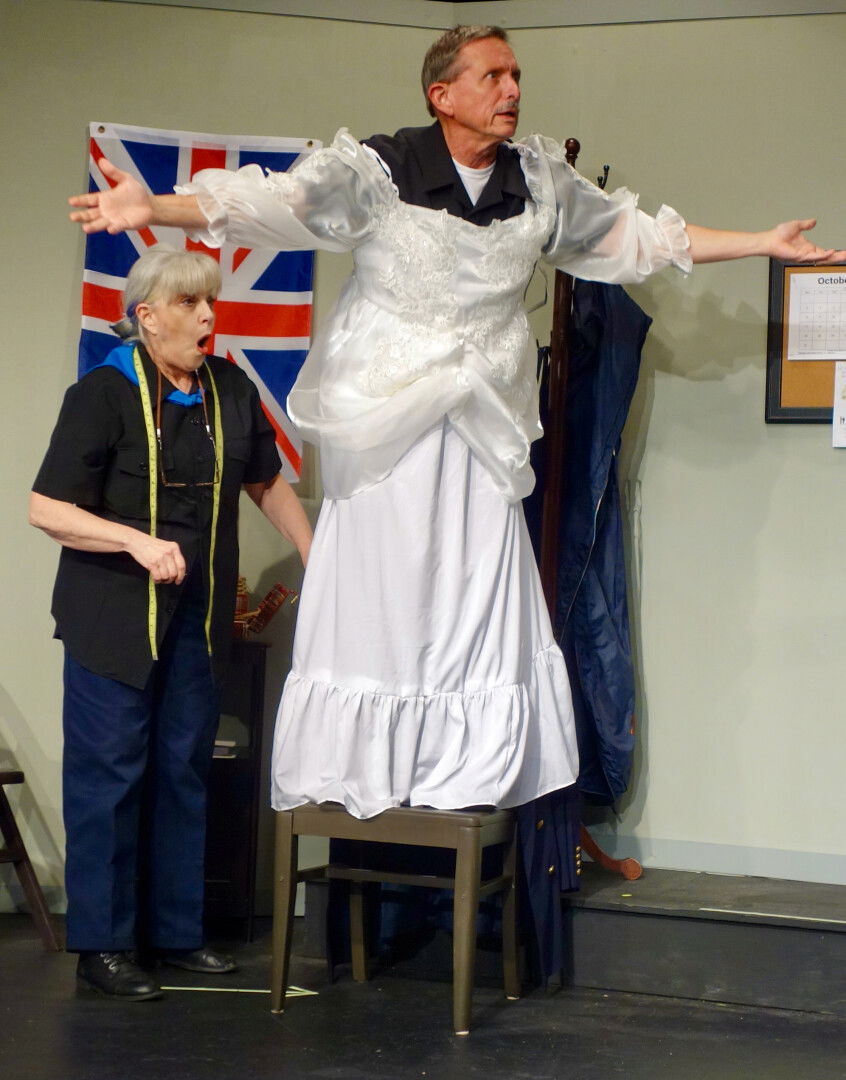 (Photo: Amy Newberg and John Bausch in a scene from Lynn Brittney's "BUNKERED" playing at Calliope Productions through October 16, 2022. Photo Credit Karen Josbacher)
Peter sneaks into the bunker his childhood friend and Joan's brother, Harry (Gary M. Kendall), to help him work on trying to get some of the rarely used military equipment up an running.
However, Harry is a self-proclaimed "anarchist" who proves less helpful and more of an irritant, especially to his sister.
Through several unanticipated blunders, an alert is sounded to the Royal command office which dispatches armed Royal Marine soldiers to descend upon the bunker.
The soldiers are commanded by hardened (albeit claustrophobic) and distrusting training officer, Sub-Lieutenant Connor (Andy DeSisto), who is accompanied by his polar opposite, the perpetually youthful, credulous and exuberant Midshipman Taylor (Ginny Hilli).
Once the duo enters the story, the main action really begins to hit its stride.
DeSisto and Hilli, together and separately, executed some of the best lines in the two-act comedy.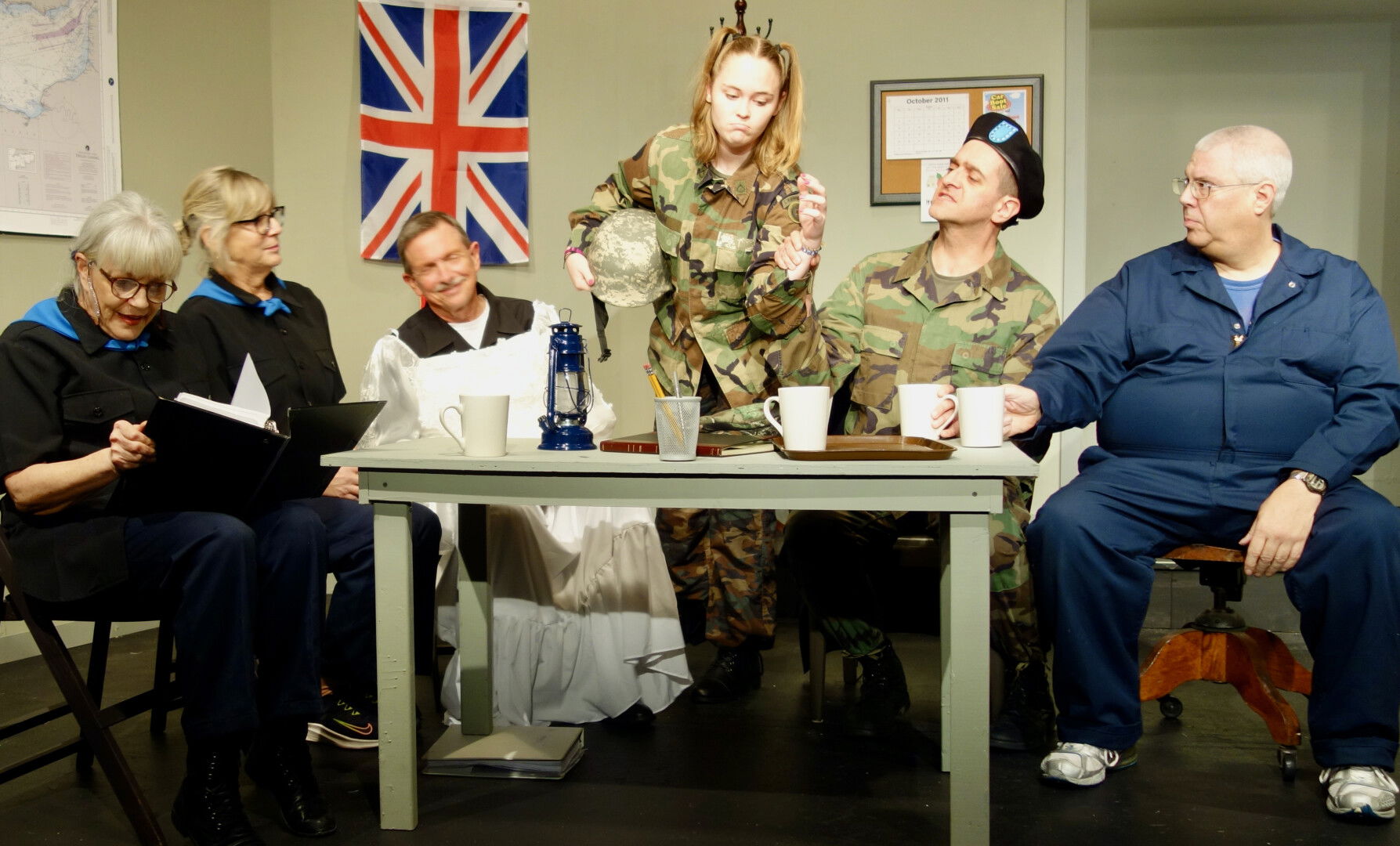 (Photo: Members of the CAST of Lynn Brittney's "BUNKERED" playing at Calliope Productions through October 16, 2022. Photo Credit Karen Josbacher)
As to the material: The comedic beats of Brittney's material are inconsistent, seeming to make it difficult for the actors to get into a steady, singular "rhythm."
Many of Brittney's jokes land and, when they do, the result is some great laughs. On the flip side, when other jokes fall flat, they land with a prolonged, quiet thud. Sometimes the latter is a result of the writing, sometimes the execution.
The pacing seemed sluggish and there were a couple of line stumbles but, overall, the cast members all gave their best effort.
Some cast members seem to fare better than others in the "convincing British accent" department.
The single set design by Dave Ludt and Doug Beller is a thoroughly impeccable use of space.
Lighting and sound effects went off without any noticeable glitches.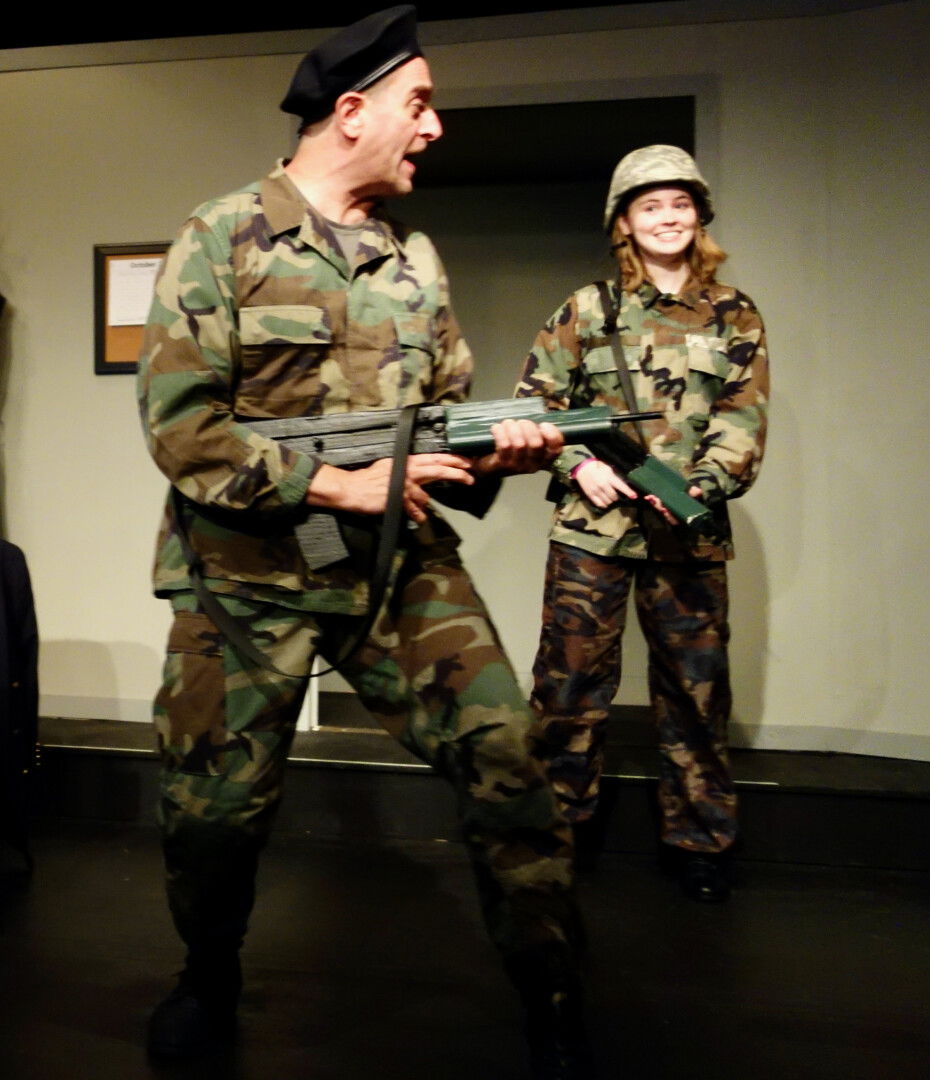 Photo: Andy DeSisto and Ginny Hilli appearing in Lynn Brittney's "BUNKERED" playing at Calliope Productions through October 16, 2022. Photo Credit Karen Josbacher)
The show has no real "evil villains" nor any clear antagonists of which to speak. Even Lt. Connor is more a victim of circumstance than a malicious antagonist.
So strong "conflict" would seem unlikely.
Yet strong conflict does exist in "BUNKERED" because, as the play continues, the bunker mates find themselves trapped underground and circumstances descend into a great turmoil resulting, as well, in an enjoyable farce.
And an enjoyable farce is nothing from which anyone need seek shelter.
Approximately two hours with one intermission.
Kevin T. Baldwin is a member of the American Theatre Critics Association (ATCA)
@MetrmagReviews
@Theatre_Critics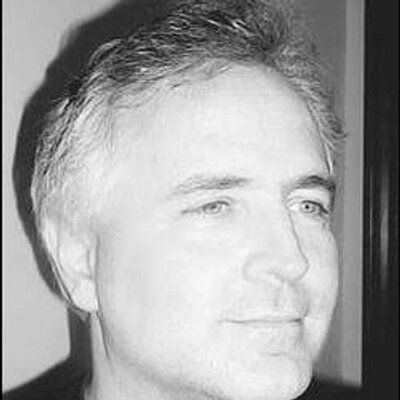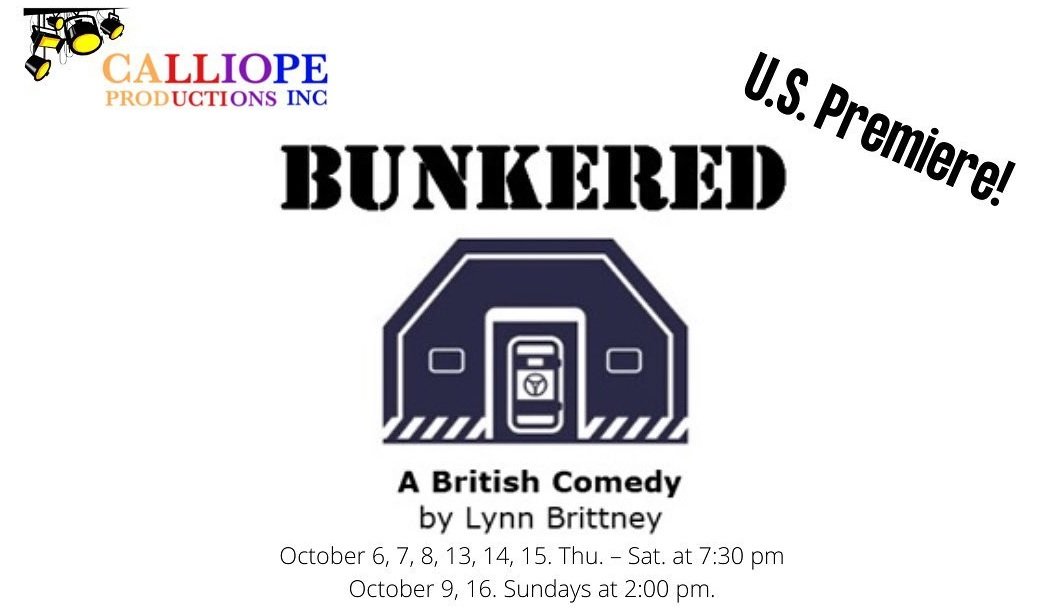 ABOUT THE SHOW
Somewhere near the coast in Britain is a Naval Intelligence Cold War Bunker, manned by four naval personnel nearing retirement.
Only, as far as the Royal Navy is concerned, the bunker was decommissioned in 1991 and the staff were made redundant.
Except, somehow, they all slipped through the net and continued to receive monthly pay checks from the Ministry of Defense computer system.
Peter, a Chief Petty Officer with a strong sense of responsibility, and the nearest to retirement age, decides to bring a friend in to bring all the equipment up to full working order.
Imagine the alarm at Naval Headquarters when they start getting signals from what they thought was a defunct facility!
Time to call in the Marines with, of course, hilarious consequences!
For more information or to reserve or purchase tickets, please contact the Calliope box office at 508-869-6887.
We look forward to seeing you at the theatre!

ABOUT CALLIOPE PRODUCTIONS
Calliope Productions

is a year-round non-profit theatre company founded in 1982 that serves the needs and interests of audiences and performers in the Central Massachusetts region. Calliope Productions presents six main-stage productions each year, and operates performance training workshops for students (ages 9 - 18) and adults.

Calliope Productions

is a member of the American Association of Community Theatre, the Eastern Massachusetts Association of Community Theatres, and the Worcester Cultural Coalition.
Calliope Productions
150 Main Street
Boylston, MA 01505
508-869-6887