By Kevin T. Baldwin
METRMAG Reviewer
# 774-242-6724

Psych Drama Company debuts in Providence with fierce "At Home at the Zoo"
PROVIDENCE, RI - "At Home at the Zoo" by Edward Albee. Presented by the Psych Drama Company. Performances to be held at the Black Box at AS220 95 Empire Street, Providence, RI 02903. Performances: Feb. 20, 21 & 22 at 7:00pm, Feb. 23 at 2:00pm. Tickets for each show are $25 and can be purchased on-line at www.thepsychdramacompany.com with discounted 2020 Season Ticket Packages also available for $66 by contacting The Psych Drama Company directly at psychdramacompany@gmail.com or 774-259-4379.

Written by Edward Albee. Directed by Larry Segel.

Cast Includes: David Lee Vincent, Brian Dion, Wendy Lippe Ph.D,
A superb new adaptation of Edward Albee's dark double-header "At Home at the Zoo" is the inaugural Providence staging of the Psych Drama Company (established 2010), specializing in immersive, experimental and psychological theater.
The production successfully combines Albee's classic, "The Zoo Story," with its prequel, "Homelife," to form a complete story of Peter (Brian Dion), Ann (Wendy Lippe), and Jerry (David Lee Vincent).
Performed in the "round," a unique take by director Larry Segel was to have all the actors occasionally address specific lines to someone or some section of the audience so that they, for a split second, are sharing in the moment on stage.
This method works extremely effectively and the audience is engaged.
The story offers a revealing look at Peter and Ann's boring marriage and their brutal, failed attempts to communicate about it.
Both Dion and Dr. Lippe have strong chemistry. Dion's characterization of "Peter" has the added dimension of serving as a sounding board for a lot of the frustration expressed by Lippe's "Ann" over their mundane existence and existence itself being mundane.
Dion is an accomplished actor and Lippe is masterfully at ease with much of Albee's dialogue.
The tone changes dramatically when Peter goes out to the park and meets the far from mundane Jerry.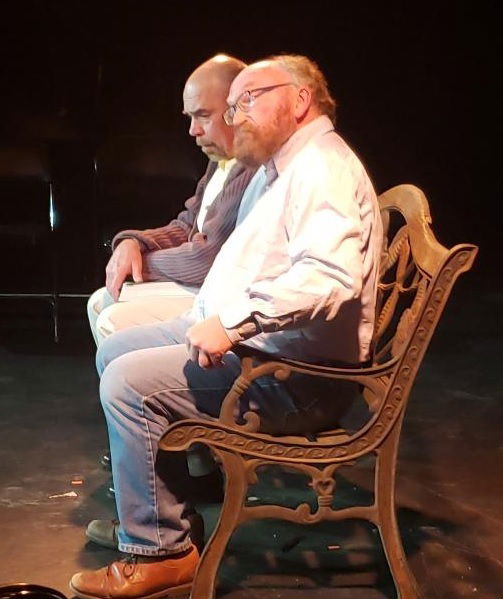 David Lee Vincent and Brian Dion in Edward Albee's "At Home at the Zoo". Photo Courtesy of Lindsay Camerlin.

David Lee Vincent as "Jerry" is an absolute tidal wave of stress from the outset of the second act and he does not let up until the end of the show which has a startling conclusion. It is a startling performance as he handles the lion's share of the dialogue.
As he did during Act One for Ann, Peter must again serve as a sounding board for Jerry during his endless tirades, rants and monologues. However, this time, Peter slowly becomes concerned about Jerry.
Peter sits on the park bench, not sure of how to leave and begins to fear for his safety, as well he should.
In Act One, Peter must contend with Ann who frets about the lack of chaos in their marriage. She conveys that she feels that, while their marriage has been devoid of struggle, it has also become equally devoid of substance.
In Act Two, he must subsequently deal with Jerry, who is chaos incarnate.
As is the case in most of Albee's work, this is not lighthearted fare. In fact, like his masterpiece "Who's Afraid of Virginia Woolf" it is actually quite dark and unpleasant at times. But Albee's dialogue flows exceptionally well, conversationally at times, almost like a Sondheim musical without the pleasing score.
There are no sets to speak of. A simple chair, divan and park bench are all the set pieces on the floor of the black box theatre. Segel's lighting choices were very subtle yet poignantly utilized.
But is the psychologically compelling performances by the Psych cast which are all exemplary and make the show simply brimming with electricity. All three actors are 100 percent committed to their characters.
A signature practice of Psych Drama Company, after each performance, mental health professionals explore the themes relevant to the show during Q&A sessions.
For an inaugural show in a new location, the Psych Drama Company has certainly set the bar high and pulled out all the stops. Audiences should look forward to more from them in the coming months as they are slated to present "Stage Kiss" (at the end of May) and "God of Carnage" (come November).
Kevin T. Baldwin is a member of the American Theatre Critics Association (ATCA)
@MetrmagReviews
@Theatre_Critics