(Cover Photo courtesy of Pilgrim Soul Productions)
Pilgrim Soul Productions presents grim, gritty "American Buffalo"
By Kevin T. Baldwin
CORRESPONDENT
# 774-242-6724

WHITINSVILLE: Pilgrim Soul Productions presents "American Buffalo" by David Mamet. GB & Lexi Singh Performance Center at Alternatives, Whitin Mill, 60 Douglas Road, Whitinsville, MA. Performances Nov. 15, and 16 at 7:30pm; Nov. 17 at 2:00pm. Tickets: $20.00; Under 18 and Seniors $18.00; Groups of 10 or more $16.00. To reserve tickets call 508-296-0797, or send email to pilgrimsoulproductions@gmail.com. Tickets also available at the door.
Written by David Mamet. Directed by Bill Sigalis.
Cast Includes: Jim Douglas, Mitchell Kiliulis & Jack Celli.
Before Pilgrim Soul Productions staging of David Mamet's "American Buffalo" begins, one must take notice of the set of a Chicago junk shop, where three small-time crooks hatch an inept scheme to rob a man of his coin collection. Because the set speaks volumes of the show about to be presented.
There is, of course, junk strewn about the stage – more than enough to make the late Fred Sanford rise from the grave and salivate over.
There are eight dilapidated, non-matching chairs (not counting two being suspended from the ceiling alongside several bicycles).
There is a junky old desk stage left and a messy poker table stage right. There is a propane tank situated under a cluttered work bench with a mop bucket loaded with video games nearby.
There are six metal shelf units jam packed with junk – bicycles and tricycles, golf clubs, a keyboard and stand, sleds, anachronistic computer monitors, a ventilation hose, tools, toys, torches, typewriters and more.
Then, surreptitiously placed on the stage left back wall, a faded print of Van Gogh's "Starry Night" (which was painted in 1889 during his stay at a mental hospital) with many undefined characters, resonant chromatics and other use of color.
The painting on this set is like looking at a classic Linda McCartney photo which usually consisted of a thing of beauty set against a backdrop of ugliness.
With crass, witty, guttural dialogue, Mamet's play is also a thing of beauty in itself set against a backdrop of the ugliness inherent in its characters…an ugliness rooted in greed.
Ugly "F bombs" also fly throughout the show. Audiences should be prepared the guttural dialogue.
However, while the show contains a high level of profanity with a deep, almost "subterranean" quality, the language is used with purpose and not just used to offend or for shock value.
The 1975 two-act play won an Obie Award and, in 1977, was nominated for two Tony Awards for Best Director of a Play and Best Scenic Design. It also won the NY Drama Critics' Circle Award for Best American Play and also won a Drama Desk Award for Outstanding Set Design. The 1983 revival was nominated for a Tony and Drama Desk Award (for Outstanding Actor in a Play for Al Pacino).
The single set is where the entire two hour play takes place.
Don (Jim Douglas) is the owner and proprietor of the junk shop. Don has sold a "buffalo nickel" to a customer for $90 but soon suspects it is might be far more valuable.
Don and his young runner, Bob (Mitchell Kiliulis), plan to steal the coin back. Bob has been keeping watch on the customer's house and reports that he has left for the weekend with a suitcase.
Teach (Jack Celli), a poker buddy of Don's, comes into the shop and learns about the scheme. He pushes his way into Don's scheme and convinces Don that Bob is too 'green' and can't be counted on for the burglary, and offers himself as Bob's replacement.
It is from here that things begin to go south for the trio as the play unfolds.
Since the play premiered in 1975, it has always been critically lauded. The New York Times called it, "one of the best American plays of the last decade." The stage directions in the script are straightforward and do not provide line readings.
It is because of this above aspect which forced show's producer Matt Carr and director Bill Sigalis into a tough decision.
After losing an actor at the last moment, Carr and Sigalis were forced to re-cast the part of "Teach" with Celli. Celli, with limited time, is on script for most of the show.
However, as a recitation as opposed to a full 'embodiment' of the character, Celli is not only commendable…he is simply superb in the role.
There are many moments where Sigalis has staged some movements by Douglas and Kiliulis which, either intentionally or unintentionally, helps take focus away from Celli as he 'recites' and, as such, and through Celli's convincing portrayal of the manipulative mongrel "Teach," the play runs fluidly.
Unfortunately, also part and parcel with the decision, what is lost is freedom of movement. While Celli moves about the stage, he is still relegated to holding the script. This draws his face away from the audience and also draws eye contact away from his fellow actors.
Douglas does quite well giving the character of Don a more paternal relationship with both Teach and Bob. Don is especially more concerned about Bob who drops hints to Don that he is in some sort of trouble and keeps asking for cash advances.
Kiliulis plays Bob as if he is recently out of rehab (like this morning) and still going through early stages of chemical withdrawal. But he never loses a beat with the difficult Mamet dialogue.
The difficulty in the dialogue is not in what Mamet says but how his characters speak. Many times it is one or two word responses, or overly repetitive responses. It is highly un-rhythmic dialogue with a raw, undefined cadence…and swearing. Lots of swearing.
But it is how those responses are delivered which is the key to unlocking their effectiveness…and these three actors unlock Mamet's words quite well.
Mamet gives us these three sad sack characters, each in search of their own big score, which is their respective "Starry Night" or American Dream.
As the story unfolds, though, each dream slowly begins to erode, leaving them much like the junk Don sells in his shop…bruised, banged up, hurt, no longer of use nor wanted.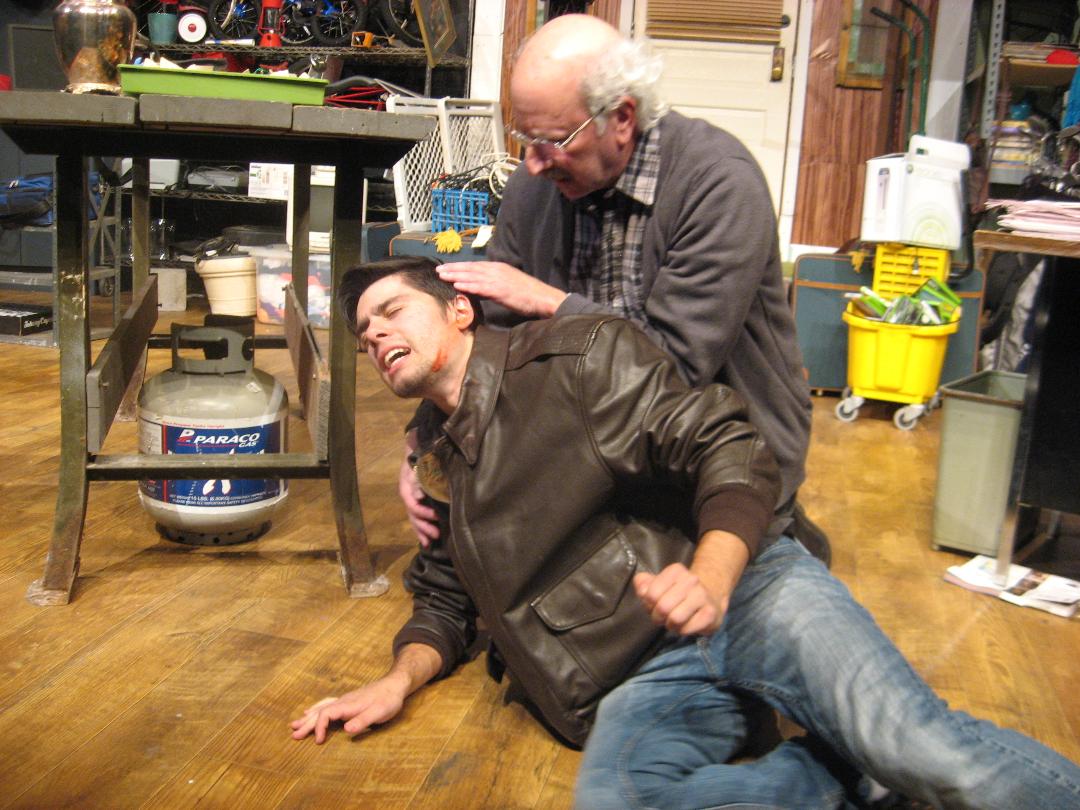 Mitch Kiliulis and Jim Douglas in "American Buffalo". All photos courtesy of Pilgrim Soul Productions.
What Don ultimately needs to decide is just how far he will go, how much he is willing to sacrifice, in order to ensure his own personal American Dream.
High praise must be given to set designer Bob Vanasse and props manager Susan Nest for coming up with a highly conducive set for this show.
The show runs approximately two hours with one intermission.
Kevin T. Baldwin is a member of the American Theatre Critics Association (ATCA)