Stratton Players Agatha Christie mystery "The Unexpected Guest"
By Kevin T. Baldwin
METRMAG Reviewer
# 774-242-6724
FITCHBURG: "The Unexpected Guest" a play in two acts by Agatha Christie. Presented by the Stratton Players. Performances at the Alumni Center for the Performing Arts, 98 Prospect Street Fitchburg, MA. Performance dates Oct. 4 and 5 at 7:30pm, Sept. 29 & Oct. 6 at 2:00pm. Tickets: General Admission $15, Member Admission $13 and Ages 12 and younger $7.50. Tickets may be purchased via www.strattonplayers.com. All major credit cards are accepted. Tickets may also be purchased at the door (cash only).
Written by Agatha Christie. Directed by Amy Newberg.
CAST INCLUDES: Bill Hoermann, Michael Knight, Emily King, Elyssa Miller, Seamus Knight, Elizabeth Hoermann, Margo Thompson, Daniel Forlano, Leandro Strathmayer, Colin Dunnigan.

Stratton Players presents Agatha Christie's "The Unexpected Guest" a 1958 play that will keep audiences guessing until the very last moment.
A murder has taken place in the manor study of Richard Warwick.
Lost in a fog in South Wales near the Bristol Channel, a stranger, Michael Starkwedder (Michael Knight) seeks refuge in a nearby house after his car beaks down.
He is, of course, "The Unexpected Guest." He crawls through a window and finds himself in a study.
There, to his shock, Starkwedder discovers that a man, Richard Warwick (Bill Hoermann) has been killed. The victim appears to have been shot dead with a woman, his wife, Laura (Emily King) standing over him holding a smoking gun. Hoermann does not play any other character in the show and must be given credit for not moving a muscle for the duration of the two-act play's opening half hour scene.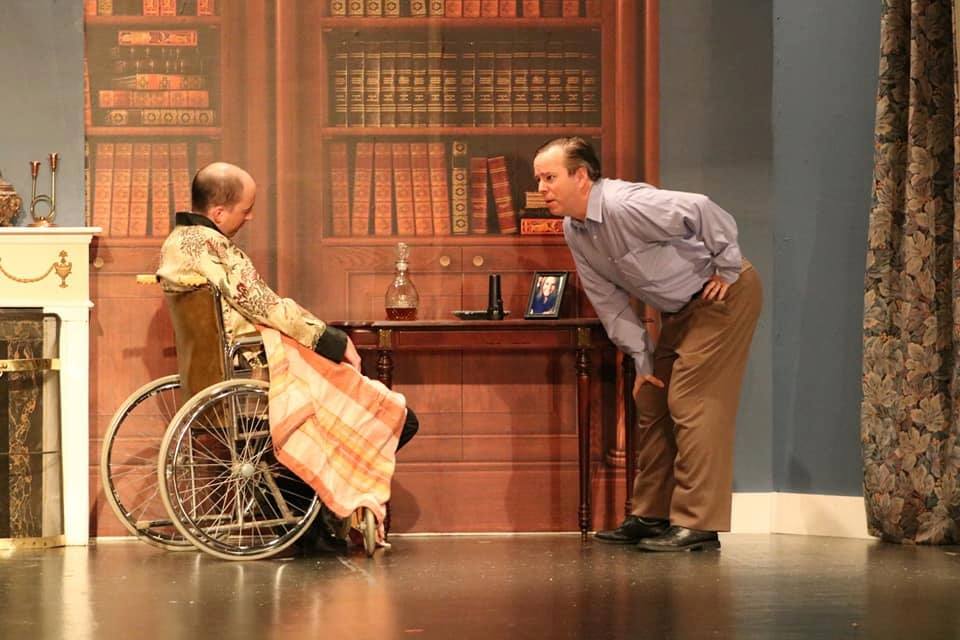 Michael Knight talking to a very, very, very dead guy in THE UNEXPECTED GUEST, currently onstage at Stratton Players through October 6. Photo courtesy of Sally Cragin. But while Laura confesses to the killing, Starkwedder is not convinced she murdered her husband. Yet do not confuse either as being the moral center of the story. He is most definitely not. He just does not wish to be presumed an accomplice. So, he initiates a cover up of the apparent murder to make it seem as if the murder occurred by an unknown assailant. Laura hesitates at first then acquiesces, agreeing to go along with the plan. We then are introduced to the other residents and staff of the Warwick manor.
Knight and King give first-rate performances as the plotting duo with Knight, particularly, having an excellent grasp of the Christie dialogue which he executed quite well.
As with most Christie mysteries, there is a meticulous arranged abundance of clues, forensic details and exhaustive lengthy discussions about which character had the greatest motive for the murder and, above all, potential suspects.
Starkwedder's plot maneuvers police to a man innocent of this crime but guilty of past crimes, yet the number of suspects continues to grow and grow as the story unfolds. The end is a veritable whirlwind of plot twists, including one which some might find quite offensive.
While Christie was one of the most methodically adept mystery writers, she was still a product of her time, and some references, in particular to a mentally challenged character, Jan (Seamus Knight), must be taken that way.
The cast was certainly in capable hands under the direction of Amy Newberg, although the varied accents served as an ongoing distraction, occasionally upsetting the cadence of Christie's dialogue as a result.
There was also a plethora of stepped on or flubbed lines, mostly during the second act. A sound effect of gunfire was also mis-cued and barely audible.
The set By Newberg, Hal Smith and Tim Fischer was quite impressive featuring two panels depicting big study bookcases. The rest of the set was adorned with assorted mounted taxidermy buck (Elk? Antelope?) heads, pelts, and artwork of various kills by the late big game hunter Warwick. The only thing detracting from this was several mismatched furniture styles. Costumes by Valerie Schillawski were perfectly appropriate to the time and place.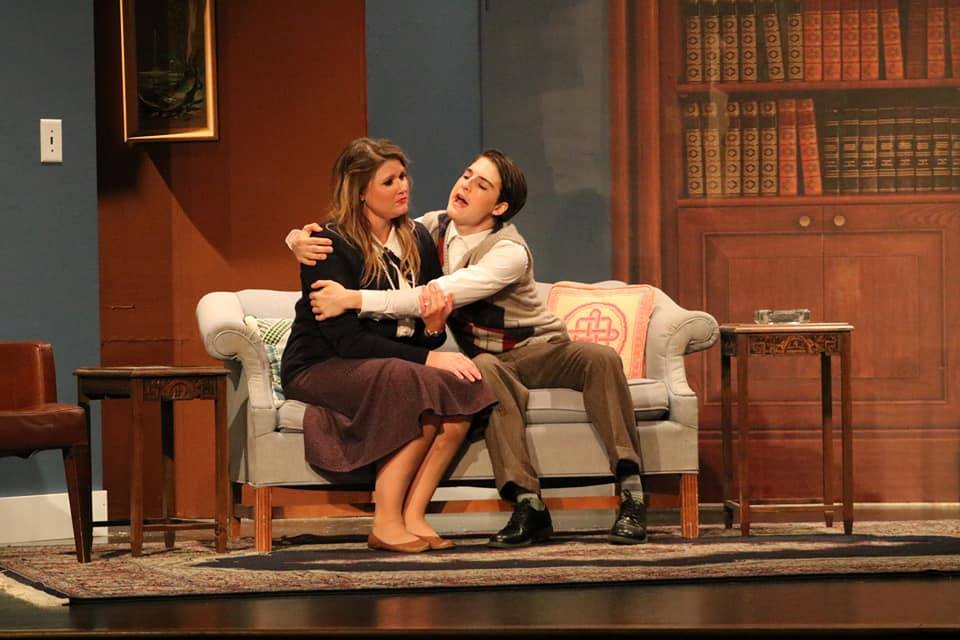 Emily King as Laura Warwick with Seamus Knight as Jan Warwick in "The Unexpected Guest".
Photo courtesy of Sally Cragin of Stratton Players.
In addition to Knight and King, there were several regally impressive supporting performances which included Seamus Knight as Jan Warwick, Elizabeth Hoermann as the grand matriarch Mrs. Warwick, Elyssa Miller as Miss "Benny" Bennett and Leandro Strathmayer as Inspector Thomas.
The fun is in the presentation and the material, while quite dated, at times, still provides a classic Agatha Christie "whodunit" mystery making for a fun night out.
The show is two hours 15 minutes with one intermission.
Kevin T. Baldwin is a member of the American Theatre Critics Association (ATCA)
@MetrmagReviews
@Theatre_Critics