(Cover Photo: The Cast of Pilgrim Soul Productions' staging of Lucas Hnath's "A DOLL'S HOUSE, PART 2" now playing in Shrewsbury, MA. through September 18, 2022. Photo by Christopher O'Connor)

By Kevin T. Baldwin
METRMag Reviewer
# 774-242-6724

"...we beat ourselves up for failing to be something we never were to begin with."

Pilgrim Soul Productions
Presents
"A DOLLS HOUSE, PART 2"
Written by Lucas Hnath
Directed by Eric Butler
Cast Includes: Emily Holmes, Todd Yard, Martha Hultgren, Katie Speed
Performances:
September 9 and 17, 2022 at 7:30pm
September 11, 2022 at 2:00pm
September 18, 2022 at 7:00pm
Venue:
Black Box Theater in the Ryken Center at Saint John's High School, 378 Main Street, Shrewsbury, MA.
Tickets:
$25.00; Under 18 and Seniors $22.00; Groups of 10 or more $20.00
Reservations: To reserve tickets call 508-296-0797, or send email to pilgrimsoulproductions@gmail.com.

Tickets are also available at the door. Cash or check only.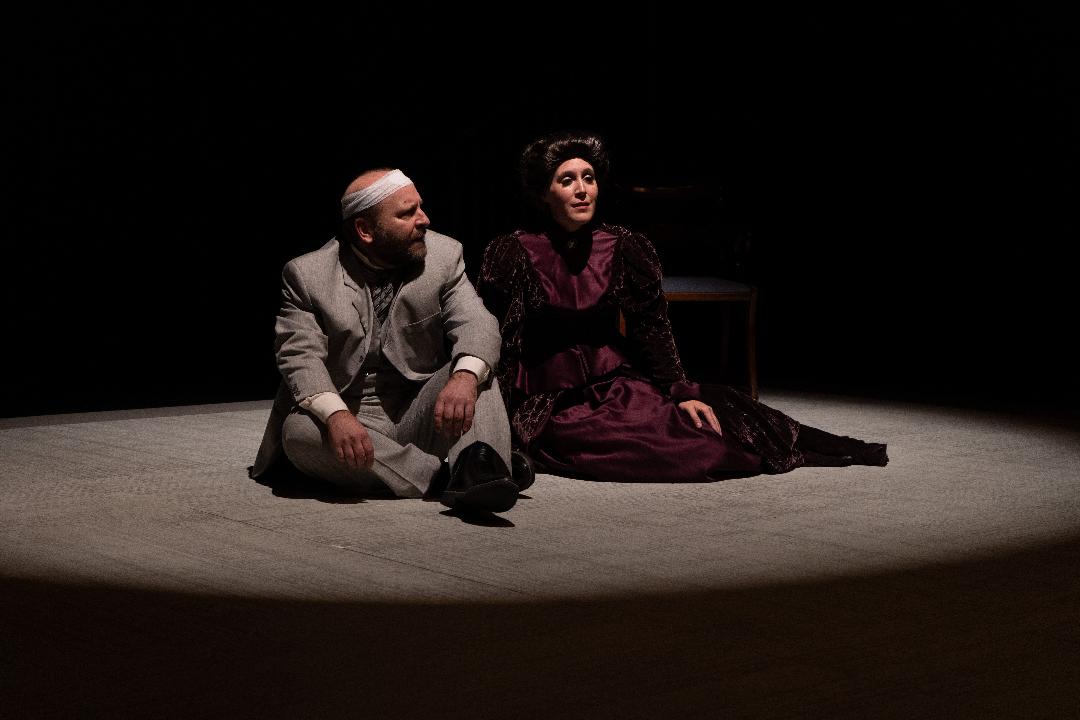 (Photo: Todd Yard and Emily Holmes in a scene from Pilgrim Soul Productions' staging of Lucas Hnath's "A DOLL'S HOUSE, PART 2" now playing in Shrewsbury, MA. through September 18, 2022. Photo by Christopher O'Connor)
Pilgrim Soul Productions presents Lucas Hnath's "A DOLL'S HOUSE, PART 2" which picks up 15 years after where the events of Henrik Ibsen's "Part 1" left off, supposedly. (Note: no such "numbering" to the original 1879 play exists)
Yet the main question left to many witnessing the "sequel" to the Ibsen classic might well be…
"Dear God, Why? Do we really need a sequel?"
After seeing the outstanding production, the answer might well be a resounding...
"Yes, absolutely we needed this sequel."
With the exception of four chairs, there is no set in director Eric Butler's staging. There are period-appropriate costumes but very little else by way of specialized lighting, sound trickery or anything else to enhance the events taking place on stage.
Therefore the actors must rely exclusively on their combined acting skills and on the written word that is Hnath's dialogue.
The end result is simply brilliant.
Every exchange seems organic and genuine. There is not a single scene where the feeling is forced or contrived or that we are watching anything other than something authentic.
First, a quick condensed review of the ending of the original Ibsen classic three-act play:
Nora is married to Torvald Helmer who insists she fulfill her duty as wife and mother.
Nora, after a series of life changing events, says that she must leave Torvald to remain true to herself.
Nora says she must not only leave him but also their sons and daughter as she feels she will never be a good wife and mother until experiencing more of life herself.
She leaves, telling Torvald that he is not the man she thought he was and, moreso, she is not the woman she feels she could be...without him.
Hnath's "sequel" - produced 138 years after the original - has actually been attempted before and certainly not by lesser veteran professionals than Hnath.
Celebrated musical writing team Betty Comden and Adolph Green ("Bells Are Ringing," "On the Town," "On the Twentieth Century," "Wonderful Town") came up with the musical, "A Doll's Life" back in 1982.
The legendary Hal Prince directed the musical which featured actors Betsy Joslyn, George Hearn and Peter Gallagher in the cast.
While the production had a lovely score and was nominated for three Tony Awards, it failed miserably with scathing reviews and, after opening on September 23, 1982, it closed three days later, after a run of 18 previews and only five performances.
Jump ahead to 2017 - Hnath's "A DOLL'S HOUSE, PART 2" fared much better, receiving eight Tony Award nominations (winning one) and running (including previews) from March to September, 2017.
So, roughly four decades later, why does Hnath's one-act play "A DOLL'S HOUSE, PART 2" seem to succeed where the musical "A Doll's Life" failed?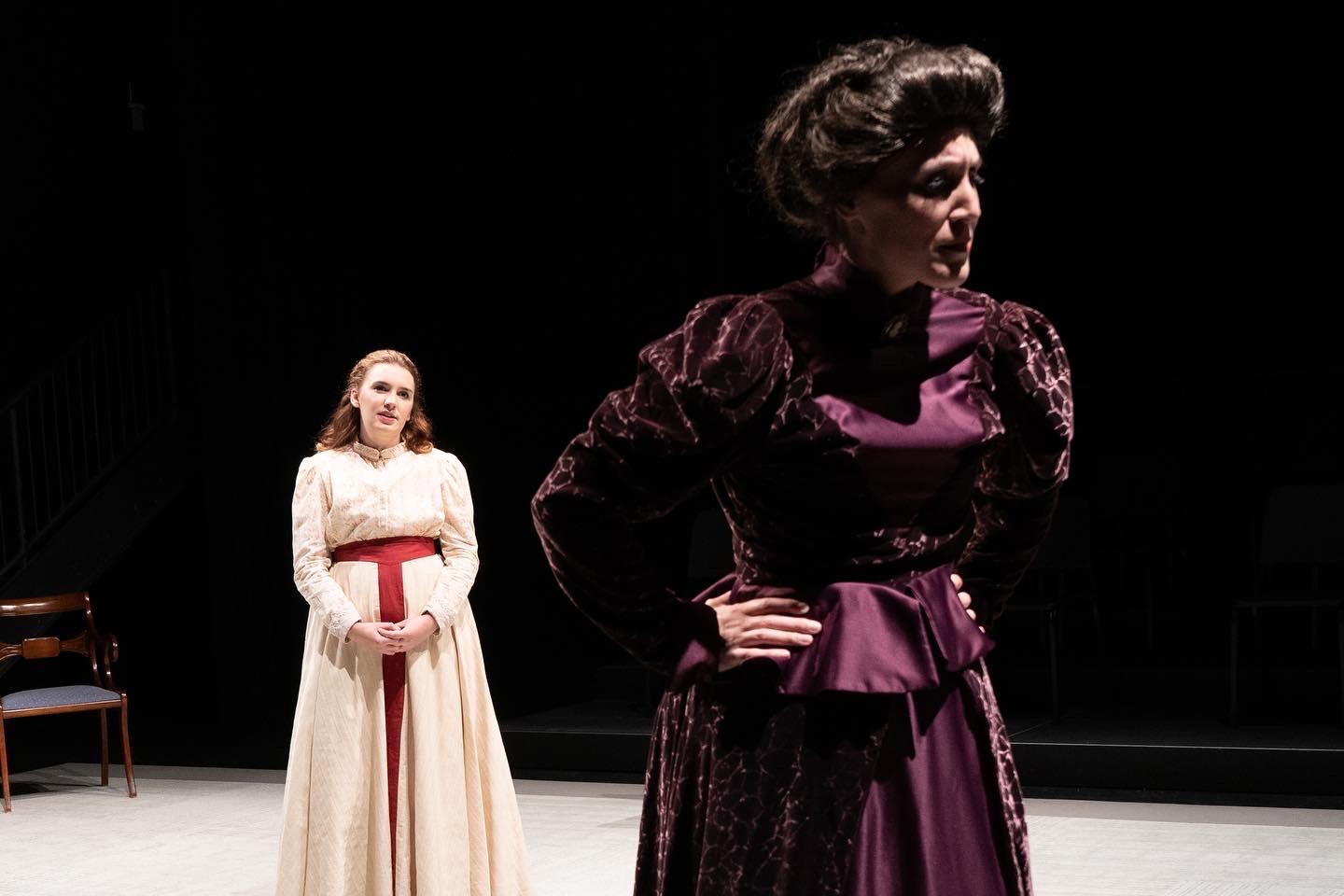 (Photo: Katie Speed and Emily Holmes in a scene from Pilgrim Soul Productions' staging of Lucas Hnath's "A DOLL'S HOUSE, PART 2" now playing in Shrewsbury, MA. through September 18, 2022. Photo by Christopher O'Connor)
Part of the success comes from Hnath's exceptional contemporary, almost guttural dialogue and understanding how Ibsen left millions of readers of "A Doll's House" hanging, wondering what ultimately happened to the Helmer family and especially Nora, his "heroine."
At the end of a play, sometimes the playwright wants there to be questions left for the audience to ponder and to discuss - not necessarily intending for nor in anticipation of a sequel to the story.
Yet, Ibsen's tale is just to enticing for some writers NOT to want to try to explore the "what might have happened next" scenario with Nora, a woman rejecting what was then a traditional societal norm for her Norwegian community circa 1879. She rejected social convention, she abandoned the institution of marriage and motherhood for the sake of finding...Nora.
Here, in Hnath's four actor exploration, there is also no small amount of humor involved in Hnath's script. The dialogue flows crisply and quickly with a multitude of revelations as to where Nora has been and why she has returned.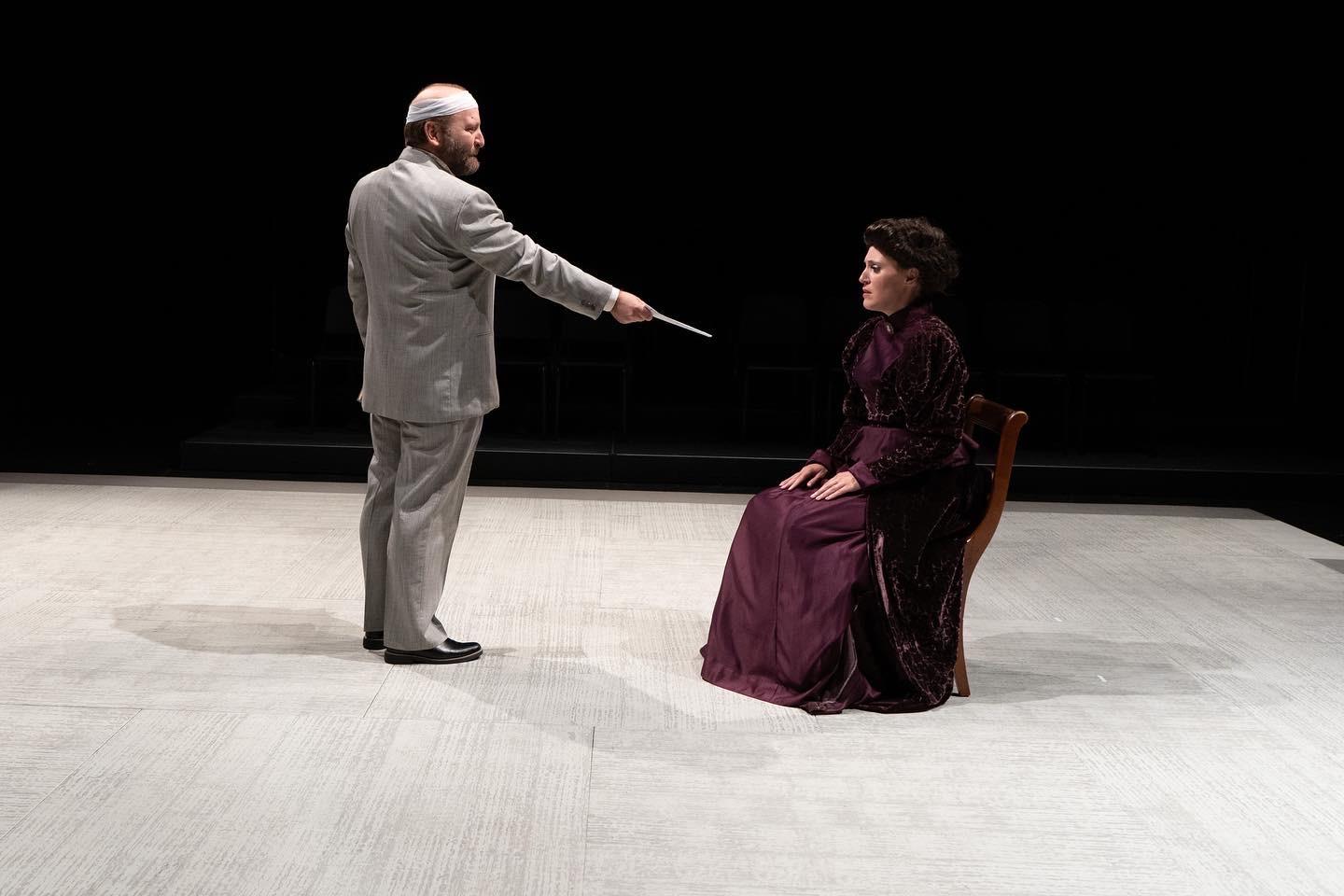 (Photo: Todd Yard and Emily Holmes in a scene from Pilgrim Soul Productions' staging of Lucas Hnath's "A DOLL'S HOUSE, PART 2" now playing in Whitinsville, MA. through September 18, 2022. Photo by Christopher O'Connor)
Nora (Emily Holmes) has returned to Torvald (Todd Yard) and, as the two converse, we learn about her life experiences since the Ibsen story ended.
Hnath's Nora is a far cry from Ibsen's more demure, submissive Nora. This Nora is assertive, aggressive, combative, sexually and emotionally enlightened and, above all, completely honest...Or is she?
Nora overcame much in an effort to buck gender stereotyping and societal expectations and, upon her return, her domineering demeanor may almost recall that of Torvald's from the original Ibsen story.
While there is much to admire about Nora's choice for a journey of self discovery, self worth, self expression and self love - she must now, years later, also confront a failing which came with that choice when she also became an absent mother to her children, especially daughter, Emmy (Katie Speed), who is now an adult and "meets" her mother for the first time in 15 years.
Martha Hultgren as "Anne Marie," the Helmer family's nanny, is relentlessly funny and probably provides one of the most succinct reactions to Nora's return and some of the collateral damage left in the wake of her exit 15 years ago.
When Anne Marie discusses how Torvald is at work and Nora's reaction and response "He still works" to this news is quite a telling moment thanks, in part, to Emily Holmes who delivers each line with an almost surgical precision.
There is also a brief exchange where Nora asks Martha what she thinks Nora has been doing for 15 years and the events Martha describes almost summarizes the basic events in "A Dolls Life." Whether or not this was an intentional nod by Hnath is up for debate.
When Nora and Torvald once again meet, Torvald explains to Nora how he, too, has changed in the time that has past since Nora's departure. He is not the same rigid man she left and, this time, it is Nora who may not be able to accept these changes.
The show, at its core, is an essay on the toxicity of restrictive adherence to social conventions but offers little by way of alternatives to those conventions.
The impact of Nora's return is nothing short of a seismic shift to the norm with which the family has become accustomed. This shift is felt throughout Hnath's piece. Every character describes what HAD to happen once Nora made her decision to leave.
No one walks away looking like a hero or heroine for their life's choices. In fact, there is so much collateral damage left in the wake of those decisions, which is where Hnath's exploration excels.
At the end of the play, Hnath, like Ibsen, leaves questions for the audience to ponder and to discuss as they leave the theatre.
Perhaps we'll have to wait another 138 years for "A DOLL'S HOUSE, PART 3" to see what happens next to these characters.
"A DOLL'S HOUSE, PART 2," is one of "Two Marriage Plays" being performed in repertory through September 18 and is a wonderful way to kick off Pilgrim Soul's 2022 theatre season.
Approximately 90 minutes with no intermission.
Kevin T. Baldwin is a member of the American Theatre Critics Association (ATCA)
@MetrmagReviews
@Theatre_Critics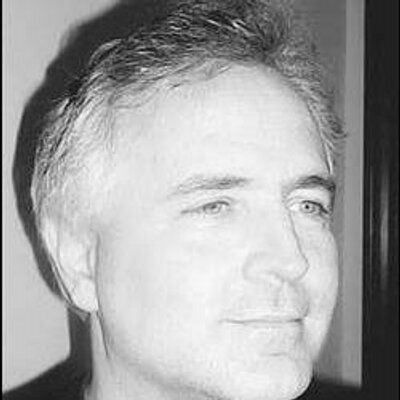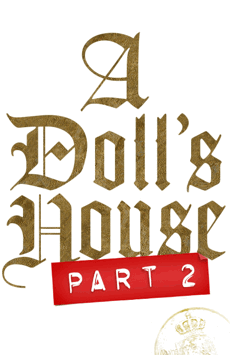 ABOUT A DOLL'S HOUSE, PART 2
In the final scene of Ibsen's 1879 groundbreaking masterwork, Nora Helmer makes the shocking decision to leave her husband and children, and begin a life on her own.

This climactic event—when Nora slams the door on everything in her life—instantly propelled world drama into the modern age.

In A DOLL'S HOUSE, PART 2, many years have passed since Nora's exit.

Now, there's a knock on that same door.
Nora has returned.
But why?
And what will it mean for those she left behind?

"A smart, funny and utterly engrossing play…" —NY Times.

"A DOLL'S HOUSE, PART 2 delivers explosive laughs while also posing thoughtful questions about marriage, gender inequality and human rights…With unfussy eloquence, the play asks how much, in a century-plus, life has changed for Nora and women like her in a world that often still has firm ideas about where they belong." —Hollywood Reporter.

Pilgrim Soul Productions
Black Box Theater
Ryken Center
St. John's High School
378 Main Street
Shrewsbury, MA.
508-296-0797