(Cover Photo: The Cast of "Charlie and the Chocolate Factory" at The Hanover Theatre in March. Photo Credit: Jeremy Daniel)
Kevin T. Baldwin
METRMag Reviewer
# 774-242-6724
The Hanover Theatre
for the Performing Arts
Presents
Roald Dahl's
"Charlie and the Chocolate Factory"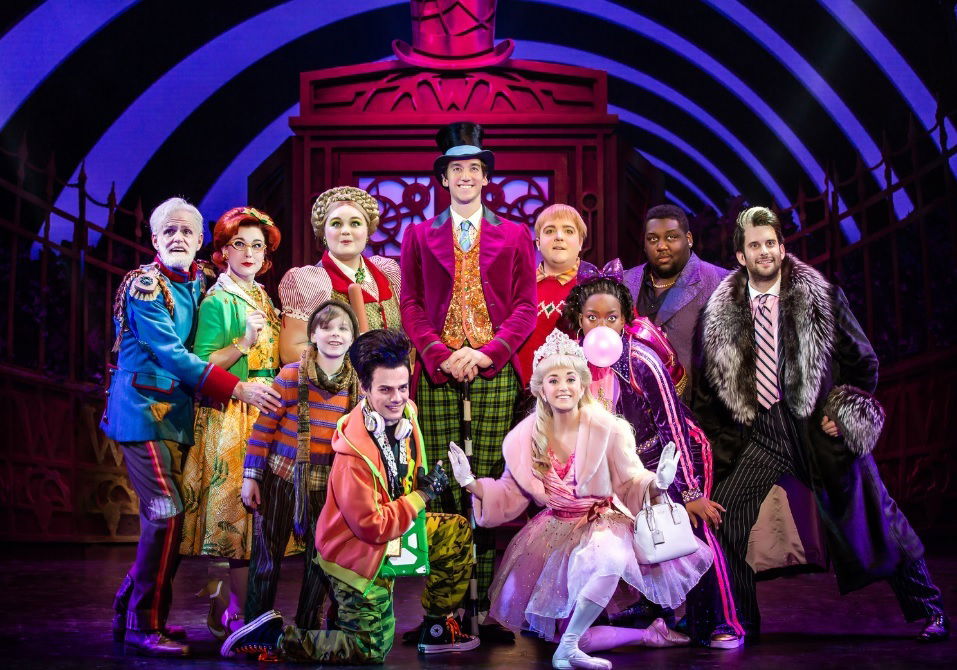 The Cast of "Charlie and the Chocolate Factory" at The Hanover Theatre in March. Photo Credit: Jeremy Daniel.


"Charlie and the Chocolate Factory" by Roald Dahl. Networks Presentations. Presented at the Hanover Theatre for the Performing Arts, 2 Southbridge Street, Worcester, MA 01608. Performances: March 3, 4 & 5 at 7:30pm, March 6 & 7 at 8:00pm, March 7 at 2:00pm, March 8 at 1:00pm. Tickets are $39, $49, $62 and $79 depending on seating availability. Discounts are available for members and groups of 10 or more. Contact the box office at 877.571.SHOW (7469) for more information. Special Performances: Audio descriptive services from Audio Journal provided on Sunday, March 8 at 1:00pm.
Written by David Greig. Based on the original story by Roald Dahl. Music by Marc Shaiman. Lyrics by Marc Shaiman and Scott Wittman. Orchestrations by Doug Besterman and Michael Starobin. Music Supervisor Nate Patten. Music Director Kelly Thomas. Original Director Jack O'Brien. Music Coordinator John Mezzio. Choreographer Joshua Bergasse. Tour Choreographer Alison Solomon.
Cast Includes: Cody Garcia, Brody Bett, Ryan Umbarila, Caitlin Lester-Sams, Steve McCoy, Audre Belle Adams, Zakiya Baptiste, Katie Fay Francis, Scott Fuss, Branden R. Mangan, Angela Palladini, Matthew Boyd Snyder, Sam St. Jean, David Nick Alea, Bella Calafiura, Gina Daugherty, Nicole Hale, Domanick Anton Hubbard, Melissa Hunt, Ryan Kiernan, Alysha Morgan, Daniel Pahl, Jenna Brooke Scannelli, Justin William Schaffner, Lauren Soto, Luis Villar, Jamaal K. Wade, Justin White, Nicole Zelka. (Latest info from the Tour Web Site – All above Subject to Change)
METRMAG Spotlight On: "Charlie and the Chocolate Factory" Interview with Sam St. Jean (Augustus Gloop)
Sam St. Jean is a New Englander who can be seen in the stage tour of "Charlie and the Chocolate Factory" coming to the Hanover Theatre in March.
A Chicopee native, Sam moved to New Hampshire when he was young. Theatre had been a passion as long as he can remember. METRMAG caught up with Sam by phone and spoke at length about his career and about taking over the iconic role of the gluttonous young Augustus.
"I went to school and performed throughout my time in high school and at Plymouth State in NH," St. Jean says. "I have been performing since I was 8 years old with small community theatres. I was fortunate that my high school had strong theatre program."
St. Jean recalls his first performance was in a summer camp show.
"I was in a small, I mean VERY small, adaptation of 'Jack and the Beanstalk'," St. Jean says.
Now an adult and working as an actor professionally, St. Jean has done a number of parts on national tours from Fezziwig in "A Christmas Carol," to Barfee…uh, Barfeé, in "25th Annual Putnam County Spelling Bee" to Lonny in "Rock of Ages", to Seymour in "Little Shop of Horrors" and more.
St. Jean realized early on that performing was the career path he was going to pursue.
"Honestly, I was never really good at anything else, so I don't really have a memory of anybody telling me there was something else I SHOULD do," St. Jean remembers. "This was pretty much what I wanted to do. I always had a fascination with movie musicals. I used to watch them all the time."
In 2017, St. Jean was seen as "Robert" in the musical adaptation of "Jane Eyre" for Seacoast Repertory Theatre in Portsmouth and recalls that experience.
'Obviously, (Jane Eyre) is a classic piece of literature, and the musical has a wonderful grasp of the original text from Bronte's novel," St. Jean says. "The fun part of my experience was playing Robert, who lightens the mood a little bit."
On his resume, St. Jean's performance skills include three unusual entries: "Puppetry," "Euphonium" and "Human Blockhead." St. Jean elaborates a little on those three specific skillsets, especially as to how one becomes proficient at "Human Blockhead."
"I played the euphonium, which is like a small tuba, for a few years in high school – but it is smaller, easier to play and produces a nice bass line," St. Jean says. "I have actually been asked to play it a couple of times on stage."
St. Jean studied puppetry under C. Robin Marcotte who trained at the Dell'Arte International School of Physical Theatre in Blue Lake, California and now teaches at the Boston Conservatory.
"I did 'Avenue Q' and still enjoy performing puppetry," St. Jean says.
And, as for "Human Blockhead?"
"Human Blockhead is a bar trick that involves a nail, a beer bottle…and my face. It is just understanding anatomy," St. Jean says, advising some readers may not appreciate the graphic explanation of how the trick actually works.
In reviewing his career, while some may find a pattern to the type characters St. Jean has thus far played - all flawed but terribly funny - he does not pigeonhole himself as a "character actor," thinking those are the only "types" of roles that he can play. Nor does he feel that may have factored into his getting his current gig playing "Augustus Gloop."
"With everybody in our industry, there seems to be an impression that character actors are only actors who only do funny parts," St. Jean says. "I feel we, all actors, tell the truth of the characters we play. We convey how the character deals with and relates to their part of the story in extraordinary circumstances. Meryl Streep and Nathan Lane can both do comedy AND drama. I never like to limit myself into any category of actor."
St. Jean's point is well taken as Nathan Lane recently was announced as taking the lead in a revival of "Death of a Salesman," not a show best known for its humorous characters.
For St. Jean's turn in the role of Augustus Gloop, the character was actually defined by then-young actor Michael Bollner in the 1971 film "Willy Wonka and the Chocolate Factory" which starred the late Gene Wilder.
St. Jean discusses watching the original movie and how it influenced his portrayal of the character he now plays.
"As a kid, I watched it over and over and 'Wonka' was always on the list of my five favorite movie musicals," St. Jean says, recalling, "I would watch it with my grandmother."
Other actors from the new musical adaptation who preceded St. Jean in the role include F. Michael Haynie from the original Broadway cast in 2017 and Matt Wood who did the first US National Tour in 2018.
"I had seen Haynie and am a big fan of his work," St. Jean says. "I did not see Matt Wood but heard wonderful things, so I know I have some pretty fun shoes to fill."
As far as approaching the character, St. Jean tells us a little about the audition process for the tour and some of the direction he has been given by the creative team since being cast.
"The audition process was standard – I went to an open call set up for my by Stewart/Whitley casting. I got a few appointments – I went back in a few times and then, at the final call back, about four or five weeks after the initial audition, it was down before the casting people. It is a stark change when you go from the very first audition to when you are in the final call back."
Without divulging too much of the plot: Young boy Charlie visits the famed, but mysterious, "Wonka Chocolate Factory" with several other young children. Throughout their collective tour of the factory, character flaws within each of the children…and within their parents…become unveiled.
With the exception of Charlie, each of these exposed "fatal flaws" in the kids, as depicted in the Roald Dahl tale, also yields a fatalistic consequence.
Gluttony seems to be most associated with the character of Augustus. A lot of these kids, again in Dahl's depiction, are like apples which haven't fallen far from the tree, meaning they are how they are because of their parents. St. Jean discusses if that is a fair and accurate assessment.
"These characters are pushed to the extremes. These four kids are so obnoxious about getting what they want; and this musical takes it even further than the movie did, really pushing boundaries but in clever, creative ways," St. Jean says.
As regards to approaching the Gloop character, was it fun for St. Jean trying to either justify or flesh out the reasons Augustus is how he is?
"Absolutely – I get the privilege to share the stage with Audrey Bell Adams, who plays my mother and she keeps me on my toes," St. Jean says. "With this version of the story, you really feel for the children. I think we illustrate, in the stage production, that they are who they are because of how they were parented. The parents actually get more of the punishment than the kids in our version. The audience will experience a little more terror when they see the faces of their children."
As St. Jean indicates, Audrey Bell Adams is the actress playing his mother, "Mrs. Gloop." However, unless the photos from the tour website are deceiving, there does not seem to be much of an age difference between the two young performers.
"Yes, well, the age of the entire company has been shifted 'downward' so that when we are on stage as a group, as a package, we all appear unified as an ensemble. For the 11 of us who get to go inside the factory every night, we get to bond."
While a cautionary tale, there is a fundamental 'unpleasantness' to aspects of the original Dahl story. St. Jean says he appreciates this latest re-imagining of the classic tale.
"I really enjoy it. The heightened stake of the story lends itself so well," St. Jean says, praising the production. "It is so much larger than life. The music by Marc Shaiman, used to tell this version of the story, really gave us an extra layer of whimsy every night."
St Jean proclaims that live theatre is "such a great medium for this story."
"There's a line from the show: 'It must be believed to be seen' - And that is something that got told to us during rehearsals as actors. You have to believe in the ridiculous things that are going on, happening to you, and the overall opus is pure imagination."
According to the latest Augustus Gloop, that concept is further layered into the theatrical roles, as well, as they travel from community to community to perform the show. He describes the tour as "fast paced."
"We are two weeks at a time in a city. Traveling CAN take a toll, so you do need to take care of yourself," as St. Jean points out how, "Networks Presentations takes good care of us."
And what has been the most surprising and the most rewarding aspects of this experience for St. Jean so far?
"Really, seeing the country and working with this team," St. Jean says. "I didn't get to see a Broadway show until I was 16 years old. My father handed me a CD of 'Hairspray' and it was directed by Jack O'Brien, the guy who is directing us now. If you had told me that this would ever happen in my lifetime, I would have said you were crazy, but here we are. The company is just full of wonderful people and working with this team."
When the most recent incarnation of the "Wonka" tale first premiered on Broadway, not all critics were enchanted with it. Yet, "Charlie and the Chocolate Factory" still managed to build and maintain a consistent following. St. Jean attributes this loyalty, and subsequent success, to the show's ability to withstand the test of time and transcend multiple boundaries.
"I think it comes down to the message which Wonka shares with Charlie – that you just need to believe in something for it to become a reality," St. Jean says. "That message, that meaning, it transcends all walks of life. In our show, we have added more new theatrical numbers, moving from the '71 film, and we added new fresh sounds that come in. Characters have also been updated. That's what helps keeps the message to stay relevant in the 21st century."
And this is of relevance to St. Jean, as well, who recognizes the added incentive of, "Telling the message of believing in yourself."
Kevin T. Baldwin is a member of the American Theatre Critics Association (ATCA)
(Latest info from the Tour Web Site – All above Subject to Change)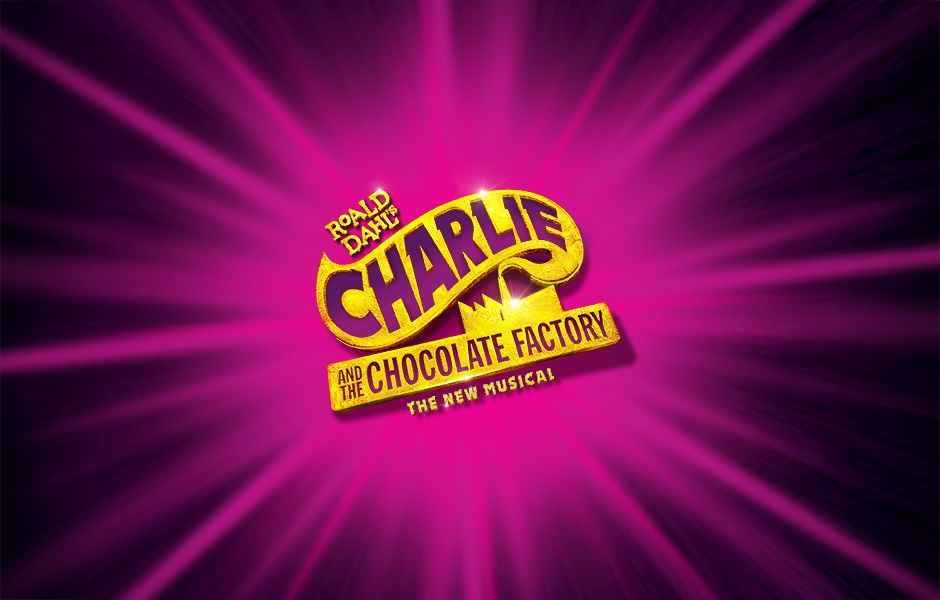 ASL interpretation provided
Event Description
Roald Dahl's amazing tale is now Worcester's golden ticket! It's the perfect recipe for a delectable treat: songs from the original film, including "Pure Imagination," "The Candy Man" and "I've Got a Golden Ticket," alongside a toe-tapping and ear-tickling new score from the songwriters of "Hairspray."
Willy Wonka is opening his marvelous and mysterious chocolate factory… to a lucky few. That includes Charlie Bucket, whose bland life is about to burst with color and confection beyond his wildest dreams. He and four other golden ticket winners will embark on a mesmerizing joyride through a world of pure imagination.
Now's your chance to experience the wonders of Wonka like never before. Get ready for oompa-loompas, incredible inventions, the great glass elevator and more, more, more at this everlasting showstopper!
"A big treat ready to satisfy any sweet tooth looking for a golden ticket!"
- Entertainment Weekly
"The sweetest new show on Broadway reimagined for a new generation. Brings pure imagination to life." - ABC
Approximately two hours and 30 minutes
Recommended for ages 6+
The Sweetest Holiday Deal
Reserve tickets for your group of six or more until Tuesday, December 31.
Email amy@thehanovertheatre.org for more information.
Receive Email Updates About This Show