Museful Intent
Will Hold AUDITIONS
for Mary Darling

s

'
"THE TRANSLATOR"
Written by Mary Darling
BLOCK 134, 134 Main Street, Second Floor, Putnam, CT 06260
Audition Date:
June 17, 2023 from 1:00pm until 4:00pm
Please sign up for auditions in advance so that we have your information.
Auditions will consist of reading from the script and you're welcome to drop in any time between 1:00pm and 4:00pm pending your schedule.
Sign up for auditions here: https://forms.gle/W8xhaB1ajNU34r438
Performance Dates:
August 25, 2023 through August 27, 2023
(Contact Box Office for Exact Times)
Rehearsals:
Tuesdays & Thursdays as follows
Week 1: Tuesday 7/11 & Thursday 7/13 @7-10 PM
Week 2: Tuesday 7/18 & Thursday 7/20 @7-10 PM
Week 3: Tuesday 7/25 & Thursday 7/27 @7-10 PM
Week 4 - Tuesday 8/1 & Thursday 8/3 @7-10 PM
Week 5 - Tuesday 8/8 & Thursday 8/10 @7-10 PM
Week 6 - Tuesday 8/15 & Thursday 8/17 @7-10 PM
TECH Week:
Sunday 8/20- 6:00-10 PM , Tuesday 8/22- 7-9 PM, Thursday 8/24- 7-9 PM

CAST DESCRIPTIONS:
T (any identity welcome) - A non-traditional off-brand couples therapist of sorts who strives to help facilitate communication between parties to ensure nothing is left unsaid between them. They take on the energy of the person they're translating for
JOE (he/him) - A unemployed hopelessly insecure romantic attempting to navigate his feelings and tendency to misinterpret and overthink
MARTY(he/him) - Joe's husband who works hard to support the two of them financially and operates on logic vs. emotion, which can cause friction in their relationship
BIANCA (she/her) - A person struggling to communicate about chores, in-laws, and the stress of coexisting with her partner…and his parents
CHRIS(he/him) - Bianca's other half who'd prefer to avoid any and all discussions of feelings or issues and tends to take an all-or-nothing approach to such situations
ROGER(he/him) - An older man unable to communicate with his wife about anything other than home projects or what's for breakfast, lunch, or dinner despite needing to address heavier topics
JEAN (she/her) - Roger's high school sweetheart who struggles to have deeper conversations and lives in the overly positive/ active avoidance frame of mind
MICHAELA (she/her) - Is trying to pick up the pieces of her relationship after her husband's infidelity, public scandal, and imprisonment.
SEAN(he/him) - Michaela's husband who was imprisoned for money laundering and is about to be released from his sentence
KAT (she/her) - A widower looking for spiritual companionship, although she mostly converses with herself about surface-level things
For more information, contact marydarling6@gmail.com
COVID 19 PROTOCOLS
Contact Venue for Most Updated COVID-19 Safety Protocols and Information.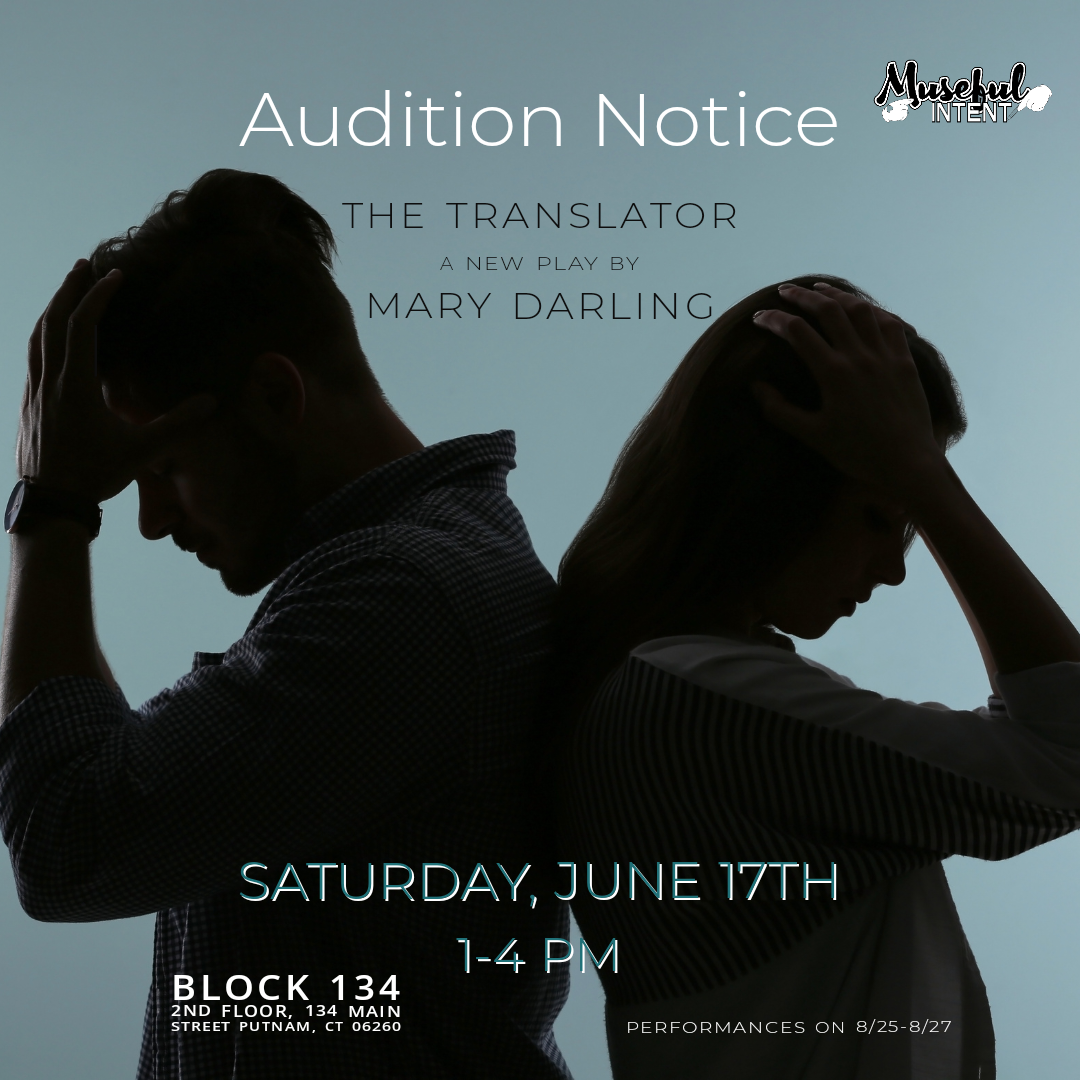 ABOUT THE SHOW
"THE TRANSLATORS" is a heartfelt new play written by Mary Darling, centering on communication (or lack thereof) in relationships.
Themes include navigating shared living spaces, chores, love, languages, addiction, general trauma and more.
ABOUT MUSEFUL INTENT AND MARY DARLING
MUSEFUL INTENT is a new performance troupe courtesy of Mary Darling, a New England based playwright & director. Mary Darling has written multiple short plays in various festivals and was part of Too Much Damn Theater's 2023 annual pass-along play competition in which her team's play "You, Me and My Multiple Consciousnesses" won seven awards, including "Best Play." Mary's work has been produced in Fitchburg, Lowell, Worcester, Cape May, Southbridge and in the virtual space. MUSEFUL INTENT strives to create relatable, accessible, inclusive work that sparks community conversation.
MUSEFUL INTENT/MARY DARLING
marydarling6@gmail.com