Theatre Of Northeastern Connecticut, Inc.
at the Bradley Playhouse
Will Hold AUDITIONS
for the Broadway Musical
"THE ADDAMS FAMILY

"
Written by Rick Elice, Marshall Brickman
Music and Lyrics by Andrew Lippa
Co-Directors Kathleen Atwood and Carl Mercier
Music Director Diane Pollard
Choreographers Lari Bailey and Kat MacInnes
Actively seeking and welcoming actors of all races, ethnicity, national origin, religion, mental and physical abilities, sexual/affectional orientation, gender and its expression.
Audition Dates:
July 9 & 10, 2023 from 7:00pm until 9:00pm
Brief Synopsis: Death obsessed Wednesday Addams has fallen for an ordinary young man from a normal family. As the Addams household finds out, her father, Gomez, is forced to keep the secret from his wife, Morticia. As brother Pugsley and Grandma scheme, Uncle Fester finds a love of his own. Everything will change on the night the Addams host a dinner for the boyfriend and his parents. What could possibly go wrong?
Performances:
October 4 through October 22, 2023
(Contact Box Office for Exact Times)
The Complex Performing and Creative Arts Centre
Bradley Playhouse, 30 Front Street (Route 44) in Putnam, CT.
AUDITIONS MATERIALS & REQUIREMENTS
Please plan to arrive at the start time and stay until the end time.
Arrive early for parking and paperwork.
Auditions will include music, dance and cold reading auditions.
Be prepared with sheet music and no more than 32 bars of song. No a cappella singing.
We strongly suggest performing a number from the show, or something similar in style.
Everyone will be expected to learn and perform a brief piece of choreography.
Wearing comfortable shoes and clothing is recommended.
ROLES AVAILABLE & CHARACTER DESCRIPTIONS
Please note: The ages listed in the description are the characters' ages, not necessarily the actors' ages.
GOMEZ ADDAMS (Male) Stage age 35-55 ; Tenor A suave man of Spanish descent who loves his wife and children, takes great pride in his family ancestors, and revels in all it means to be an Addams. He struggles keeping his daughter's secret from his wife, whom he adores more than death. Husband to Morticia. Great comedic timing and a strong dancer.
MORTICIA ADDAMS (Female) Stage age 35-55 ; Mezzo-Soprano /Alto Belt Attractive, strong-willed woman – the strength of the family. Confident and sexy with a dry wit. Feels her husband is hiding something from her and will use any tactic to lure the secret out. She is the real head of the family and fears she and her daughter aren't as close as they used to be. Dry comedic wit and a strong dancer.
WEDNESDAY ADDAMS (Female) Stage age 18-22 ; Pop Soprano/Mezzo-Soprano Belt Wednesday has the same dry wit and sensibility of her mother. Loves a "normal" boy (Lucas) and wants to introduce his family to hers. She experiences the lovesick drama that comes with first love and when two very different families meet. She longs for the approval of her parents but isn't afraid to show her rebellious side.
PUGSLEY ADDAMS (Male) Stage age 10-13 ; Tenor A charming, funny, and sometimes annoying young boy who loves being tortured by his sister. Unsure of his place in the family, he wants to ensure he won't lose his sister to her new boyfriend so he takes matters into his own hands.
UNCLE FESTER (Male) Stage age 30-50 ; Tenor Vaudeville-style comedian, who serves as the musical's narrator. He's larger than life, an energetic, joyous, child-like presence. Uncle Fester is incorrigible and, except for the good nature of the family and the ignorance of the police, would ordinarily be under lock and key.
GRANDMA (Female) Stage age 102 ; Mezzo-Soprano She is a fun, quirky and feisty old woman who often has a trick up her sleeve. Grandma often schemes with Pugsley and offers advice when needed. She's more of an oddball than a typical, comforting grandmother figure. Comedic timing and physicality.
LURCH (Male) Stage age 25-50 ; Bass The Addams Family butler who knows all, but says less. He speaks in moans and groans. Must have great non-verbal story-telling abilities (facial expressions, gestures, and sounds).
MAL BEINEKE (Male) Stage age 35-55 ; Tenor Stuffy father of Lucas and exasperated husband to his rhyming Stepford wife, Alice. At one time was a follower of a grunge band, but has lost that side of himself and has become a stereotypical businessman. Looks out for his family's future and is concerned about how they appear to the rest of the world. ALICE
BEINEKE (Female) Stage age 35-55 ; Soprano Belt Mother of Lucas, devoted to her family putting aside her own desires. Alice is a quirky often speaking in rhymes and falls prey to the latest fads or quick fixes for her family or personal life. While dining with the Addams, she drinks a potion that causes her to let her hair down and speak the truth.
LUCAS BEINEKE (Male) Stage age 18-22 ; Tenor Fell in love with Wednesday Addams and plans to marry her. Experiences the youthful pain and drama of young love and struggles with the differences between his family and the Addams family. Lucas is a 'normal guy' who's a little dorky. Wednesday absolutely intrigues him.
ADDAMS ANCESTORS- (Male and Female) Varying Ages 18+ ; Varying Vocal Ranges The Ancestors have a very important role in The Addams Family. As descendants of the Addams lineage from various eras and locales, they act as a backup chorus for multiple scenes and numbers. Ancestors should be talented singers, good character actors, and should be able to move well, as the ensemble will be required to dance in many songs.
TICKETS
All seats reserved. Reservations may be made with a major credit card online at www.thebradleyplayhouse.org or by calling 860-928-7887.
COVID 19 PROTOCOLS
Contact Venue for Most Updated COVID-19 Safety Protocols and Information.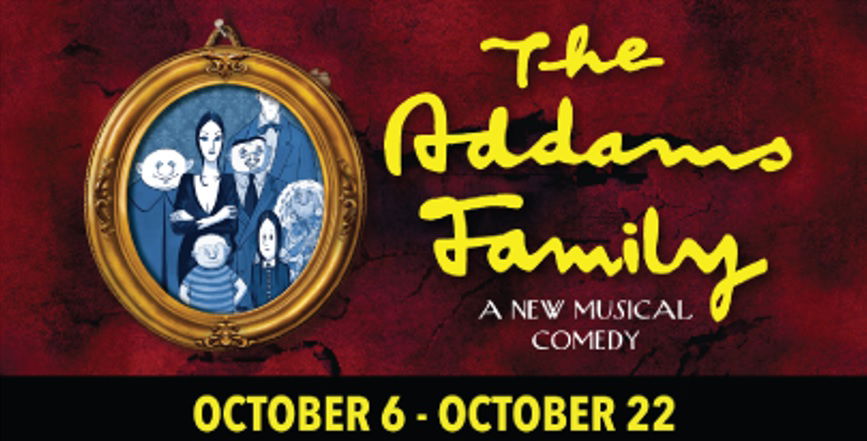 ABOUT THE SHOW
In the kooky, upside-down world of "THE ADDAMS FAMILY" to be sad is to be happy, to feel pain is to feel joy, and death and suffering are the stuff of their dreams.
Nonetheless, this quirky family still has to deal with many of the same challenges faced by any other family, and the spookiest nightmare faced by every family creates the focus Lippa, Brickman, and Elice's musical: the "THE ADDAMS FAMILY" kids are growing up.
"THE ADDAMS FAMILY" have lived by their unique values for hundreds of years and Gomez and Morticia, the patriarch and matriarch of the clan, would be only too happy to continue living that way.
Their dark, macabre, beloved daughter Wednesday, however, is now an eighteen year-old young woman who is ready for a life of her own.
She has fallen in love with Lucas Beineke, a sweet, smart boy from a normal, respectable Ohio family — the most un-ADDAMS sounding person one could be!
And to make matters worse, she has invited the Beinekes to their home for dinner.
In one fateful, hilarious night, secrets are disclosed, relationships are tested, and "THE ADDAMS FAMILY" must face up to the one horrible thing they've managed to avoid for generations: change.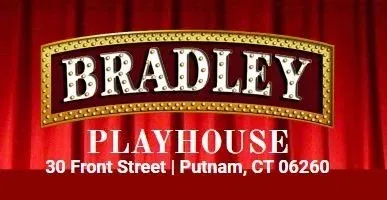 ABOUT THE BRADLEY PLAYHOUSE
The Bradley Playhouse is a 117 year-old vaudeville theatre in the heart of the Putnam antiques and restaurant district in the "Quiet Corner" of Northeastern Connecticut. Since 1991, the Bradley Playhouse has been managed by the volunteers of The Theatre of Northeastern Connecticut, Inc. (TNECT).
ABOUT THEATRE OF NORTHEASTERN CONNECTICUT
TNECT produces eight main season shows per year and a number of special fundraising events for The Bradley Playhouse Restoration Fund. TNECT's mission is to produce and sponsor quality theatre and entertainment for the residents of Northeastern Connecticut and the surrounding areas, to encourage the development of creativity through the support of local artists, and to support education and hands-on experience in the creation, direction, and production of theatre and the performing arts.
The Bradley Playhouse
30 Front Street
P.O. Box 71
Putnam, CT 06260-1942