Theatre at the Mount
Will Hold Auditions for
"MAN OF LA MANCHA"
Book by Dale Wasserman
Music by Mitch Leigh, Lyrics by Joe Darion
Directed by Terrie Hyde
Music Director David Twiss
CAST REQUIREMENTS – 8 principal adult roles and ensemble
Mount Wachusett Community College, 44 Green Street, Room 182, Gardner, MA.
Audition Dates:
Monday, December 5, 2022 at 7:00pm sharp
Tuesday, December 6, 2022 at 7:00pm sharp
Possible callbacks on Wednesday, December 7, 2022
All auditions are by appointment only
Please prepare a short vocal selection that best shows your abilities and range (bring sheet music if selection is not from the show).
Also expect cold-readings from the script for key roles.
To schedule an audition appointment, call 978 630-9388 or email your request to box-office@mwcc.mass.edu
PROOF OF COVID VACCINATION IS REQUIRED TO AUDITION
Performance Dates:
February 24, 25, March 3, 4, 2023 at 7:30pm
March 5, 2023 at 2:00pm
Tentative Rehearsal Schedule:
Sundays from 6 – 9pm
Tuesdays and Thursdays from 7 – 9:30pm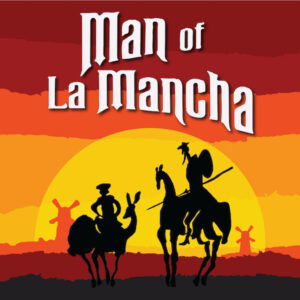 ABOUT THE SHOW
Inspired by Miguel de Cervantes' seventeenth century masterpiece, "Don Quixote," "MAN OF LA MANCHA" is one of the most successful musicals in Broadway history.
Powerful, brutal, hilarious, and heartbreaking, "MAN OF LA MANCHA" celebrates the perseverance of a dying old man who refuses to relinquish his ideals or his passion.
The celebrated score includes "Little Bird," "I, Don Quixote," "To Each His Dulcinea," and "The Impossible Dream."

CHARACTER DESCRIPTIONS
MIGUEL de CERVANTES (Don Quixote and Alonso Quijana) is an actor, playwright, and would-be-knight. He is a romantic – some say crazy – and has vision of a far better and nobler world, where knights and chivalry rule the day. (Tenor/High Baritone)
SANCHO PANZA– is manservant to Don Quixote and has served Quixote/Cervantes for many years with comic good humor. He is devoted to him, even with all his idiosyncrasies. (Tenor)
ALDONZA – a serving woman and part-time prostitute at the Inn, Aldonza is rough on the exterior, but has a gentle heart inside and yearns to believe what Don Quixote tells her. Quixote falls in love with her and insists her name is Dulcinea and that she is a beautiful, gentle woman. (Mezzo-Soprano)
THE INNKEEPER (The Governor) – a large and powerful man, he is kind as the innkeeper, but as the Governor is the leader of the inmate society in the prison. (Baritone)
DR. CARRASCO (The Duke/Knight of the Mirrors) – as the character of the duke he is sidekick to The Governor, however, when he plays Dr. Carrasco, he is Antonia's fiancé. He thinks Don Quixote mad and insists that he come home and be treated for his malady. (Baritone/Tenor)
THE PADRE – High Tenor
ANTONIA – Alonso's niece (Soprano)
FERMINA – a servant girl; Moorish dancer
MARIA – the innkeeper's wife (Soprano)
HOUSEKEEPER – employee of Alonso (Alto)
THE BARBER – Tenor
PEDRO – the head muleteer, Pedro is a mean and vicious man, leading an attack on Aldonza
ANSELMO, JOSE, JOAN, PACO, TENORIO, GUITAR PLAYER – muleteers
ENSEMBLE – play prisoners, prison guards, soldiers, men of the Inquisition, and Gypsies (Moors)

Mount Wachusett Community College
444 Green Street
Gardner, MA 01440